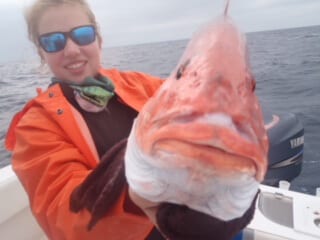 December 6, 2017 – Captain Judy's fishing reports and  The Art of Duck and Other Daddy Signature Calls!
Fishing statement: To try to insure that fishing stays in the hearts of those that love it and to help the ones that are going too!
Artificial Reefs
Well, it is time to start beating your drum… errr… I mean getting an opportunity to catch some nice black drum! It's that time of the year and what's the best bait?! Purple back fiddler!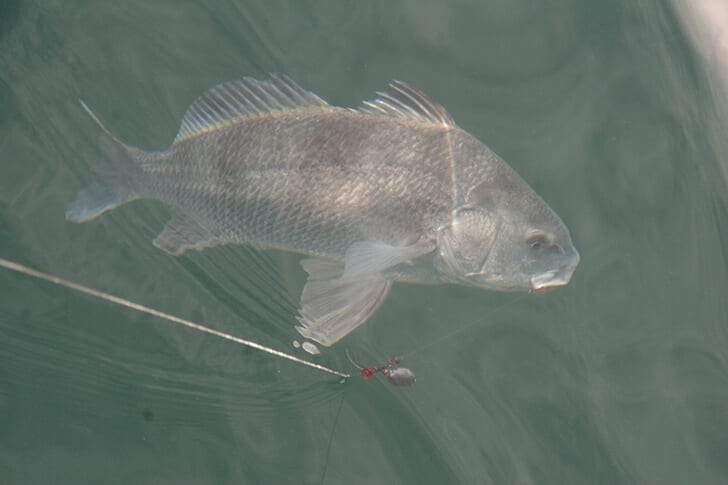 Okay fishermen, the winter sheepshead migration has started! And it should last until the first of March. So therefore you have time to make plans! What is the best bait? Purple back fiddlers. Where? Structure that provides any sort of surface that will accommodate marine growth! The more vertical the better! I suggest anchoring over a spot and staying there. It can be a waiting game sometimes! Be patient!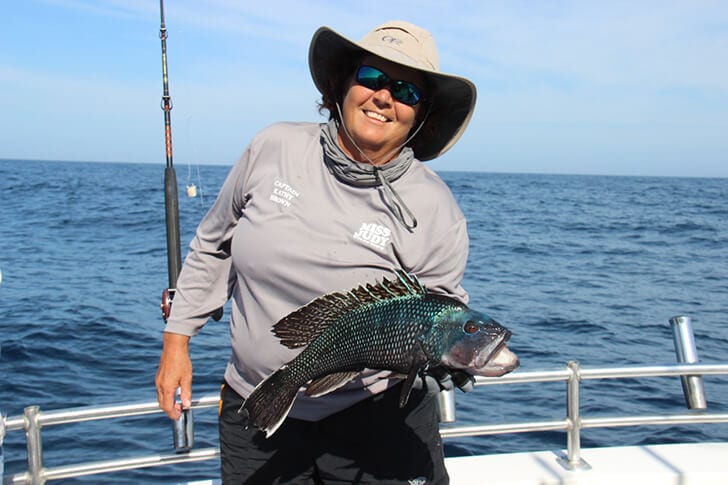 The offshore bite has really gotten good! We are catching large black sea bass off of isolated spots at the artificial reefs. It is a known fact proven by me (Captain Judy) that these fish school in the least likely small pieces of structure that I have ever seen. It can be frustrating trying to find a solid school, but when you do the bite is normally on. Now here's the thing, when drifting over a spot you are only going to get few drifts before the big fish bite slows and the small fish take over. If you decided to anchor you are only going to get a certain amount of big fish feeding time. But, if moving is game I suggest that you catch a few fast and move on to the next spot. For those wanting to stay anchored once this bite slows, I suggest to stop fishing. I know this suggestion is hard to do, but just give it a try!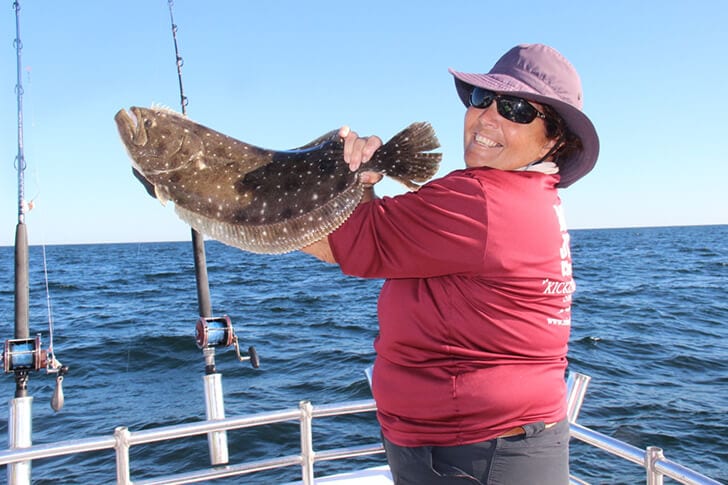 This flounder that Captain Kathy Brown of Miss Judy Charters is holding was caught using electron fish attractors. I have added them to all of my bottom rigs! So with that being said, "With this additions a little piece of squid, fish, or shrimp is all you need to get this catching job done!" 
And here's what I do know and my customers have proven this over and over. Let's say, I was pinched for time and I made a bottom rig without the electron fish attractors. My ultimate goal is to get my customer back in the fishing mode. And they are happy for that. However, it doesn't take them long to figure out the difference in their rig! Why? At first they might not know why this is happening. However, they do know that their fishing friend standing right next to them is catching all the fish. So this question comes from the fishermen with the new rig and it goes like this? Why don't I have a red bead and curly cue on my rig? By the time this happens I have already fashion another rig with the right stuff! And what's the right stuff? Electron fish attractors made by Life Sparkle Fishing Tackle.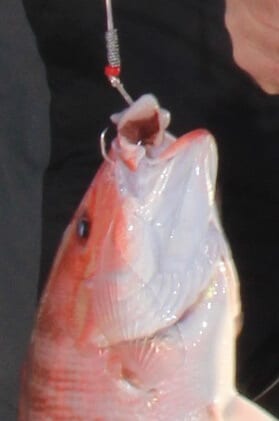 Now here comes the rub….These attractors do exactly what they proclaim, they really do attract fish. And the best news it that they can be added to any kind of jig or bait! So really it doesn't matter whether you are bottom fishing or trolling (inshore or offshore) adding this attractor attracts a better fish bite! I have added electron fish attractors to all of my bottom rigs. I know it is hard to believe that these small attractant do work. However, I remember when a lots of different kinds of lures that we thought would not work, but they did.
Savannah Snapper Banks
This is your last call for getting a chance at keeping genuine red snapper in 2017. The big thing going on now is the genuine red snapper season opening… which is recreational Reopening of Red Snapper in South Atlantic Federal Waters.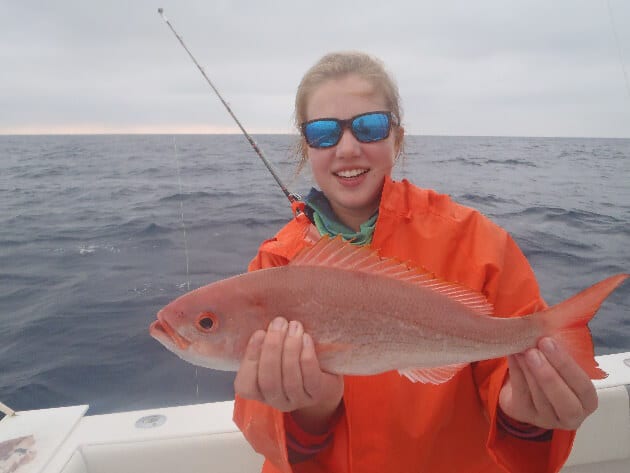 Alli DeYoung and her father Dan made way to the Savannah Snapper Banks this past week! Alli is a contributing editor to Captain Judy Fishing report! And from the report you can tell that she loves her job!
On a cold, hazy December morning, Daddy and I headed out on a catching trip to the Snapper Banks. The ride out was super cold and choppy. We pulled up to our spot and noticed the fish were all scattered about 200 yards off the live bottom and wondered if the current that was "hauling tail" had anything to do with it. Although it was cold I knew it was going to be a great day because after only a few drops I pulled up a huge Amberjack. As the day went on the action kept coming because we caught several Vermillion Snapper, Triggerfish, Red Porgies, Black Sea Bass, White Grunt, and a Red Snapper which was released unharmed back to the wild. All day the wind was blowing and the skies were cloudy, but in little cracks between the clouds there were beautiful rays of sunlight coming through. We saw three ships and two sport fishermen heading south, but no other company throughout the day. We chased dark on the way in and finally hit the dock at 6:30pm. It truly felt great to be in my backyard and get some salt back in my veins.
Thanks for reading! – Alli DeYoung, Contributing Editor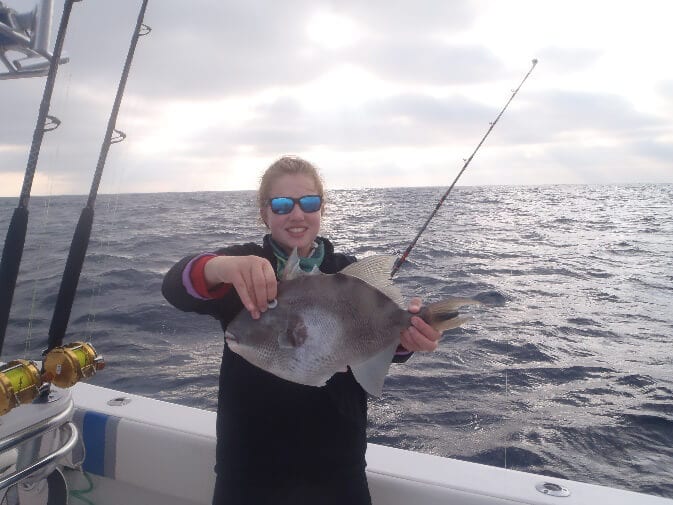 Gulf Stream Report
I don't really have anything to report at this time! However, for those that want to go and get a great weather window I suggest giving it a try! Normally during this time waters near the western edge of the stream are holding large schools of black fin tuna and scattered schools of Yahoo Wahoo! Please let me know if you go!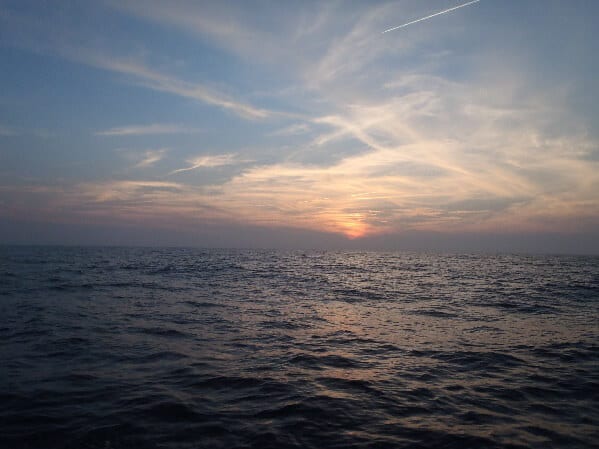 ---
Little Miss Judy's Believe It Or Not!
While I was doing a little shrimping with Captain Tommy Williams of Miss Judy Charters this past week we watched as some ducks flew over our heads in Turners Creek! It made me think about my father and our hunting expeditions.
After we get back from shrimping Captain Tommy and I sometimes have to help each other get out of our shrimping boat gear! I help him more than he helps me, because I am younger!
Now back when my father would go shrimping I used to love going with him. As a child you really never knew what was going to be in the net when you pulled it in. It was an exciting time for sure! Now when Tommy pulls in the shrimp net not much is in there but lots of shrimp! But I have to admit it still is lots of fun! We call Captain Tommy "the Turner's creek shrimp whisperer!"
The Art of Duck and Other Daddy Signature Calls!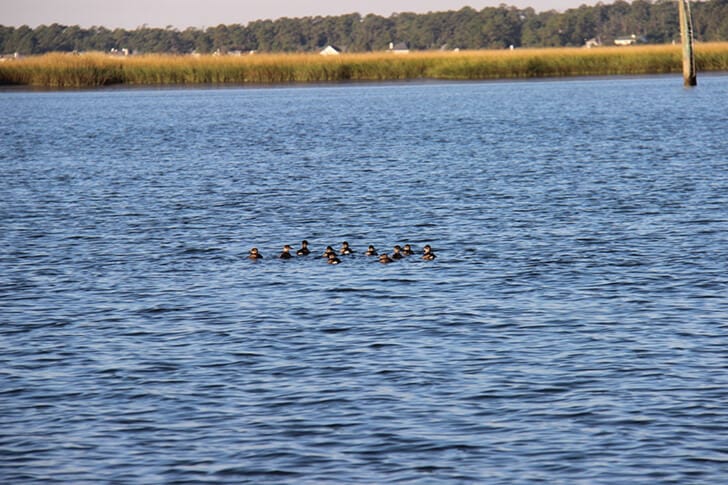 My father was an avid bird hunter. I was very fortunate to have spent time with him as he went on his bird hunting escapades. He loved to hunt doves, quails, quails, ducks, marsh hens, and crows. His favorite as well as mine was the art of hunting ducks. I call it an art, because that's actually what it is. I think that you will agree especially after your read this article.
The first thing you needed to know was how to dress properly. When you went hunting for ducks a little swimming could be in your future. Some duck hunters call it "wading in your waders." However in my case it was most always swimming in my waders, which means water outside and inside of them. For those of you that are not duck hunters then I need to make you aware that this art is preformed during the colder months. So therefore when you got wet anywhere it was a "cold to the bone feeling!"
As a child I was very cold natured. So therefore, I always overdressed, which meant I was extra heavy once I took the plunge into the icy waters. However, daddy didn't seem to mind too much. It never seemed to bother him as he fished me out of the water.

This is my father's signature crow call! I am better at calling crows than I am at calling ducks.
The best part about duck hunting was the calls that my father made to attract the ducks. Now that I think about it there were other accomplished calls that he preformed to get the moose and crow's attention. However my absolute favorite was the "Human siren call." He could stick his head out of a car window, make his siren call, and over to the side of the road the cars would go. Daddy would do this when he was in a hurry to get someplace or if he had a slowpoke driver in front of him. I just loved! It was so cool! I know I am rambling, but sometimes when certain things come to mind you just have to share them. Back to the duck calls….
My father had four favorite duck calls. The first was called "lonely duck call." This one is kind of self-explanatory, when a duck flew by or was approaching daddy made this call. It was supposed to get them to fly towards the duck blind in search of friendship. At least that's what daddy called it. The second duck call was "plenty of food call." He used this call when he had numerous ducks flying over. The third call sounded like the first one, but who was I to say? It was called the "I'm interested duck call." The fourth and last that I can remember was the "last chance duck call." This according to daddy was your best shot at getting those duck's attention that just flew straight by without even looking down.

My father's personal duck call! I have tried to imitate my father's signature duck calls. However, I have run off more ducks than not. So I will have to say, "My personal duck calls are for the birds!"
Here's the bottom line, when my father took aimed he only missed few. Since I was the fetcher most of the time I was always on "ready go!" As my father got older we use to go to the park and feed the ducks. All I could think about was how much trouble we both would be in if only these ducks knew the real story.
PS…I think some of these Lake Mayer ducks must have heard the story of my father and me, because there was this one time that we were chased by an angry pack of them. Since my father wasn't too quick on his feet and I couldn't carry him, several ducks delivered quite a few quick pinches. I can remember this like it just happened yesterday with a smile on my face. All and all I think, since we both knew the hunting truth, we were a pair of two-lucky-two-legged ducks!
Thanks for reading! – Captain Judy
Captain Judy Helmey
Kicking Fish Tail Since 1956
124 Palmetto Drive
Savannah, Georgia 31410
(912)-897-4921 or (912)-897-2478
(912)-897-3460 [Fax]
[email protected]
You can find Judy's previous report here.