May 17, 2017 – Saltwater inshore fishing report and Little Miss Judy Believe It or Not! Thanks for reading!

Fishing statement: To try to ensure that fishing stays in the hearts of those that loves it!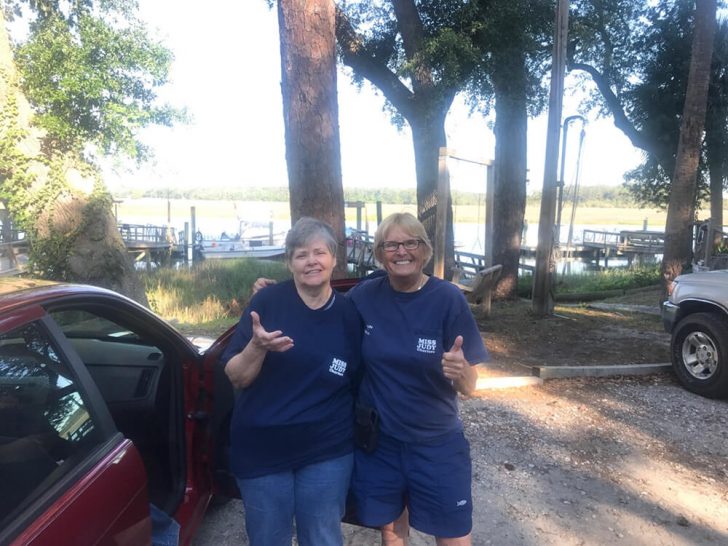 Please meet Linda Walker! And look, it's Captain Judy Helmey of Miss Judy Charters! What are we doing? Well, we are celebrating Linda's 70th birthday! Here's how it went from here! Her son, Craig Walker of Riddleville, Georgia called her and asked if she would like to do something exciting for her 70th birthday. Of course, Linda replied, "Yes I would!" Now keeping in mind on all of her last birthdays, something exciting might have been going out to eat. Well, not this time and she didn't find out until the day of the fishing trip that this was her surprise! According to her son Craig, "When I went to pick my mother up, she was wearing shoes that might not have been doable on a boat, so I had to let the cat out of the bag that she was going fishing!"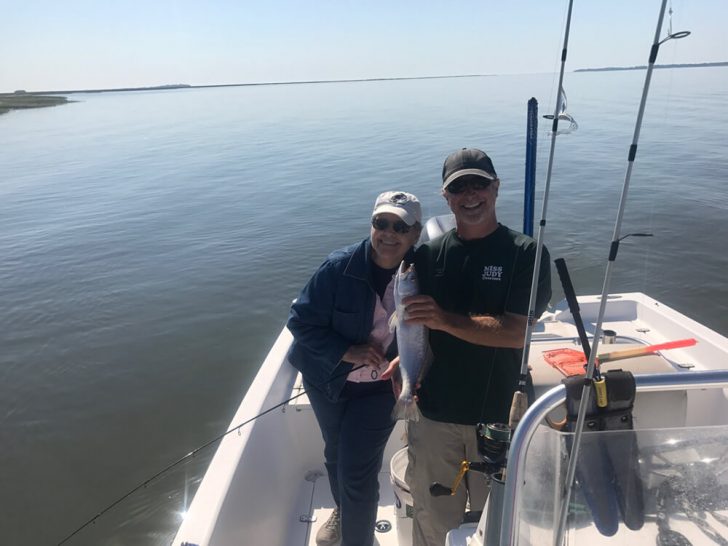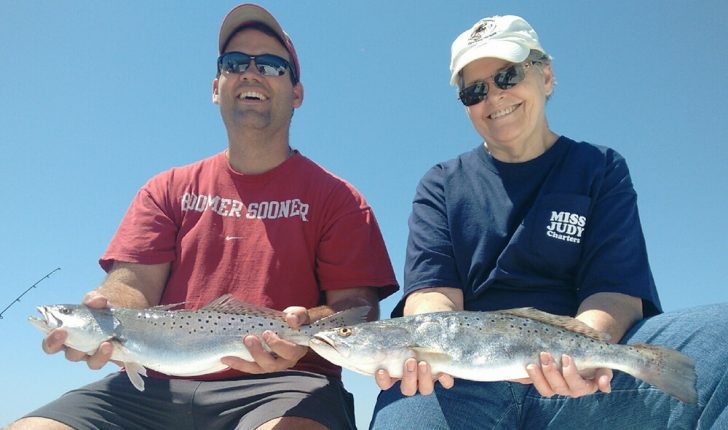 Craig Walker and his mother Linda Walker are holding some nice spotted sea trout that they caught while doing a little inshore fishing! Captain Matt Williams of Miss Judy Charters showed them the catching way! All that is left to say now is Happy Birthday Linda!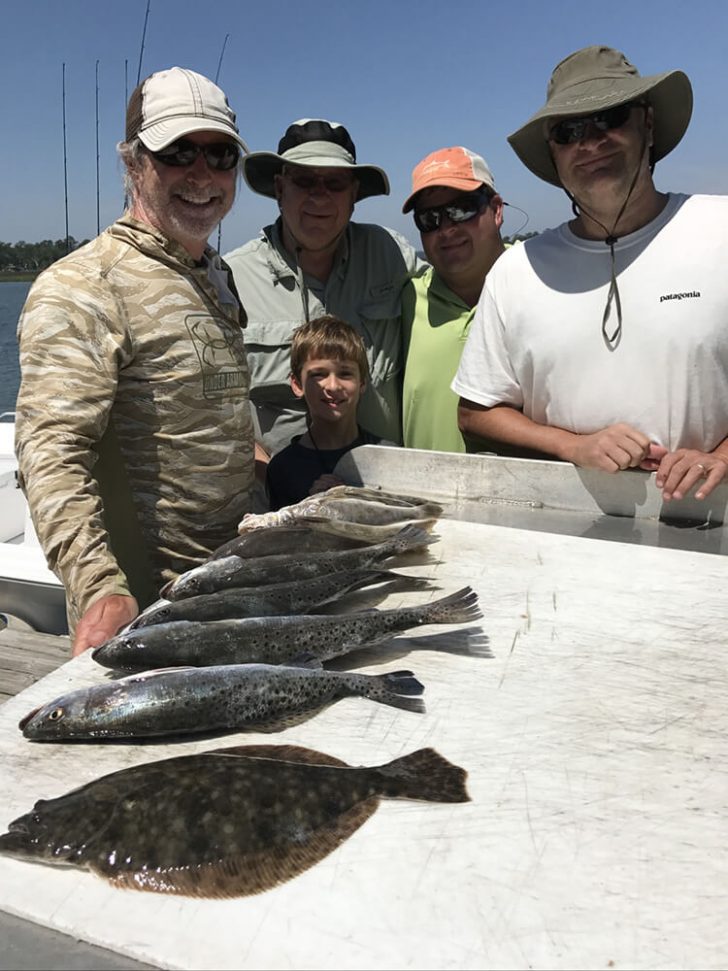 From left to right on front row Captain Matt Williams of Miss Judy Charters, Brett Lee age 8 his father Rick Lee from Savannah, Georgia back row: David Lee Savannah, Georgia and Brant Rushing Mt Pleasant, South Carolina. What did they catch? From the mouths of babes (Brett age 8) came the complete fishing explanation! Brett reported that he caught flounder, stingrays, spotted sea trout, croaker, and a large prawn shrimp. I had to ask him, "How did you catch the shrimp?" It swam by and Captain Matt scooped it up! All and all they had a great time and Captain Matt showed them the catching way!
Now for the unbelievable, but true story. Mr. Rushing was Brant Rushing's grandfather. Please see Little Miss Judy's Believe It or Not! A story for the end of this report!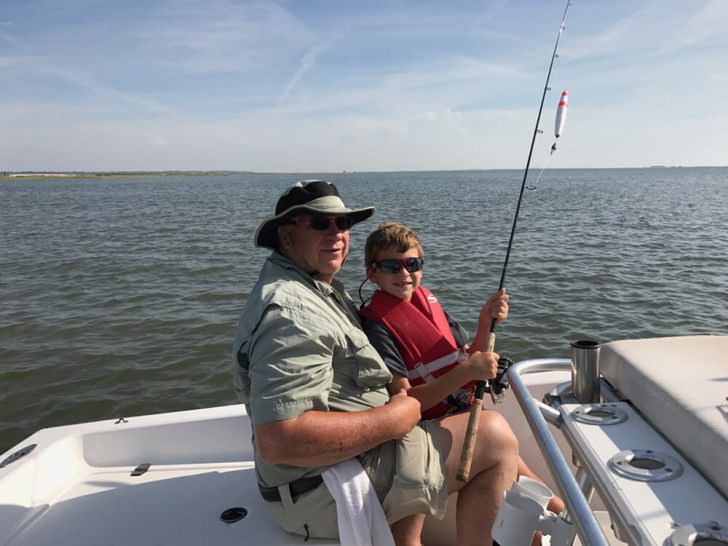 Fisher Brett Lee and his uncle David Lee are having a little catching fun! What did Brett catch? Redfish, spotted sea trout, flounder, whiting, croaker, shark, and other biters!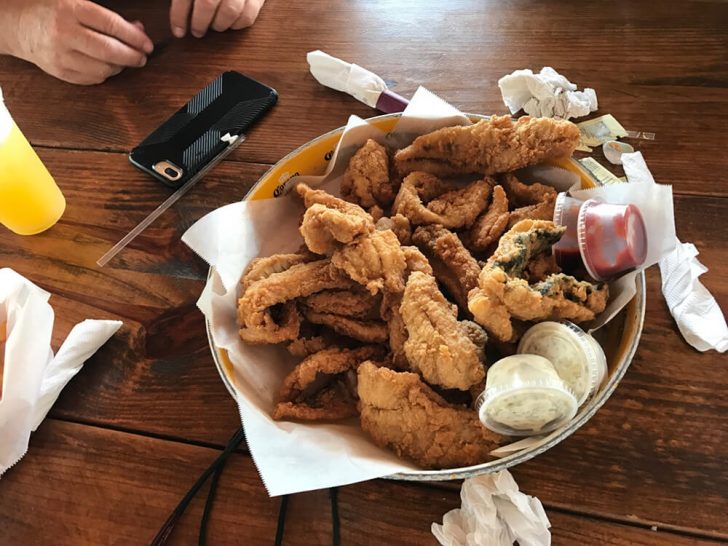 What happened to Brett's catch? See the fried fish on the plate above. He was too busy eating to tell us how yummy it was, so you guess! This looks so good! Got to go! It's eating time at the fish!
Miss Judy Charters is now offering inshore fishing fashion! This week's fishing fashion statement comes straight from the helm of Captain Garrett Ross of Miss Judy Charters and Gracie Gambrell of Mt. Holly, North Carolina.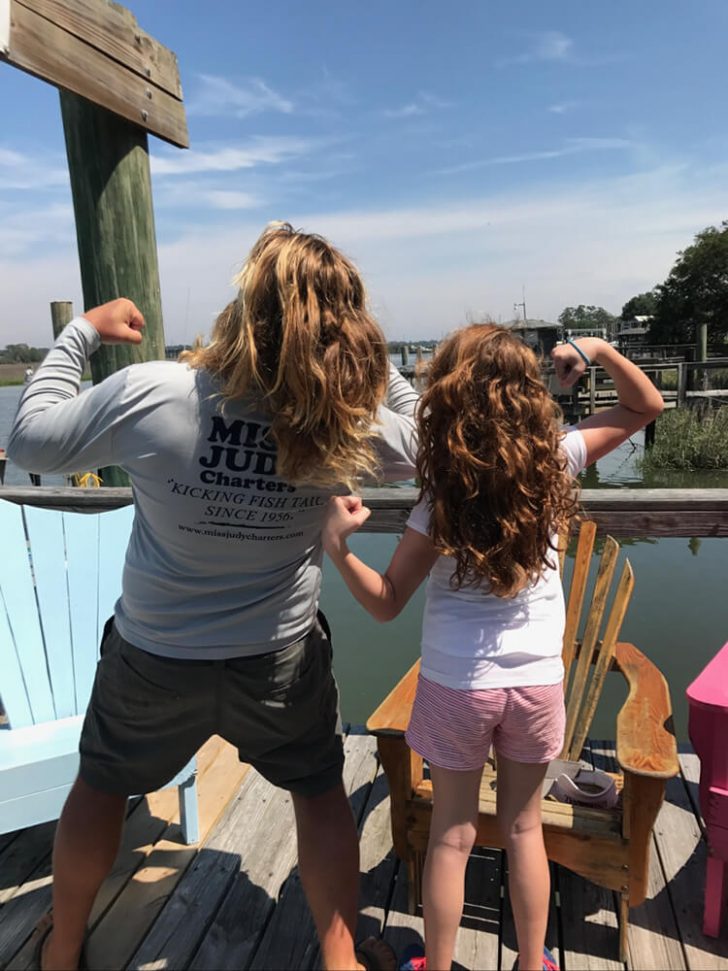 Diana Gambrell sent me this picture of her daughter Gracie of Mt Holly, North Carolina, and Captain Garrett Ross! And what are these two doing? Having what is better known now as "The Battle of the Hair!" At this point, to be truthful I don't know which has prettier hair! The Captain or the Beauty Queen! As it turns out, Gracie Gambrell is the 2016 Junior Miss North Carolina! How about that? We were among royalty! So now I will tell you about their grand inshore fishing day with Captain Garrett!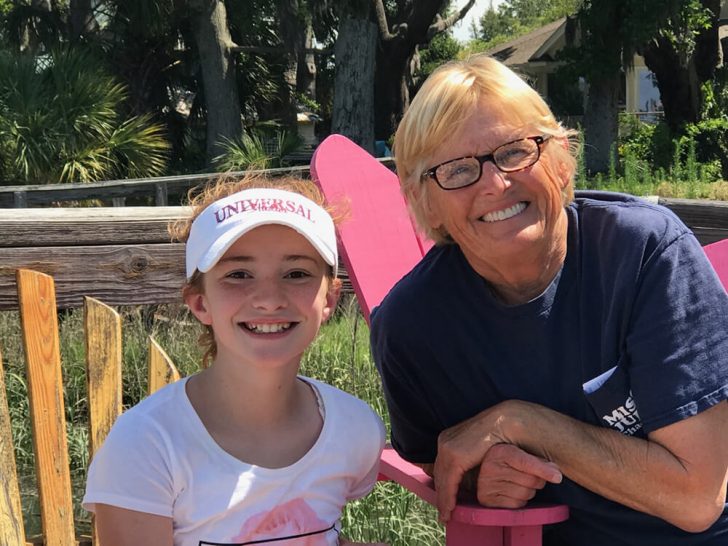 Left to right: Gracie Gambrell age 13, her father Shaun Gambrell, her brother Maxwell Gambrell age 9 holding two nice spotted sea trout. (The family is from Mt Holly, NC) And Captain Garrett Rose of Miss Judy Charters. Let me outline the inshore birthday fishing trip that they had:
Firstly, it was Maxwell's 9th birthday and he requested an inshore fishing trip and then he wanted to eat lunch at Vinnie Van Go Go's for cheese pizza afterward. (Located in beautiful City Market, Downtown Savannah, Georgia) How did the inshore trip with Captain Garrett Ross of Miss Judy Charter go? Well, it seems that Maxwell did catch a little of everything from whiting to spotted sea trout to redfish to some pretty interesting sharks! And then there was that 8-foot shark! According to this report, "It was really a big shark for sure!" Although they didn't get a picture of the shark, they all know so, now you do too! Gracie's mother Diana went fishing with them also, but she was deemed the picture taker for the day! And she did a very good job too!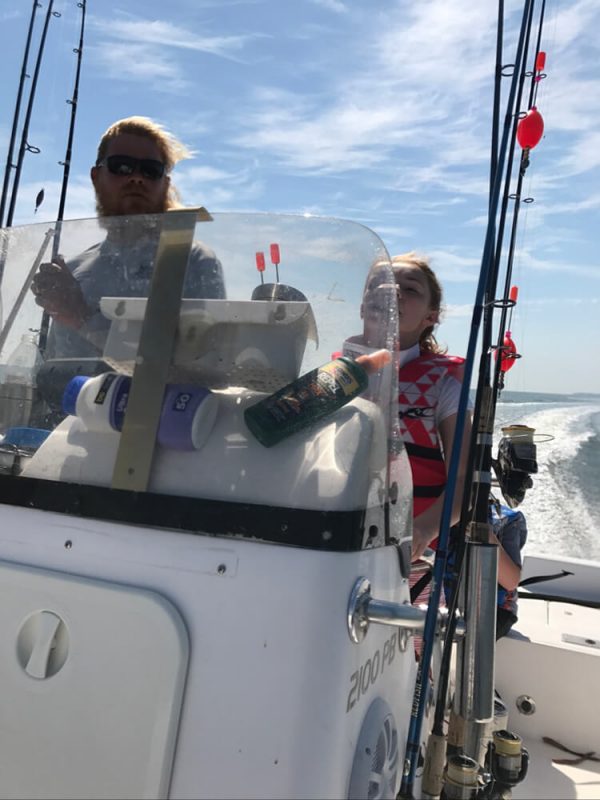 Here's Gracie Gambrell Mt Holly, NC having a big bite out of her feta cheese and pineapple pizza. When she said that they were going to Vinnie Van Go Go's, you know what immediately came out of my mouth? Well, my favorite pizza from Vinnie's is feta cheese and pineapple. Although Gracie had never tasted nor even heard of this pizza combination, she still gave it a try. According to her mother Diana, she loved it! I also need to add that I love her Salt Strong visor, which was given to her by Captain Garrett, and of course that Miss Judy Charters fishing team t-shirt!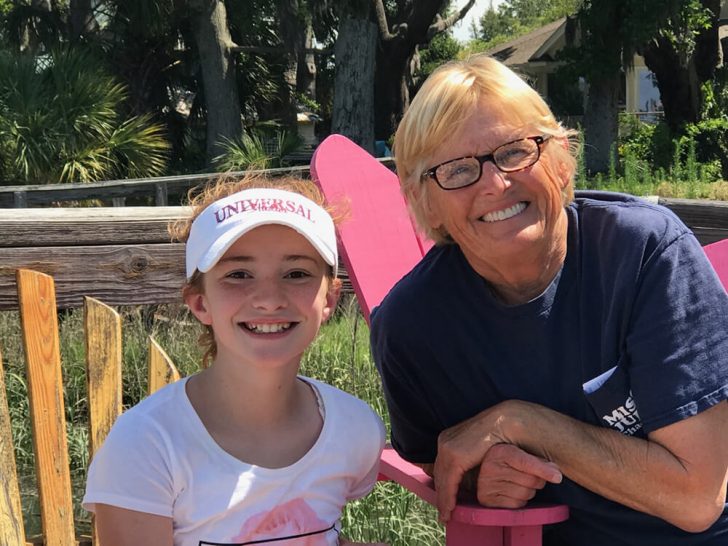 Little Miss Judy Believe It or Not!
Many, many years ago my father Captain Sherman I Helmey and I took this picture together. This was either right after or right before he and a certain Mr. Rushing stole the car from the nursing home!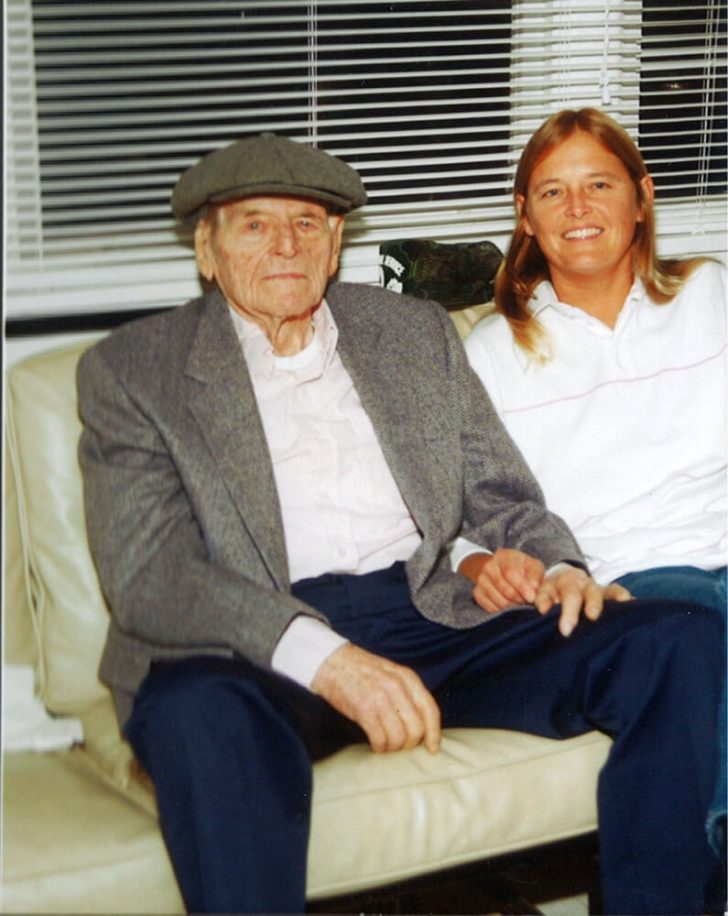 Yep, my father Captain Sherman I Helmey and Mr. Rushing stole a car from the nursing home…
Now for the unbelievable, but true story – Mr. Rushing was Brant Rushing's grandfather. Who was Mr. Rushing? My father (Captain Sherman I Helmey) and Brant's grandfather (Mr. Rushing) were in the nursing home at the same time. Mr. Rushing was a retired bus driver. And my father was a retired gangster from Big Al Capone era, a boat driver, and charter boat captain. So, therefore, Mr. Rushing and my father, for the most part, kept everyone on their toes at the nursing home. Since all of their moving parts worked they chose to use them at their own will!
On more than several occasions, they were found the ladies ward hiding while up to assorted things, which I am sure I really want don't want to go into. I will your imagination take over for this part. Since my father was a big cigar smoker and during this time those that smoked could he had everyone smoking King Edwards cigars. Heck, to be honest, it was not unusual to walk in and find at least 6 to 8 ladies and men with a big cigar hanging out of their mouth. I used to bring daddy cigars by the box and he, in turn, handed them out like candy. It's funny the first time I tried to smoke one of his cigars I coughed and coughed and coughed, but it certainly did seem to bother my father's smoking buddies at the old nursing home!
My father and Mr. Rushing were known as the mischievous duo. Most of the time they were on the go and they never seemed to get tired! I walked in one time and they were both peeing in the heating radiator. What did I say? Nothing! And what did I do? Nothing! At the time it seemed like the right thing! And then there was this time that I got a call from the nursing and it was not a good one for sure. According to an official at the nursing home, my father and Mr. Rushing had stolen a car and made a clean getaway.For the moment while this person on the other end of the phone still was explaining I blocked all of this out and got to thinking about daddy hot wiring a car and Mr. Rushing driving it! Heck after all this was what they both did in the good old days! After I tuned back into the conversation I found out that someone was bringing a loved one back to the nursing home, left their car running with doors open, the duo jumped in, and the rest is driving history.
The report that I got was an interesting one for sure. With Mr. Rushing was driving, daddy was riding shotgun… or vice versa. I really never got a full account of which was one actually was driving! However, as time went on the parts and pieces of the stolen car event got really interesting. According to one account, Mr. Rushing was driving at the speed of about 15 to 20 MPH. Those in the chase mode thinking that they could cut them off before them leaving the nursing home compound misjudged. As soon as they made it to the highway the driving really got started. Since cell phones weren't as available as they are now, those on foot chasing the car had to make way back to the office to call the cops. Yes, now the cops had to be involved!
It was reported that when the cops did find the duo they were clipping down the road at strong 25 miles per hour. It was easy finding them because a long line of cars formed behind. One cop reported that there was some much smoke coming out of the passenger window that for a moment they thought the car was on fire. As it turned out it was only daddy quickly puffing away at his cigar. If I had to guess Mr. Rushing was on one mission, which would be driving and dropping off riders. And my father, of course, was on another mission, which was actually running from the law! They say if you have done something once or even maybe twice that it just might stick like glue to your old memory banks! In my father's and Mr. Rushing case, all parts were working physically, but their minds had gone into reversed mode! As soon as they got the car stopped Mr. Rushing got out as if he would have his bus and my father while puffing on his cigar jumped out and said, "This stupid SOB was trying to kill me!" If not for a moment the grand cover up story began! As soon as they brought the car stealing cigar smoking duo back to the nursing home it was back to business as usual! I got to tell you what I wouldn't give to spend another day with my father at that nursing home!
Much later we found out that the car stolen was Sherry Collins's. And why does that name sound similar? Sherry is Captain Alan Collins's wife. Captain Alan has been taking customer's inshore fishing for Miss Judy Charters for many years! What does this prove? It is a small small world after all!
Thanks for reading! – Captain Judy

Captain Judy Helmey
Kicking Fish Tail Since 1956!
124 Palmetto Drive
Savannah, Georgia 31410
912 897 4921or 912 897 2478
912 897 3460 fax
fishjudy2@aol.com