November 28, 2017 – Captain Judy's Offshore and Inshore Fishing Report and Little Miss Judy's Believe It or Not Story!
Fishing statement: To try to insure that fishing stays in the hearts of those that love it and to help the ones that are going too!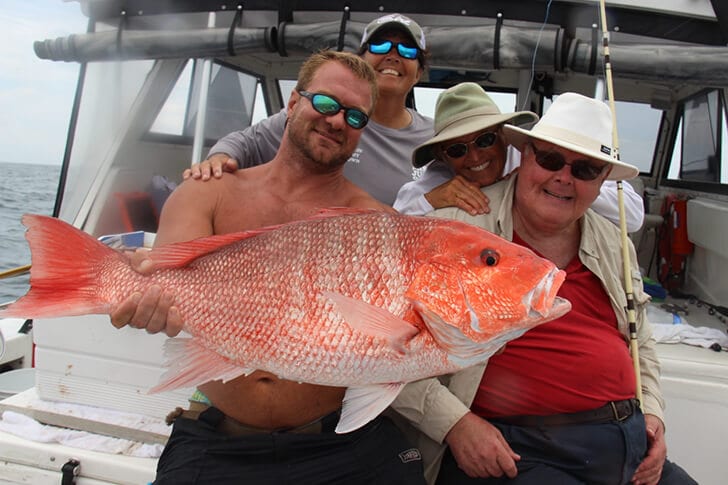 Who this? Captain Ryan Howard holding genuine red snapper with Captain Steve "Triple Trouble" Howell, Captain Kathy Brown, and Captain Judy Helmey….all family members of Miss Judy Charters fishing team!
Yahoo! We got another genuine red snapper keeping weekend! As you know the original snapper November 2017 opening turned out to be almost a complete windy conditions weather disaster. The powers that be have officially opened another three days for our offshore fishermen. The dates are the Friday through Saturday of December 8-10, 2017. So therefore, the only thing left to say now is "Your boat or mine?" For more information please call Miss Judy Charters (912)-897-4921.
OK fisherman… Here's where we are in the fish catching opportunity world!
Offshore Savannah Snapper Banks
The big thing going on now is the genuine red snapper season opening….which is recreational reopening of Red Snapper in South Atlantic Federal Waters on December 8-10, 2017.  Your boat or mine! Again, be sure to call (912)-897-4921 for details! We are taking bookings now!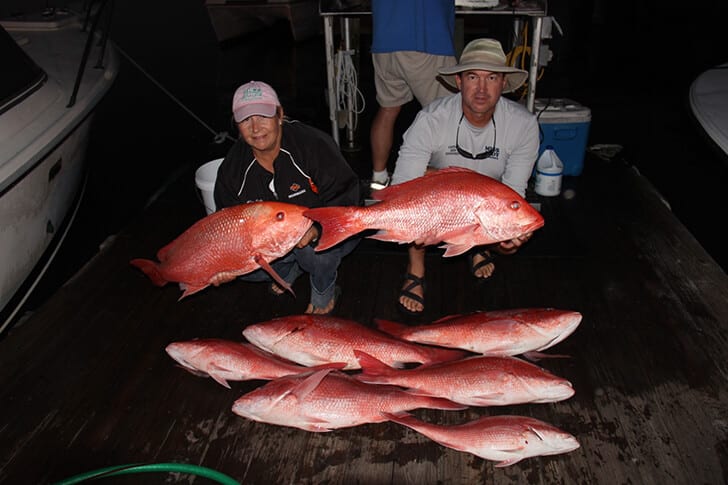 Captain Deidra Helmey Jeffcoat and Captain Ken Kennickell of Miss Judy Charters Fishing Team showing us the grand possibilities for fishing on an open snapper date. These fish were caught by the Scott Brantley Grosch Drilling Company team on Saturday November 4, 2017! (see below)
---
SOUTH ATLANTIC FISHERY BULLETIN – Bringing Fishing News to You
[FB17-071]
FISHERY BULLETIN ISSUE DATE: November 24, 2017
CONTACT: Sustainable Fisheries (727) 824-5305
Recreational reopening of Red Snapper in South Atlantic Federal Waters on December 8-10, 2017.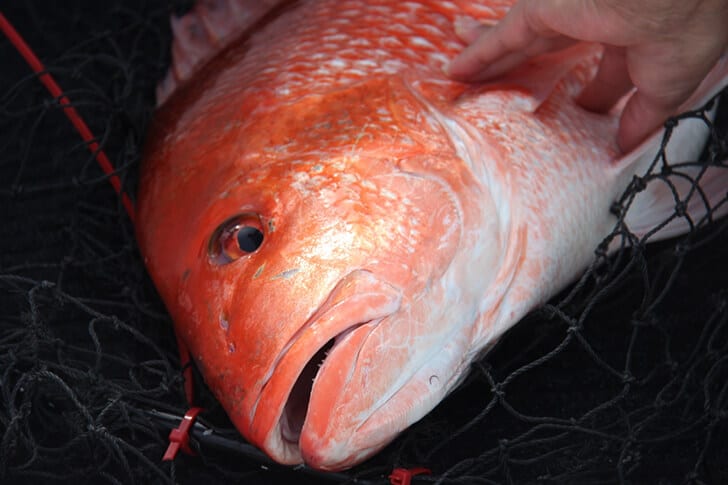 WHAT/WHEN:
The recreational harvest of red snapper in South Atlantic federal waters will reopen for three days in December 2017. Recreational harvest will reopen 12:01 a.m. (local time) on December 8, 2017, and close 12:01 a.m. (local time) on December 11, 2017. During the three-day reopening, the recreational bag limit for red snapper is one fish per person per day with no minimum size limit.
WHY THIS REOPENING IS HAPPENING:
Recreational harvest of red snapper was allowed for six days in November 2017. The 2017 recreational catch limit for red snapper is 29,656 fish. As of November 16, 2017, preliminary estimates of recreational harvest indicate that the catch limit has not been caught, likely due to inclement weather. Harvest projections show that an additional three-day opening for red snapper by the recreational sector would not result in harvest exceeding the 2017 recreational catch limit.
AFTER THE REOPENING:
Recreational harvest of red snapper is closed for the remaining part of 2017 beginning at 12:01 a.m. (local time) on December 11, 2017.
This bulletin provides only a summary of the existing regulations. Full regulations can be found in the Federal Register or at https://www.ecfr.gov/cgi-bin/text-idx?SID=383bc195ccbeab4fd6bec1c24905df34&node=sp50.12.622.i&rgn=div6.
Access this and other Fishery Bulletins from NOAA Fisheries Southeast Regional Office by clicking here.
This Fishery Bulletin is forwarded as a courtesy of the South Atlantic Fishery Management Council. Questions or comments should be addressed to NOAA Fisheries using the contact information provided in the Bulletin.

---
Artificial Reefs! Offshore Sheepshead Bite!
For those that like to target this old sheepshead while in their offshore migration now is the time to give this kind of fishing a try. Normally, at least during warmer months this fish is spread out all over the inshore waters. But when offshore waters temps drop below 60 degrees sheepshead make way to the near shore artificial reefs and to any sort of structure that they can find at 60 feet or less depth. So for those that want a short offshore boat ride to the fish, your time has arrived!
The best bait when targeting this fish is to use any type of sea creature that comes wrapped in a shell. And bait list goes something like this…. Purple back fiddlers, flat back fiddlers, small rock crabs, mussels, oysters, barnacles, shrimp, and etc… Now, for those that have been reading my fishing report for years you already most likely have heard of this crazy bait…. It is not from the sea, but it will work – that bait would be happen to be crickets! Now here's a suggestion: the night before giving your crickets a try, I suggest putting in a couple of slices of orange in their cage. The crickets love oranges, eat them, and then they smell just like them. It seems that all fish are somewhat lured by this citrus smell! Both fresh and saltwater fish. Go figure! Now you don't have to tell anyone that you know or even have tried this. Captain Kathy Brown of Miss Judy Charters shared this old time family recipe with me and of course I ran with it, and the fish ran after it! Be quiet, this is all I have to say!
---
Little Miss Judy's Believe It or Not!
Since hunting season is upon us in Georgia, Captain Judy and I were thinking about appropriate recipe ideas for her weekly fishing report. Right now it's cold and windy on the coast, so we decided that a "warm the belly" dish made sense. I'm not a hunter, unless grouper and snapper qualify, but a good friend recently gave me some packages of fresh ground deer meat. The word "Chili" immediately came to mind.
I have made this recipe for many years with plain old ground beef and it's pretty darn good. For Chili purists, I have made it without beans and tomatoes, replacing them with homemade beef stock, and I have to say its "okay" at best. That said, this is the first time I've made it with what my friend calls "deer burger" (okay, laugh, I'm from New Jersey!). Folks, it is excellent!
A few notes: first, don't leave out the Worcestershire sauce – it helps cut the richness of the deer burger. Second, don't forget to rub the oregano between your hands before adding it. It brings out the natural flavoring oils. Judy calls this "spanking the spice" (even though oregano is an herb, but who's going to argue with Judy!?) Finally, don't be afraid to experiment! There are endless spice variations for this dish. You just need to find the one that works for you. Hope you enjoy! – Captain Steve "Triple Trouble" Howell!
– DEER BURGER AND BLACK BEAN CHILI –
INGREDIENTS:
3 T olive or vegetable oil or leftover bacon grease
2 pounds deer burger or chili-grind ground beef
1 large yellow onion, chopped
3 large red bell peppers, chopped
2 cloves garlic, minced
2 T Worcestershire sauce
2 T regular chili powder
1 T Chipotle chili powder
2 T ground cumin
2 T smoked paprika
2 T Mexican oregano, rubbed between your hands
1 T Lawry's seasoned pepper
2 cans (sometimes I use 3) Publix or Bush Bros. seasoned black beans, un-drained
1 28-ounce can crushed tomatoes
Salt to taste
Your choice of toppings (sour cream, cheese, etc.)
DIRECTIONS:
In a large Dutch oven (mine is is sized at 7 quarts), heat the oil almost to the smoking point. Add the meat, breaking it up into chunks, and brown well. Add the onions and peppers and cook until soft. Reduce heat to medium and add the garlic and Worcestershire sauce. Cook until you can smell the garlic. Add the spices and stir well. Add the beans and tomatoes. Stir well and bring to a boil. Reduce heat and simmer for 2 hours. Salt to taste.
Thanks for reading! – Captain Judy
Miss Judy Charters is offering sheepshead trip for up to six and ten passengers… You need to take at least a 6 hour trip… or we can do less time… Give us a call so as to get the details: (912)-897-4921
Captain Judy Helmey
Miss Judy Charters
Kicking Fish Tail Since 1956!
124 Palmetto Drive
Savannah, Georgia 31410
(912)-897-4921 or (912)-897-2478
(912)-897-3460 fax
[email protected]
You can see Judy's previous report here.