May 17, 2017 – Saltwater fishing reports and Little Miss Judy's Believe It or Not story! Thanks for reading!
Fishing statement: To try to ensure that fishing stays in the hearts of those that loves it!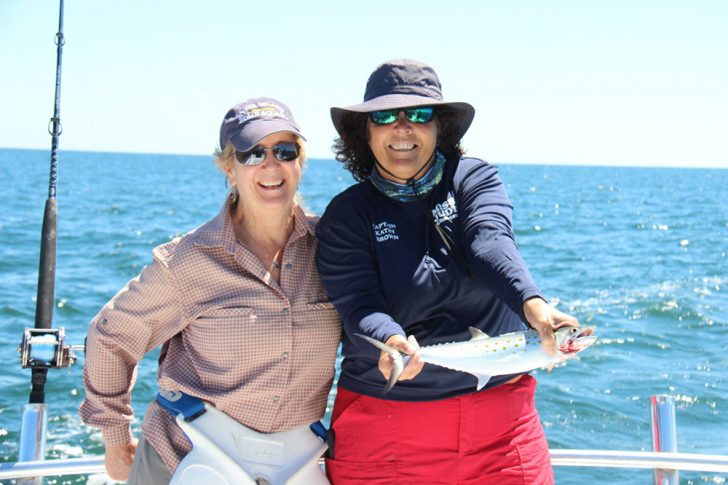 Artificial Reefs Catching Report!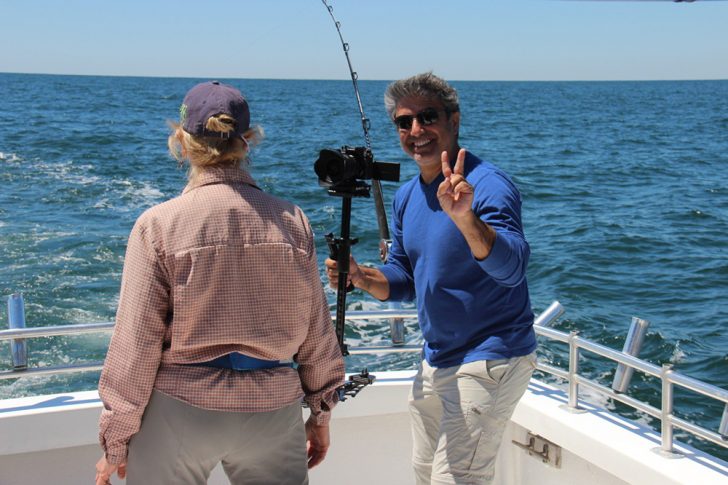 Please meet Mehmet Caglaya, he is the owner/operator of Blue Voyage Productions. He and Cakas Sakas have been working on this documentary since the fall of 2014 and are on this day shooting the final touches. Their documentary entitled Shifting Baselines: A Documentary on Georgia's Changing Commercial Fishing Industry! It will premiere it at Tybee Post Theater on July 25th during Gray's Reef National Marine Sanctuary's Tuesday at Tybee film series. Believe me, you don't want to miss it!
Savannah Snapper Banks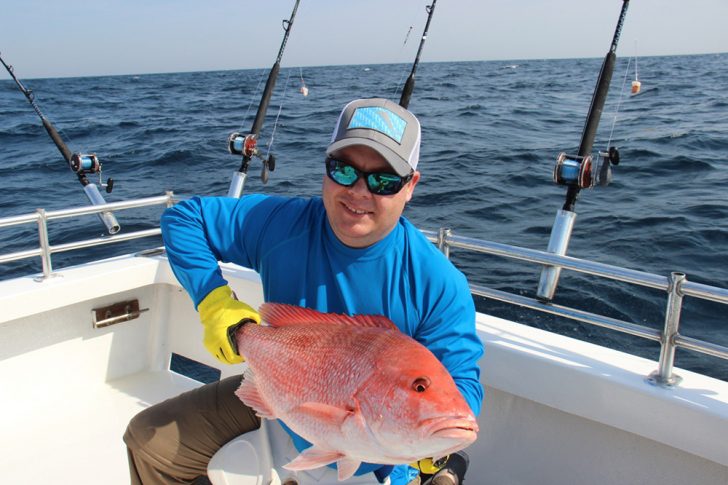 Robbie Schamber of Green River Wyoming is holding a nice genuine red snapper that he caught while plain old bottom fishing the Savannah Snapper banks! What was he using a bait? You are not going to believe it, but a small piece of cut squid! Proving once again that large fish will hit small baits! Or is it really all about location, location, or location?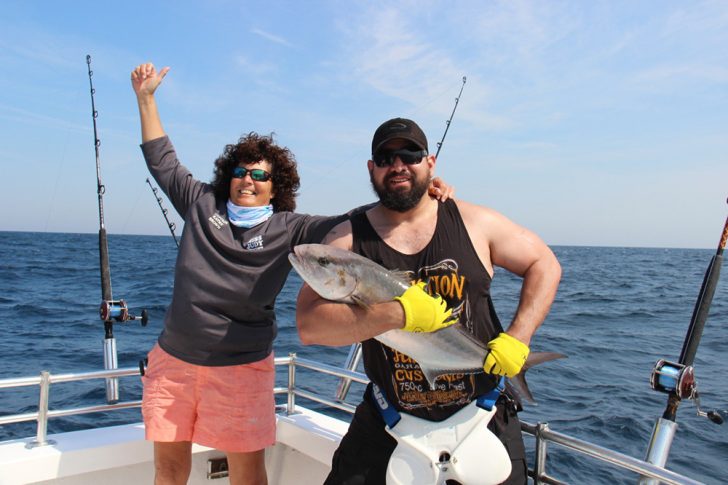 Captain Kathy Brown of Miss Judy Charters is showing a big thumbs up! And Joe Armendarez Green River Wyoming is holding a nice amberjack that he caught, fought, and landed. Believe when I say, "It was not a calm day on the ocean!" The bottom line, it did not affect the fish bite! In fact, I think it might have helped it! When the bait a moving or should I say, "A waving the fish get attracted!"
Captain Kathy Brown of Miss Judy Charters is holding up a nice resident white grunt better known as a hog nose snapper..not to be confused with a hogfish! What makes this a resident fish? The coloring meaning is had been in a darker background longer than not! If a fish stays too long at one spot its internal camouflaging takes place. In this case, the background was dark and this fish just wanted to blend in!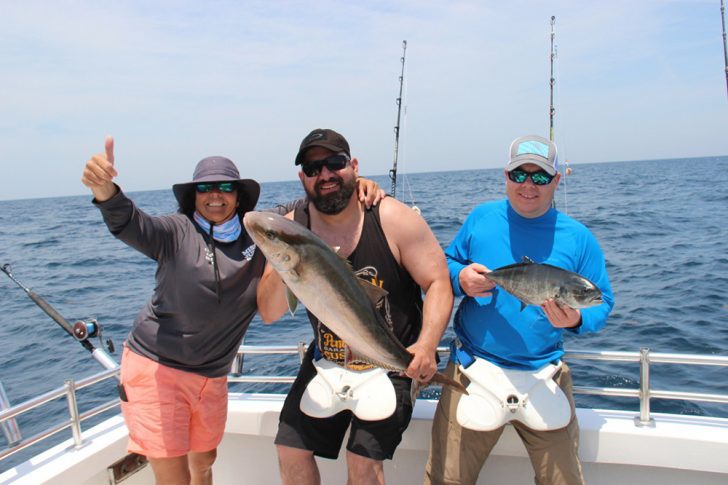 I always add an electron fish attractor to all of my double hook bottom rigs! I usually slip attractor on the top hook only. The reason being is when the fish is swimming up to the top hook the second hook get its attention first. And you know what that means you are almost guaranteed two fish while making one drop! I am always saying, "Location, location, location…" now I am saying, "location, fish electron, location, fish electron.." I think you get the picture but what really matters is that I got fish! Isn't that what we all want?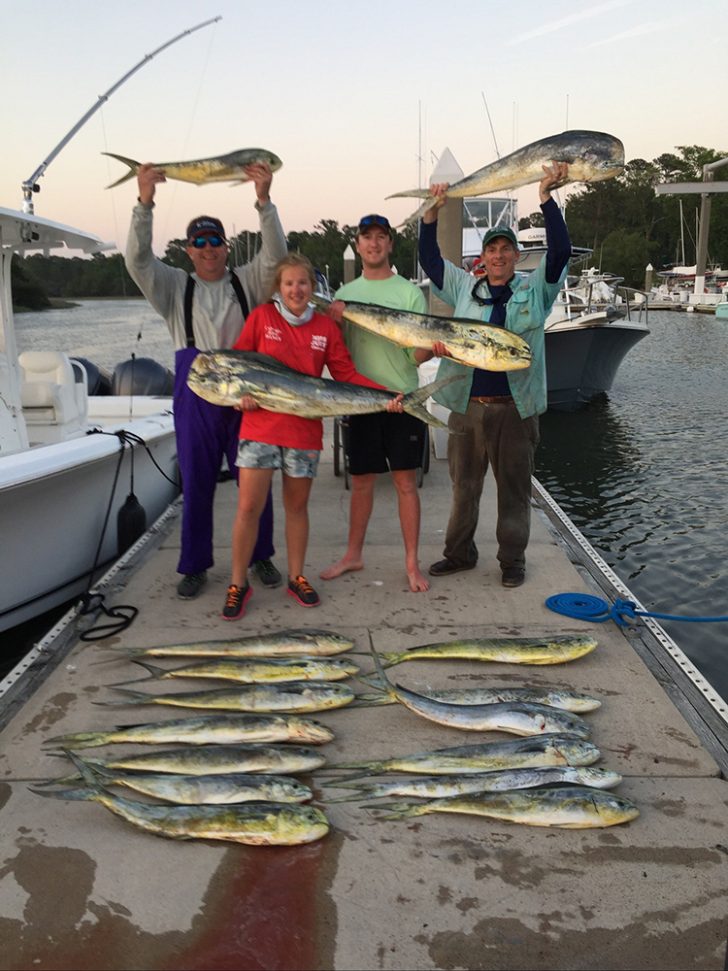 Meet the blue water fishing team! And this should be changed to catching team!
It was a grand blue water catching day for this fishing team! They caught 17 dolphins aka Mahi Mahi and two Bonita while dragging many different colored lures rigged with medium ballyhoo. What was the surface temperature range? The found the bite while working 72 to 75-degree water. What depth did they work? Depths ranged from 120 feet to 760 feet of water. What areas did they fish? For the first part of their trolling time, they worked the Triple ledge catching around 8 dolphins. After the bite slowed, they picked up and finished up the day while working the South ledge area lining the fish box with the rest of the catch. From this report sent directly to me from Alli DeYoung now you all know it is time to give blue water fishing a try because the bite is definitely on!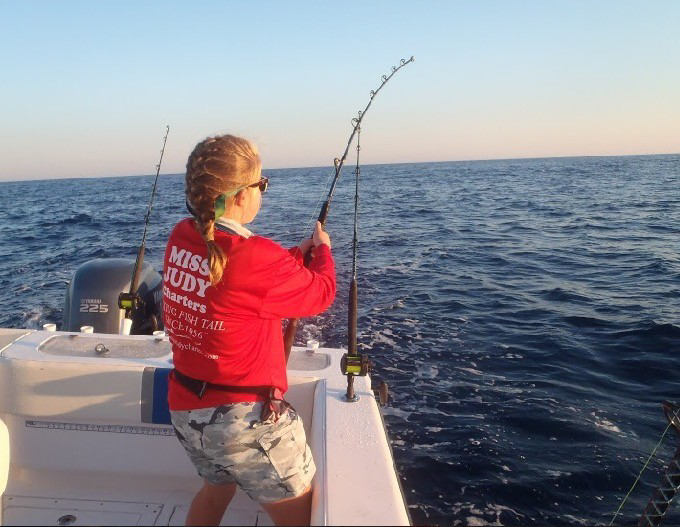 While making way Alli DeYoung got this picture as a pod of dolphin began to play in our wake. They were jumping around and putting on a great show for us. On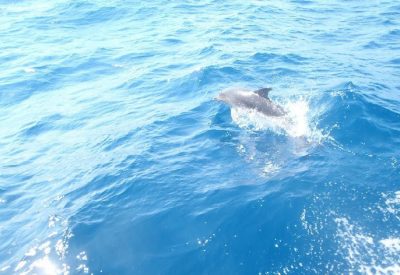 this fish day, Alli reported that the water was a brilliant blue and most of the Sargasso weed formations were scattered. My father used to say, "Where you got dolphin you got fish!"
A big congratulation goes out to everyone! And thanks for the blue water fishing report!
"Little Miss Judy's Believe It or Not!"
Captain Kathy Brown of Miss Judy Charters and Captain Steve "Triple Trouble" Howell! What do both of these captains have in common? A grouper catching smile!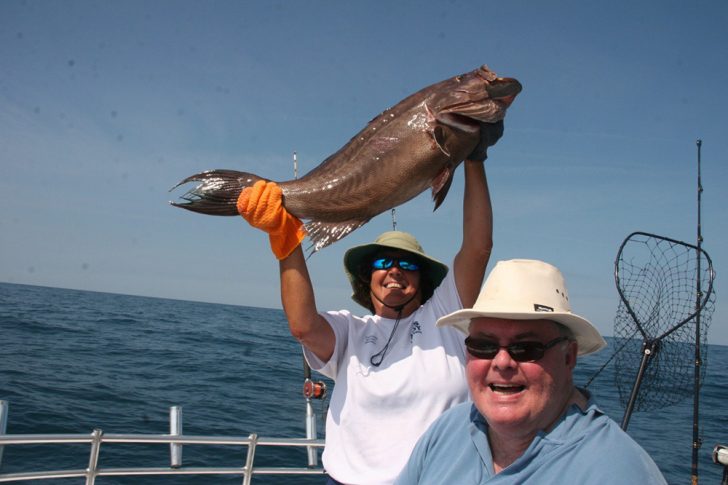 Here's an interesting piece of information. Grouper not only travel in schools but also in cadence and unison. This all boils down to not only with harmony, but also a song. Most grouper have an ability to flap their jaw plates together so as to make a loud underwater musical thumping sound. This is a sound that they make together right before moving from some sort of structure. My guess is that these are warming sounds of sorts. It's the sound that gives the head ups to all fish that a large fish stampede is just about to take place or it's just the whistle that the "freight training pulling grouper" makes right before leaving the ledge!
Thanks for reading! – Captain Judy
Captain Judy Helmey
Kicking Fish Tail Since 1956!
124 Palmetto Drive
Savannah, Georgia 31410
912-897-4921 or 912-897-2478
912-897-3460 fax
fishjudy2@aol.com