February 21, 2018 – Fishing reports and a Little Miss Judy Believe It or Not story! Thanks for reading!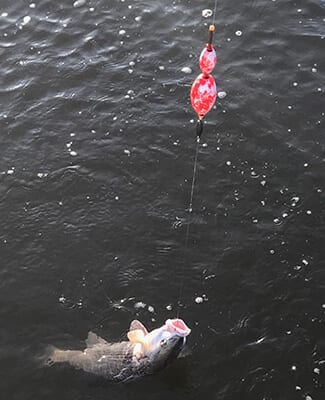 Fishing statement: To try to ensure that fishing stays in the hearts of those that love it!
Captain Kevin Rose of Miss Judy Charters took Joanna and Casey Poole of Jasper, Georgia for a wonderful catching time. While using mud minnows under popping corks and assorted secret Captain Kevin customized red fish baits they scored big time! They kept, they released, and they lost some really nice fish! All in all it was a grand inshore fishing day. Casey's father Ralph joined them for this fish catching adventure. Of course, who caught the biggest? Ralph!
Inshore
I call this the teeter toddle ring time of the year! Why? Water temps are not exactly what I would say completely predicable. And you know the fish that swim in it are definitely after the winter that we have had are looking for some temperature stability. Here's where we are: We have seen some 60 degree water this past week, which has prompted more of a solid fish bite. Heck, after all when a fish moves it does have to eat. So therefore the warmer the water the more the fish moves the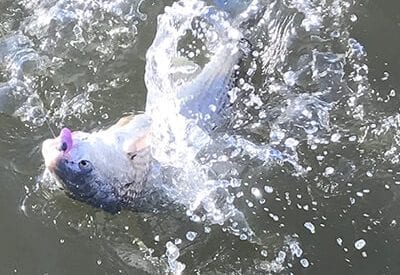 more the fish will eat and the more the fishermen will catch!
Cold Water Red Fish
Captain Kevin Rose used a mud minnow under Harper Super Striker Cork to get this catching job done! Cold water reds are in the thawing process, water temps are on the rise, and the inshore bite is just about to get right!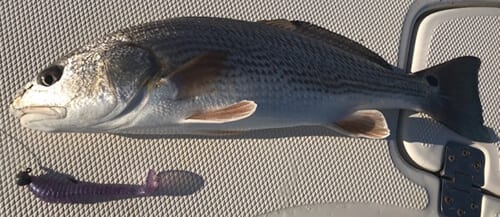 Captain Kevin Rose reached into his tackle box and pulled out his bag of tricks. This red fish found a Captain Kevin worked Sloan Brothers 3.5 inch swim bait something that it could not pass up! How did he work this lure? He just casted into the strike zone did a little twitching! And the purple panic bait took it from there!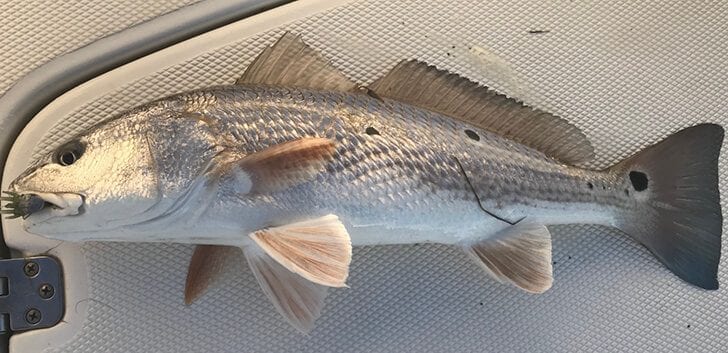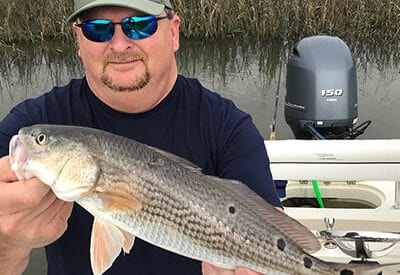 He also did a little scouting this past weekend. What kind of catching day did he have? Captain Kevin had caught fought and released 30 red fish of assorted sizes by high noon! What is hanging out of this red fish's mouth? VUDU Shrimp! How did he work this bait? He cast into place and free lined it! And what happened? The red fish found it so interesting that… well you already know the rest of this catching story!
While inshore fishing with Captain Kevin Rose, Mr. Casey Poole and Mr. Ralph Poole of Jasper, Georgia had a wonderful catching time. While using mud minnows under popping corks and assorted secret Captain Kevin customized red fish bait that scored big time! Ralph caught this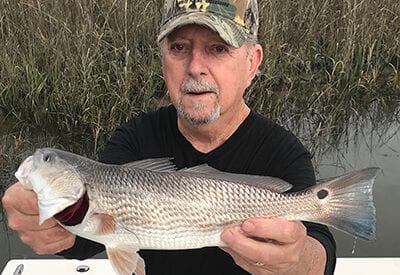 nice red fish! I know you aren't going to believe this, but the elder Mr. Poole is 75 years young! Between his son Casey and daughter-in-law Joanna who do you think caught the biggest? You guessed it, Ralph! Captain Kevin showed them the way!
---
Offshore Fishing Report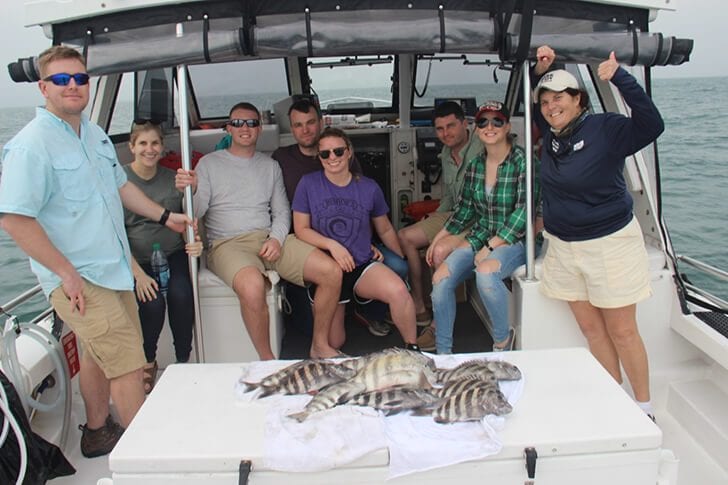 I took this fun family on a short fishing trip this past weekend to the artificial reefs. They met here from all over the country! I was so glad that they were able to catch a few fish and have a nice fried fish dinner.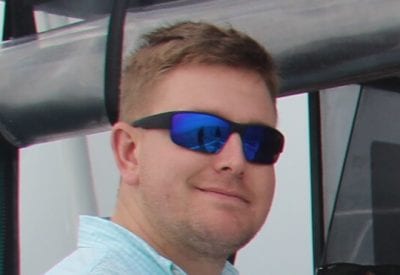 The offshore artificial sheepshead bite was very light this past weekend with fishermen such as me getting badly taken advantage of. I can't tell you how many times I reeled up a completely sucked dried fiddler shell. I knew exactly when the sheepshead hit my bait, but couldn't get in step with the bite. So we came up with the sheepshead wave and wiggle. Now, the sheepshead wave is not new, but adding the wiggle did the trick. Ryan Shepherd was taught to bass fish by his father, who is a serious tournament bass fisherman. Ryan kept saying, "It's hard not trying to set the hook like I do on a bass!" After a few minutes of hits and misses Ryan dialed this fish bite in by adding his signature wiggle. He had some fish catching moves for sure! He caught the most and the biggest! I was so happy that he took the stress off me!
Savannah Snapper Banks
This area is holding lots of black sea bass, vermilion snapper, white grunt, trigger fish, red snapper, grouper, and I could go on, but… The bottom line is we got lots of fish! Please always check with http://safmc.net/ before heading out! Remember we got rules and lots of them!
Gulf Stream
I haven't gotten any recent reports from the Gulf Stream. However, I can almost guarantee that if you make a run that you are going to get an opportunity to catch a whole lot of different kinds of fish. And I am not just talking about bottom fish either! You can add the top water bite, because it is there! You just got to find it! Let me know if you go!
Freshies Report and it's a Salty Report Too!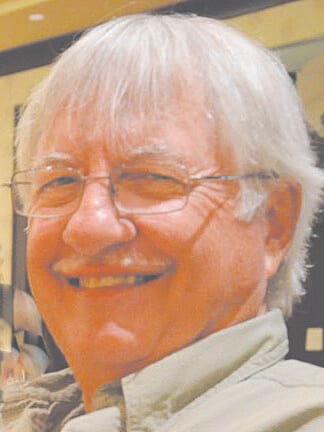 Just do it!
My long time friend Bill Vanderford invented these lures many years ago. The best news is not only do the freshwater fish love them so do the saltwater ones too! A lure for all seasons with good reasons!
Bill Vanderford says, "The fishing season is on the horizon, so if you want an easy way to catch more fishthan ever….the Swirleybird is the answer!" Captain Judy says, "Order some today!"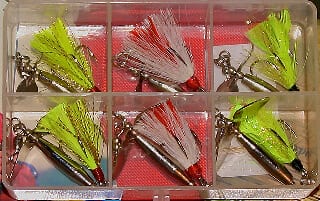 www.georgiafishing.com/swirleybird-spinners/
---
Little Miss Judy's Believe It or Not!
SHARK REPELLENT OR NOT!
This is a picture that I found on the web of some World War II bags of shark repellent. I looked for a picture of the copper can that daddy had in the old refrigerator, which was located in the salon of the old wooden Miss Jerry. However, I could not find it. I guess I should have taken a picture with my old brownie Kodak camera!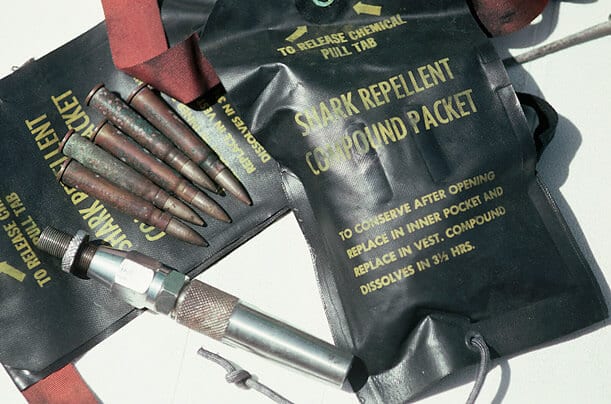 Back in the good old days, also known as the "wooden boat era" my father was afraid of getting in the water, at least what he called the "big water." Big water was considered ocean water. We all used to swim at our docks, which was located on Turner's Creek all the time. According to daddy just swimming at the dock was a little different. My father knew from firsthand experience that the big water had too many big hungry fish swimming around in it. According to him he didn't want to become part of the ocean's food chain. So therefore he started his quest of making not only himself, but also his customer's safe in the event of his own sinking disaster at sea.
The first thing I remember him purchasing was a ring buoy. It had a thin rope tied around the perimeter of the buoy so that when thrown to the overboard victim it would be easy to grab. However, to me at this point all you became while being pulled in was a big lure in the water. Then there was that big orange raft that was kept on the roof of his wooden boat. (Later referred by the coast guard as the chum basket) However, you couldn't get in it you just held on the rope provided around the perimeter of the float. According to the United State Coast Guard this particular raft could hold up to 12 passengers. It wasn't labeled for its capacity of passengers, but instead the amount of in-the-water passengers that could safely hang off of it without sinking it. Once again this was a floating object that those in the water could only hold on too, not get into. Now that I think about it, all we would have been doing once is the water is to aid the sharks into locating us. I guess you could say, "Our flapping arms and legs would have been the shark calling devices!" Once again this situation was not for me, but there is more safety onboard the old wooden boat, Miss Jerry. The final and last thing that I remember was the "shark repellent" that daddy kept in the old broken refrigerator, which was located in the salon area of the boat. It was a copper canister that also had a rope tied to the ring located on the top of the can. On the front of the canister in big black letters were the words "SHARK REPELLENT!" Just reading those words made my skin crawl. According to Daddy all you had to do to use it was remove the cap. The cap supposedly had some sort of fiber attached to it that was soaked in so called "shark repellent solution." It was supposed to be the latest in shark technology. The directions stated to simply tie the cap off to the raft and supposedly the fiber as it was washed through the water would release the "SHARK REPELLENT!" This was in turn supposed to keep sharks away from the immediate area. All this seemed fine unless you were exactly the ones that were in the water. Thank goodness we never had an event that caused us to have to use any of the above safety devices.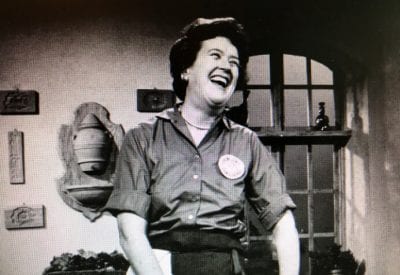 Julia Childs need no introduction…her book "Mastering the Art of French Cooking" is still in great standing!
So, what does Julia Childs have to do with shark repellent? Let me explain: My good friend and computer whiz Captain Steve "Triple Trouble" Howell found out some pretty darn entertaining information about Julie in regards to shark repellent.
During World War II Julie worked as a desk clerk for the Office of Strategic Services (OSS), which was the forerunner of today's CIA! One of her office's projects was to convince the Navy to develop a shark repellent to help sailors lost at sea. According to the story her office couldn't get any support from the navy for this project. You aren't going to believe this… but the reason being is sharks do not eat Navy Men! And the real reason was that they would have rather said, "Your son, father, brother, etc was lost at sea!" They didn't want to say, "Your son, father, brother, etc was eaten by a shark!" And since there was no way to know one way or the other about their demise the navy stood fast with their decision.
Then it happened, one day a shark was caught and its stomach contents were examined. They found quite a few undigested human parts. The fact of the matter they were able to get a finger print and guess what? It was a navy man! Since it was proven that navy men could be eaten by sharks the stalled project got it's much needed support! And the rest is history
While I was watching TV on one of those historical channels I saw some footage that I couldn't take my eyes off of. The show was called, "How to prevent Shark Attack." This was a black and white documentary that clearly was filmed back in the good old days. I watched and finally they brought out an old canister that looked very similar to what I used to see stored in Daddy's refrigerator. While in the water the film showed people demonstrating how to use the canister for best coverage. Then it happened a news flash across the screen showed a later updated statement, which had to do with this so-called shark repellent. It was a simple one. According to later studies, these particular "SHARK REPELLENT" in fact attracted sharks not repelled them! Once again, you now know the rest of the story!
Thanks for reading! – Captain Judy
Captain Judy Helmey
Miss Judy Charters
Kicking Fish Tail Since 1956!
124 Palmetto Drive
Savannah, Georgia 31410
(912)-897-4921 or (912)-897-2478
(912)-897-3460 fax
[email protected]