By Luke Cambell:
Robert Mitchell hasn't stopped chasing marlin since childhood, especially when he would see the species or its larger-finned counterpart, the sailfish, mounted on walls of seafood restaurants. After catching plenty wall-worthy fish in the Atlantic, Pacific, and Gulf of Mexico over the years, Robert chose the Virgin Islands to begin living his dream as a charter captain. Now, he takes guests on his boat, The Lucky Lady, to catch marlin and other trophy fish surrounding St. Thomas and St. John.
After visiting St. Thomas frequently over the last 10 years, local mainstays on the island have helped Captain Mitchell settle in since moving there permanently in January. Mitchell said, "Jimmy Loveland has been great to go over to and get advice. Getting to talk to a legend like Jimmy has been fantastic. Jim on the Black Pearl (a fellow USVI sportfishing charter) came over and welcomed me into town. He is a good guy, and I would do anything for these two people." The name Jimmy Loveland may be familiar to those who follow sportfishing. Loveland founded Marlin Magazine and the USVI Open/Atlantic Blue Marlin Tournament that runs every August in St. Thomas.
In addition to advice from fellow anglers, Lady Luck has loyally followed Capt. Mitchell to teach him the nuances of fishing here. Mitchell explained, "Everywhere I have fished, I have been blessed with good luck in finding boils, birds, and porpoise. Birds down here are very few. When you see a bird, you better follow it. When you see the porpoise, you might make one or two passes, but that's it. The lonely bird has been far more successful. The other places I have fished, you looked for a flock of birds and when following the porpoise, you were just about guaranteed a tuna strike."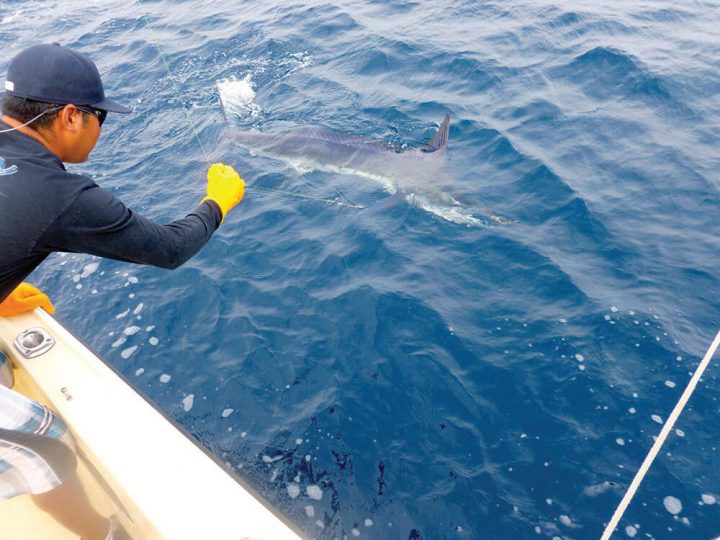 Another key difference anglers in the Virgin Islands is distance. In contrast to other destinations Mitchell has fished, the boat ride is short. The South Drop is 6 miles from a dock, and the North Drop is only 20 miles. These drops are famous. While fishing, Mitchell has watched the bottom drop from 90 to deeper than 3,000 feet in a matter of minutes. Paying close attention, and staying over the intended depth is important.
Capt. Mitchell described a recent trip aboard The Lucky Lady when that awareness paid off for anglers. They started the day trolling around a FAD (fish-attracting device) when four out of six lines hit on a school of blackfin tuna. They put their spread out again, started trolling, and then the line popped with an 180-pound blue marlin. The group also caught a wahoo of about 45 pounds and a 25-pound kingfish. "It was a great day on the boat, and everybody got a chance to sit in the (fighting) chair and take a turn," said the new captain.
Luke Cambell is a co-founder of Fisher Guiding, an online marketplace to find and book fishing guides, which is proud to partner with Capt. Mitchell and The Lucky Lady.