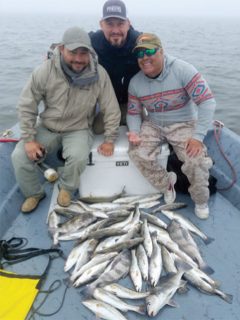 The fishing along the Upper Texas Coast remains strong. We are still catching great numbers of speckled trout using live shrimp, and Tidal Surge Lures split tails. Just last week there was still birds working in Trinity Bay with some solid fish located underneath them eating shrimp. I have never had bird action in January heading to February I guess the long summer did have some benefits this year, as it is still relatively warm for January as far as Texas standards.
I have also been fishing in West Galveston Bay when the water gets cold and if you can find some heavy mud to wade fish or some pockets of 6 to 8 ft. water with a good mud mix of mud with shell the trout and reds are in those locations heavy feeding. I have been using bigger baits in West Bay like Corky Fat Boys in pink and the fish cannot stand those lures. The water in west bay can also get a little clear this time of year so if the water is too clear, fishing can get tough so make sure you are looking for the mud streaks along the bay as the fish will tell you were they are located. Tis time of year my favorite colors are plum/chartreuse and pink as the fish seem to lean to these colors in the area I fish this time of year.
One last thought until next time please be careful in the fog as there have been many boats running hard in the fog with nearly no visibility. Please use common sense boaters and slow down as it is that is dangerous as you can't see fellow boaters until it might be too late. Tight lines until next time.
Captain Mike Meza | Reel Smooth Guide Service | 281-904-6925
Galveston Bay Fishing Charters, Galveston Fishing Trips