By Nick Carter
Take the aggression of a largemouth and the fight of a smallmouth; mix them together in gorgeous scenery one might normally associate with trout. This is the recipe for shoal bass on the upper end of Georgia's Chattahoochee River. It's river fishing for a bass that's as game as gamefish come.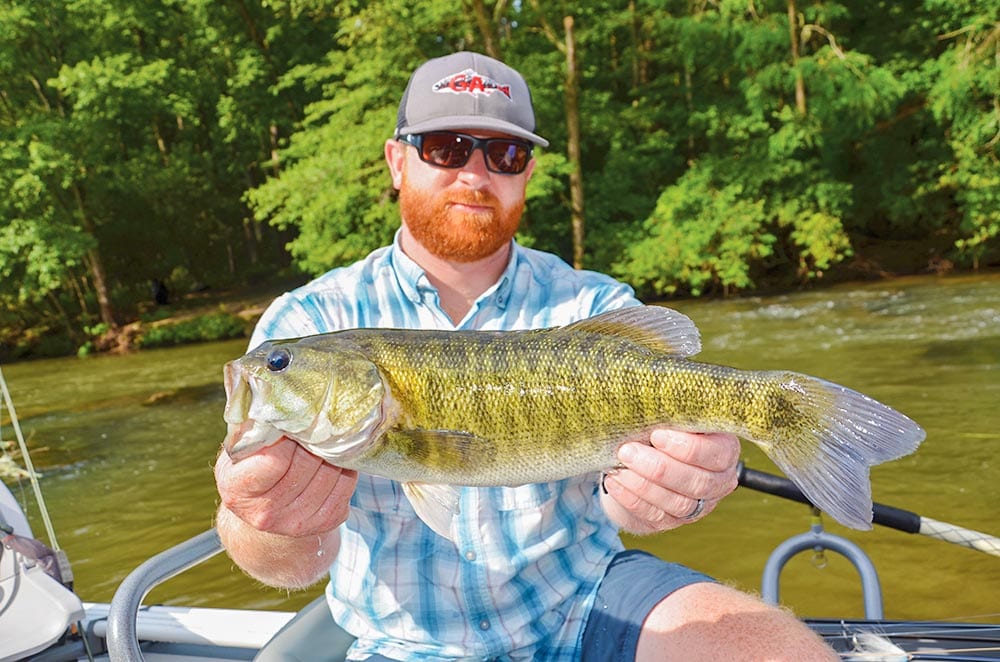 Between trout water in the mountains and bustling Lake Lanier, shoal bass thrive in a short stretch of this 430-mile river near the north Georgia towns of Clarkesville and Cleveland. Here, the water is much wilder and more sparsely developed than you'd expect from the lifeblood of Atlanta. The river's rocky shoals offer perfect habitat for the Chattahoochee's native river bass.
Shoal bass were widespread along the entire course of the Apalachicola-Chattahoochee-Flint River Basin before extensive damming after the 1940s turned the Chattahoochee into a series of large reservoirs along the Georgia/Alabama border. Those reservoirs offer great fishing of their own, but it's a good thing Georgia DNR identified suitable habitat in several places along the Chattahoochee to reintroduce shoal bass. They are a ton of fun to catch.
Jake Darling, of Unicoi Outfitters out of Helen, Ga., is turning people on to a great summer and early fall shoal bass fishery on upper 'Hooch. He said winter is when they catch big shoalies into the 5-pound range on jigs and soft plastics, but when the water is warm these feisty critters look up to feed. They will readily jump on a popping bug. There's nothing like the excitement of 2-pound bass exploding on top before bulldogging a bend into a 5-weight fly rod.
Shoal Bass in Moving Water
Moving water puts extra muscle on fish, and shoal bass are a perfect example of this. They live their lives swimming against the current, darting from eddies and seams to feed on crayfish, insects and baitfish. They might not have the size of larger black bass cousins, but they make up for it with pulling power.
On a warm summer morning, Jake launched his small and lightweight Smith Fly raft on a gorgeous stretch of river that runs through north Georgia's Buck Shoals Wildlife Management Area (WMA). The WMA is a good place to access a long stretch of shoals perfect for wading anglers, but the raft allowed us to navigate broken water and a couple of significant rapids to areas other anglers cannot reach.
Bob Rice, publisher of The Angler Magazine's Atlanta/North Georgia edition, and I took the angler's seats in the raft while Jake pulled the oars and directed us to good numbers of shoal bass, some colorful redear sunfish, bluegills and spotted bass. The biggest shoal bass was probably better than 2-pounds. It came all the way out of the water to cream a Double Barrel Bass Bug popped through an eddy. We also caught fish on top with Stealth Bombers and subsurface with a Rubber Legged Dragon. Big streamers fished on intermediate sinking lines.
Anyone who's fished for shoal bass will tell you they offer the best attributes of largemouths, smallmouths and trout. Some might argue they are better sport than all three.
Book a trip with Unicoi Outfitters through their website at www.unicoioutfitters.com