by: Dan Carns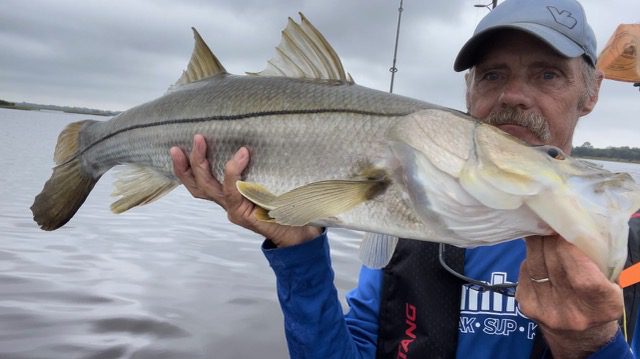 I recently spent a week fishing in a location that can only be described as one of the best saltwater kayak fishing destinations in all of Florida! Jutting out into the Gulf of Mexico, just north of Tampa is the remote little town of Cedar Key. Known for its quaint, laid-back old-world Florida vibe, the town is surrounded by extremely shallow bays and inlets. As you travel around town low tide reveals enormous oyster covered bars and shoals. Of course, the shallow waters of the Gulf are home to many sought after fish including snook, spotted sea trout and my favorite, redfish. Only experienced boaters dare to enter these shallow waters whereas kayakers can easily maneuver around the skinny drop-offs and channels that never quite dry out at low tide. Local fishing reports including those right here in the Coastal Angler Magazine, said that redfish and trout were active but snook were still holed up deep in the canals as winter is ending.
After consulting with a member of the new Florida Kayak Bass Trail (FKBT), he suggested that I launch just north of town at Shell Mound boat ramp but beware to go at low tide so that I could tell where the channels were and would be best on the incoming tide.
Armed with my ten-foot Zambezi peddle drive kayak from Vanhunks and all my inshore fishing gear, I set out about two hours before low tide and headed northeast to inside Long Cabbage Island. The first two hours produced not a single bite but many spooked fish as it was so shallow and quite that even a soft plastic lure was too much for them to tolerate. The turning tide took a long time to reach my spot but gave me plenty of time to explore all the little oyster bars and grass covered humps that define this cove. Slowly, at first the water began to come in and I saw this little exposed oyster bar get covered by water, then I heard my first blowup followed by another. Suddenly fish where crushing bait in every direction when to my delight, I hooked into a monster snook. I hooked this fish on a Zmann paddle tail in pin fish color paired with a red Bass Assassin jig head and was surprised as I thought it was a shark at first. She launched into the air revealing that long black lateral stripe that defines a snook and after a long, I had it measured and released. Over slot at 34 inches and my PB snook! My next cast produced a 30-inch redfish followed by another tremendous 32-inch snook and for one straight hour it was continuous fishing mayhem producing slot and over slot reds and snook. I repeated this same amazing trip three days in a row and will remember this as some of the best kayak fishing of my entire life. It's A Wild World-Get Out There!
Fishman Dan