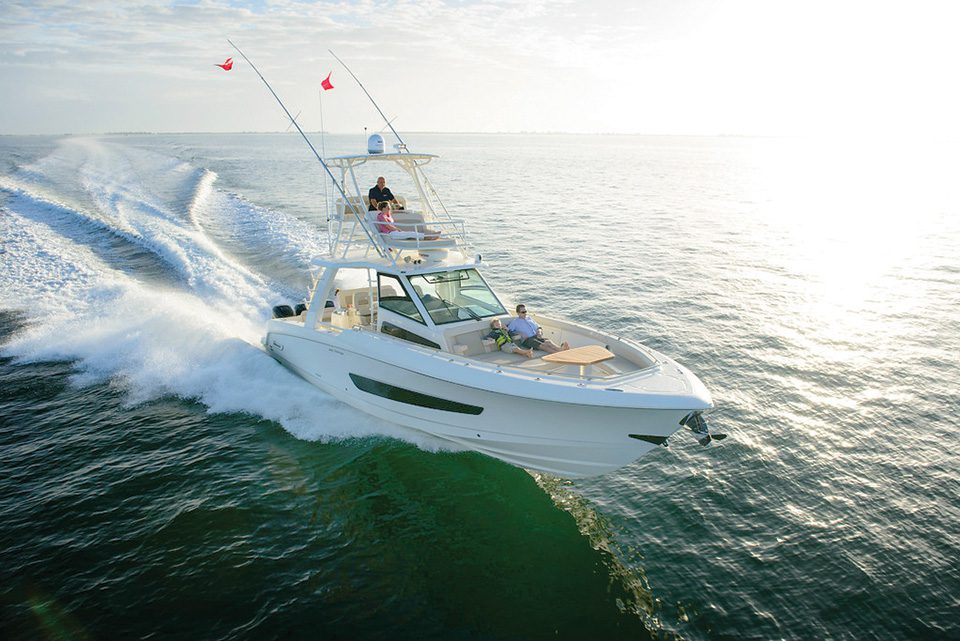 By Art Hodax
If you've been to a boat show lately, you've no doubt been stunned by the array of large center console boats. They're big, they're quick and they're ocean capable. This class of boats represents one of the most innovative areas of boat design. For many, they balance the best in design, power, comfort and range.
Today's selection of larger outboard-powered boats results from a game of industry leapfrog. The interest in larger center consoles drove the development of larger outboards, and more powerful outboards have allowed marine engineers to create even larger center console boats.
At a recent boat show, George Smith from Marine Max in Stuart, Fla. showed off some "open" boats that are easy to maintain, are capable of offshore runs even on less-than-perfect days and have the accommodations and safety features to comfortably cross the Gulf Stream from the Florida coast. Today, there's no problem finding outboard-powered boats over 40' with consoles large enough to include a berth, head with shower, galley and air conditioning. Smith talked about how the market for these boats has changed over the past four or five years.
One of the driving changes to boat construction has been the use of vacuum-infused fiberglass. In the past, hulls were thick to provide strength and more resin was used than needed. Now, boats are computer engineered using fiberglass as well as high-tech fabrics like Kevlar and carbon fiber to create stronger and lighter hulls. In addition to these high-tech fabrics, new construction techniques allow materials to be vacuum sealed into the mold by adding a layer of plastic film over the cloth during construction. Using vacuum pumps, resin is then drawn through hoses into the cloth, impregnating it while vacuuming excess resin out of the mold. The result is a lighter and stronger construction, which allows for larger more complex hulls and cockpits to be produced.
We boarded a new 42' Boston Whaler Outrage. As an outboard boat, there's a massive amount of space inside the hull. This boat is designed to handle up to 1,675 hp spread across up to four engines. This brings us to the issue of outboard evolution.
Large outboards are now six- or eight-cylinder, four-stroke powerhouses. These engines commonly benefit from supercharging and from new alloys that allow them to withstand added compression and torque. Among the options are Mercury Marine's Verado 400 hp inline six-cylinder, the 425 hp Yamaha XTO Offshore V8, or for those who want more, the Seven-Marine 627 hp supercharged and intercooled V8. These engines are reliable, quiet and smooth.
These days, center consoles can compete in many ways with larger flybridge boats. Things have changed in the market for open boats.