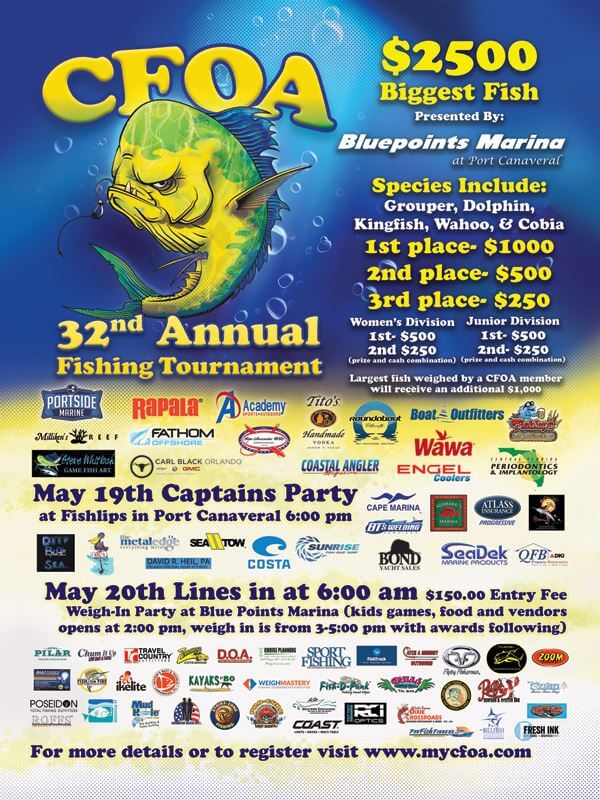 The 32nd annual Central Florida Offshore Anglers Tournament is just around the corner, and the fish are getting nervous. The Central Florida Offshore Anglers (CFOA) is excited to bring this tournament back again on May 20 in Port Canaveral. CFOA will award 1st ($1,000), 2nd ($500) and 3rd ($250) place for the biggest fish in the following species: dolphin, wahoo, kingfish, grouper and cobia. The tournament will also pay out 1st through 3rd place in the Juniors and Ladies categories. Bluepoints Marina, the Tournament Presenting Sponsor, will also award the biggest fish of the tournament with a grand prize of $2,500.
Proceeds from the tournament will enable CFOA and its Marine Foundation to continue contributions to marine-related charities and provide angling education and opportunities for youth, the wounded and disabled, and families throughout the central Florida coast and greater Orlando area. This great event would not be possible for the community without the help of the tournament's fine sponsors. Check out the full page ad in this edition for the tournament and list of all sponsors.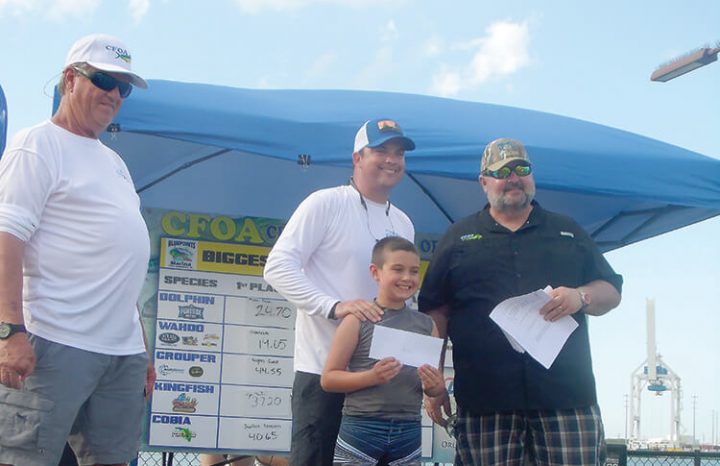 The Captain's Party will be held May 19 at Fishlips Bar and Grill from 6 to 9 p.m., and the party will consist of music, food, drinks and lots of raffle prizes. You can register for the tournament that evening for a fee of $150. A Calcutta will also be available to those captains interested. All captains or one of their crew must be present at the Captain's Party.
The following day, boats will be putting lines in at 6 a.m. and the Academy Sports + Outdoor Weigh-In Station will be open from 3 to 5 p.m. at Bluepoints Marina. If you aren't fishing (or even if you are), bring your family out to our weigh-in party for food, live music, bounce houses and a water slide.
Many fine sponsors will also be joining the fun that day with sponsor booths in the weigh-in area. The party will start at 2 p.m. and will run until the awards are presented. There will also be more raffles and giant fish being weighed on the stage, so don't miss the fun and excitement!
For more details, go to www.mycfoa.com.