by Patrick Barone
What do YOU do when the water freezes? Do you target panfish, bass, trout? We have a large number of clients each winter that want to go after the top of the food chain and put out some tip ups for Northern Pike.
When you are targeting predatory fish like pike, the bait that you choose is very important. While you can certainly use bait that is too small, we often forget that sometimes we can use bait that is too big. Pike are the king of their own jungle, and can sense when something is out of place. When you buy your bait, you should always consider the size of the natural forage where you will be fishing. If we are using shiners for bait, I try and start with those that are too big for a perch to eat, and get a mix of sizes up to what I would consider to be big enough to entice the real gators – 7". I am never trying to be the biggest bait in the water. Put that on a tip up with an 80lb fluorocarbon leader and a 5/0 hook, let out enough line to get the bait about 12"-18" off the weeds and set your flag.
Putting your bait in an ambush feeding area is the best way in my opinion to get bites. Pay attention to the shoreline contours and envision them under the ice. An area where a pike can use the natural terrain to keep the bait from escaping is a good place to start. I like to spread my baits along these areas at about 15 paces apart to cover a few depths. When you have a flag go up, remember that you need to be patient. When a pike has your bait, it is not always in its mouth while it is swimming and taking out line. When they stop swimming, they are turning the bait in their mouth to get it head first and make it easier to eat. That's when you get ready and set that hook for a great hands-on battle with an apex predator.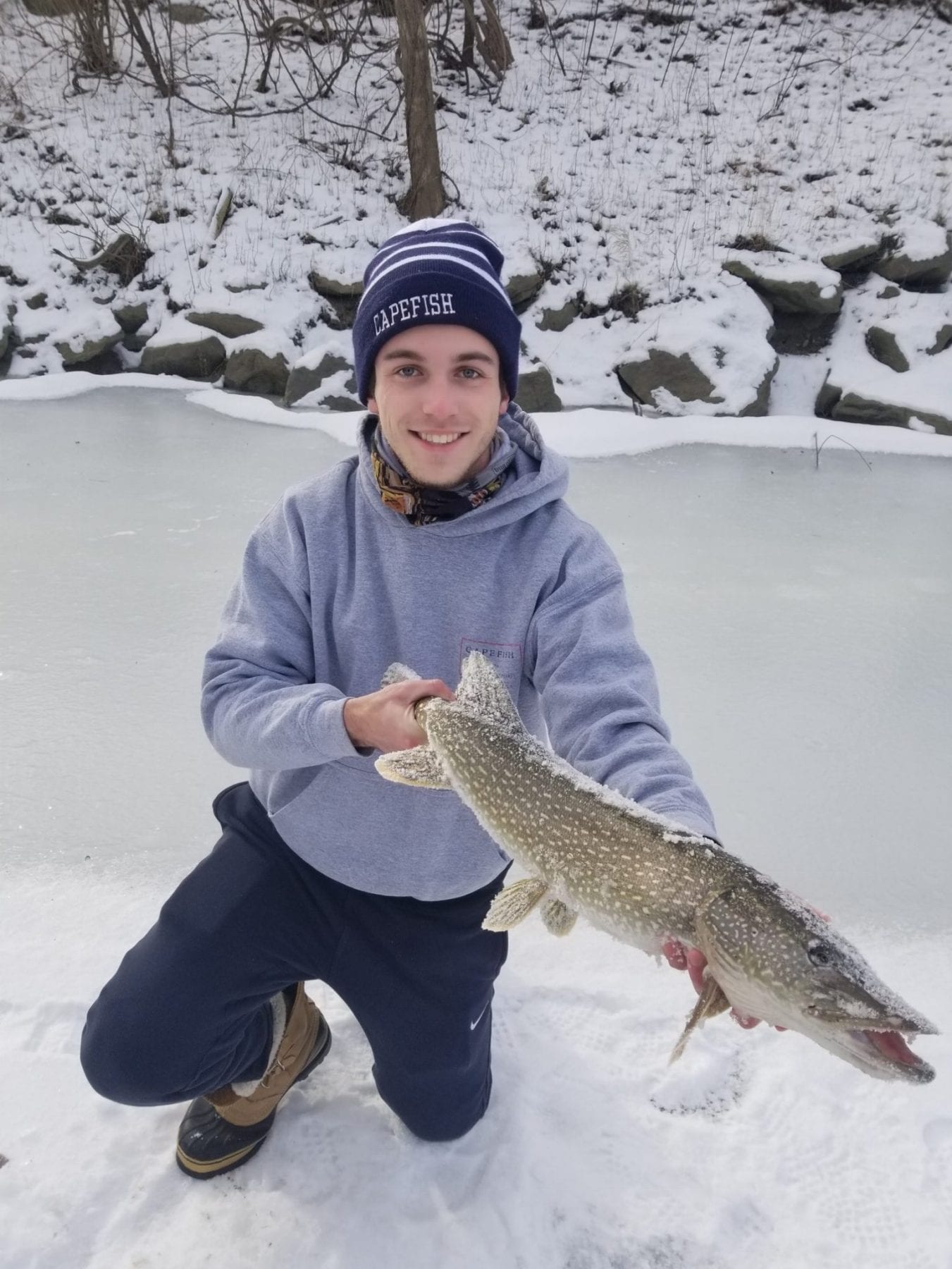 Patrick is a lifelong fisherman, who has been bitten by the fly fishing bug. He is also the co-founder/co-owner of Charter the Berkshires, a fishing guide service that provides a wide variety of award-winning fishing trips and outdoor experiences based in the scenic Berkshire Mountains.
Interested in a guided fishing trip for stripers, pike, trout, and bass? Check out www.chartertheberkshires.com or contact patrick@chartertheberkshires.com