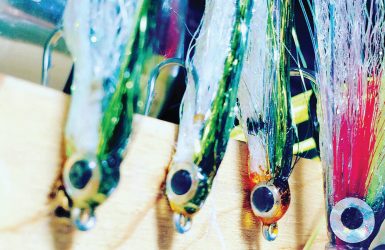 If you look in many fly anglers' boxes, you will see a huge array of flies in all shapes, sizes, and colors. However, having the one correct fly in the box is the key to fishing success.
Picking the correct baitfish fly for any saltwater fishing situation is key to whether or not you'll be catching. Walking into a fly shop and looking into the fly bins can prove mind-boggling to the uninitiated. The bins are filled with so many flies with which the fledgling saltwater fly fisher has little or no knowledge. Saltwater flies differ from their freshwater cousins in size and dress. Sometimes, like the kid in a candy store who is more influenced by the attractive wrapper than its contents, the beginning saltwater fly angler often chooses the eye-candy, over-dressed flies far too bulky to resemble a baitfish or a crab flies that hook fishermen rather than fish.
Baitfish Patterns:
I believe a sparsely dressed baitfish pattern is preferable to a bulked up flashy fly. Why? The sparsely dressed fly will have a more natural look than will an all-too-spruced-up fly. Also, my experience has shown that a fish is far less selective when presented the sparsely dressed fly. The fly is only an imitation, a hint, of what the fish is feeding on, producing in the fish a reflexive action to strike. Perhaps one of the most important parts of the saltwater fly is its large eye that resembles closely the good-sized eyes on baitfish such as sardines, pilchards, and anchovies. Game fish zero in on that oversized eye when chasing and feeding on baitfish. Focusing on that eye results in fewer lost meals.
Color:
Natural colors work best. Olive green, browns, tans and whites are all great color combos for baitfish patterns. You should, however, carry a selection of blue and white, red and white and, of course, chartreuse and white in your fly box.
Size:
Depending on what type of fish you're pursuing, the size of your flies will vary. But, in most saltwater fly fishing situations, you'll also need baitfish patterns that range from small anchovy patterns in size 6 to large sardine or pilchard patterns in size 2/0. Remember, just as it is on the spring creek or on the large river, it's all about matching the hatch, whether it's insects or baitfish.