By Capt. Cody B. Roesener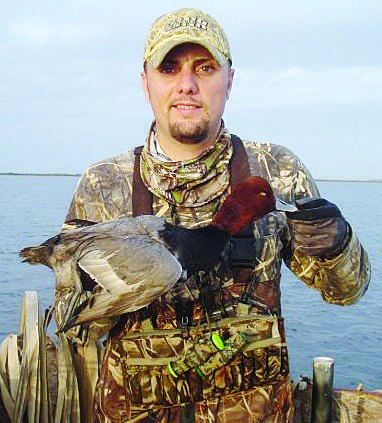 As this article goes to print the Texas South Zone should be half way through the split with the Second Opener being just around the corner. The first part of the 2012-2013 Texas Waterfowl Season has been very successful for us fortunate enough to hunt the coast on a daily basis. Opening weekend rewarded my clients with group limits made up of redheads, wigeon, gadwal, pintail, teal, scaup and shovelers. The primary tactic that has proven effective so far this season has been using blinds or natural cover on islands and shorelines close to open water. The specific locations are chosen after many hours of scouting and observing duck numbers and daily flight patterns. Although a large number of decoys is not necessary to shoot birds, in these situations the more is better motto is certainly true. With the close proximity to big, open water a large number of decoys, often 8 to 15-plus dozen help to catch the bird's attention and lure them from the large rafts of birds that form as the mornings and evenings progress.
Calling has also been a major factor in working birds. Very opposite from the decoy strategy, less is often more when it comes to calling when hunting the Texas coast. In my experience one of the biggest mistakes made by duck hunters here in the coastal bend is excessive calling; I have seen many groups of ducks that would ordinarily work well into a decoy spread be turned away as a result of poor or excessive use of a duck call. What has always worked well for me is using a string of soft single or double quacks from my Zink Calls PH-2 or Zink Calls XR-2 depending on the situation and increasing the volume as necessary if the birds are further out, or the wind is strong. Duck whistles are also very effective specifically when working wigeon and pintail. I recommend everyone has one on their lanyard.
The second part of the South Zone Waterfowl Season opens at legal shooting hours on Saturday December 8, 2012 and the season will remain open until sunset January 27, 2013. Look for bird numbers to steadily increase as more of our wintering birds continue to arrive into mid-late December.
If you are new to the sport of Waterfowl Hunting or new to the local area hiring an experienced waterfowl guide can be well worth it. In addition to having the necessary decoys and other equipment needed to be successful, a guide can be very helpful in helping you learn where you can and cannot hunt in your local areas as well as identification of birds to help keep you out of trouble with the Game Wardens.
When I moved to Corpus Christi from the West Coast several years ago I remember an older gentleman at the boat ramp one morning telling me "Son, there are no bad duck seasons here, some are just simply better than others." In the time I have been here I have come to believe this statement to be true. If the first half of the season is any indication, this one should fall into the better than others category.
Capt. Cody B. Roesener of The Producers Guide Services can be contacted at: (916) 531-0078, or on the web at: www.theproducerstexas.com