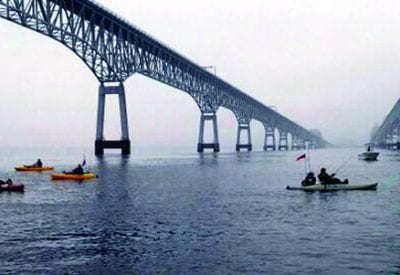 by Bryant Franklin
Well, 2018 has blown in with a cold vengeance. Much of the country, including our Hampton Roads and Southern Peninsula, has been taken over by a cold front out of the north pole. BRR—It's been crazy cold out!
I hope everyone got something new for the holidays, something to look forward to trying out this spring. My wonderful girlfriend Laura got me a new Lowrance 7 that I can't wait to test, and a nice Penn Spinfisher to try for those summer cobia I never seem to catch. For me, those cobia are the proverbial needle in a haystack, as a kayak fisherman who sits only inches from the water it's maddening to miss them time after time!
The cold and the high winds have kept most of us away from our favorite bridges and tunnels so far this early in the year. On social media, I haven't seen many large rockfish caught by kayak anglers in our area. I've been out on my jet ski and caught 21 and 25-inchers up near the mouth of the Rappahannock. Over near Cape Charles, boats seem to be having the most luck with 40-50 inch fish using planer boards with eels attached. These catches are way out of range for kayak anglers. Tautog are biting well over at the concrete ships if you get right up next to them. Find a good hole in the side of the ship, drop down a nice chunk of blue crab and you'll likely be successful. I have seen a lot of folks still posting pictures of the specks from Lynnhaven and Rudy inlets. I have caught some myself around the Hampton side of the HRBT but nothing of size.
I've also found time to slip out for some freshwater fishing. I've been over to the Harwood Mills reservoir hoping for some perch or maybe even a crappie or two. I ended up with a couple of toothy chain pickerel. For bass, you have to just about knock them in the head with a ned rig this time of year and hope to get a lucky bite. Catfish have been very slow. I can find them pretty easily on my Garmin fish finder but the water temperature (40) has them pretty much dormant. The best thing to do is to go inland to the Lynchburg area and call Sam Scott of Blue Ridge Musky. He is posting some huge monster Musky from his kayak and says he will put you on some fish. That's him in the picture; if interested, send him a message on Facebook. I'm glad to see that some have traveled south for some red drum action down in the lower Carolinas. Myself, I'm ready to bail this cold tundra and head for some warm climate somewhere but I may be just wishing out loud. Bundle up, wear your PFD and tight lines!