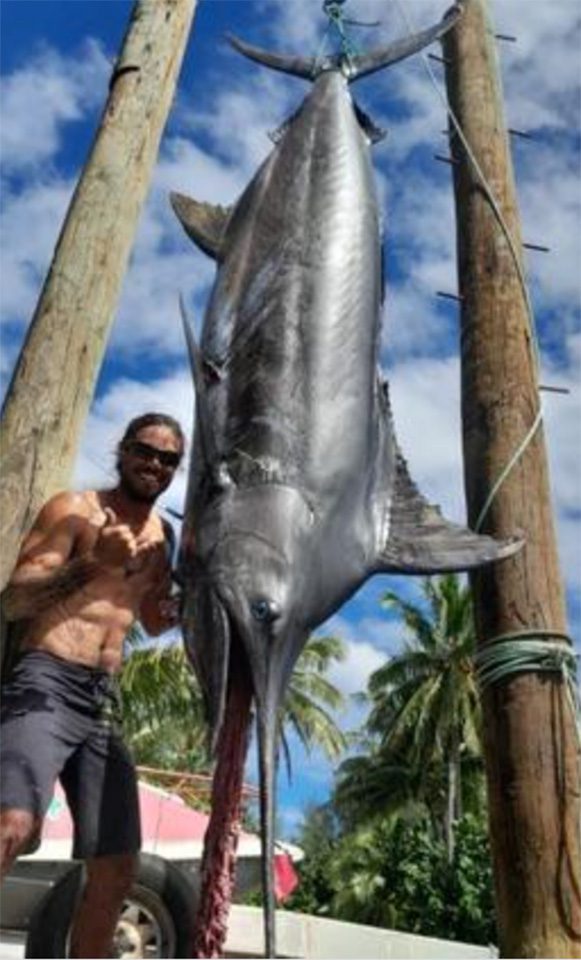 Catching a grander is one of the most sought-after feats in sportfishing. Boats, crews and anglers enter rare air when they hook and land a 1,000-pound-plus marlin, and untold time and money are spent chasing the dream.
Fishing solo from a 22-foot boat, angler Arnold Pauro achieved his lifelong dream Aug. 25 when he hauled in a 1,128-pound blue marlin that is a new record for the Cook Islands. According to the Cook Island News, Pauro came tight with the huge blue fishing just 3 miles off the southern end of the island Rarotonga.
Rarotonga is the most populated of the Cook Islands, which is an archipelago nation out in the middle of the South Pacific northeast of New Zealand. Rarotonga is renowned for excellent flats fishing, especially for bonefish, and like many volcanic islands, the water drops into thousand-foot depths just a few miles offshore. This creates a situation where blue-water fishing is very accessible, even for anglers in smaller boats.
According to the Cook Island News, Pauro managed to subdue the giant fish solo in his small boat, Haurua, by keeping a short line. He first brought the fish boat-side after just 3 minutes, and then all hell broke loose. Arnold told the news outlet that the fish jumped 40 or 50 times and ran out of steam after about an hour and a half.
"I kept it to 50 metres of line, kept it short, I don't like letting my marlin go," he told the Cook Island News.
Arnold's fish topped the Cook Island weight record of 1,045 pounds, which was set by angler Paku Poila in November 2020. The IGFA all-tackle world record for blue marlin was caught off Brazil in 1992. It weighed 1,402 pounds.
To read the original report, go to www.cookislandsnews.com.