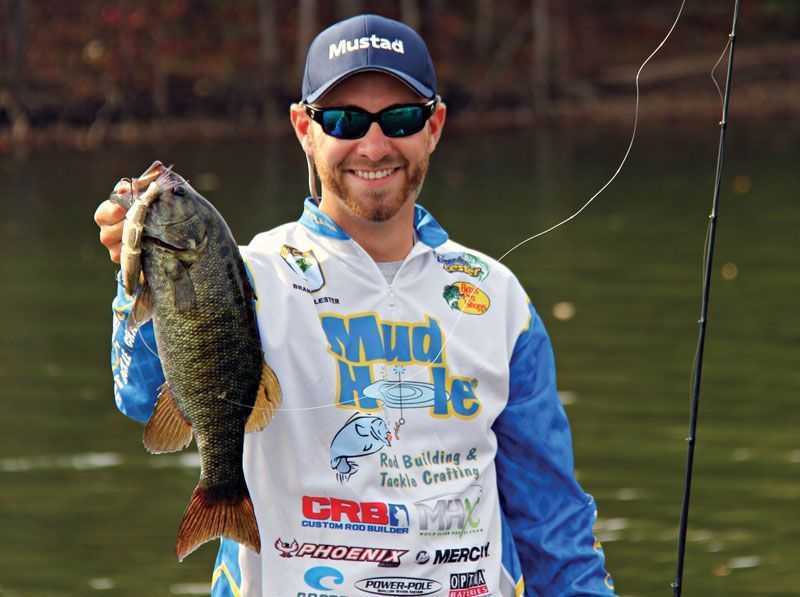 When temperatures get colder, one of my favorite baits for bass is a swimbait. I categorize them in three types: hard body, soft hollow body and finesse. All the different types have their "time to shine," so to speak, so here are some of the situations when I throw these baits.
Hard bodies are the latest type I've come to embrace. This season, I've been throwing a couple different models and must say the results are encouraging—especially with a 6-inch Bull Shad swimbait. The Bull Shad is handmade in Georgia and is offered in sizes from 5 inches up to big 11-inch models. It has an irresistible lifelike swimming motion. When waked near the surface, I've had some of the most heart-stopping strikes I've ever seen from big bass. Hard bodies really shine on a lake with a solid population of big bass. They're also great for targeting bigger fish. I throw this bait tight to cover and wake it right along the surface. Many times in clear water the fish will come from 20 to 30 feet away to get the bait, so keep an eye out at all times.
Hollow bodies have won a lot of money in big tournaments for good reason; they look and act just like a shad. My favorite hollow body is the Strike King Shadalicious. I throw the 4.5- and 5.5-inch models and alternate between them depending on the size of the baitfish present. In early winter, it's usually the 4.5-inch that gets the nod. I rig them on a 3/8- to ¾-ounce Mustad jighead with an exposed hook for easier hookups. Any time I see fish suspended around baitfish on my graph, I throw in there and count it down to the depth I see the fish. Then I reel it slowly right through them.
Smaller finesse swimbaits have gained a lot of popularity on the tournament trail the past couple of years and are a mainstay if you live where smallmouth and spotted bass are predominant. The Keitech Fat Swinging Impact and the Strike King Swimming Shiner are my two favorite finesse baits. These really shine in the early winter when the bass' metabolism slows and they aren't feeding as heavily as they were in warmer water. Again, throw these baits around baitfish and anywhere fish are likely to suspend. The smaller profile of these baits is what makes them dynamite for smallmouth and spotted bass, so keep that in mind. I rig these baits on a 3/16- to 3/8-ounce Mustad jighead depending on the depth and speed I want the retrieve. Shad colors are obviously best, so pick your favorite shad imitator and go to work.
GEAR UP:
Hard bodies-MHX MB-904 rod with 7'6″ heavy power with 20-lb. Vicious fluorocarbon line. Always change the hooks to #2 Mustad Round Bend trebles.
Hollow bodies-MHX MB-843 7′ medium heavy on 15-lb. Vicious fluorocarbon.
Finesse swimbaits-MHX MB-842 7′ medium action on 12-lb. Vicious fluorocarbon. Will drop down to 10-lb. test in super clear water.
For more about Elite Series professional Brandon Lester, visit www.brandonlesterfishing.com or www.facebook.com/ProAnglerBrandonLester. Learn about the benefits and satisfaction of custom rod building at www.mudhole.com.