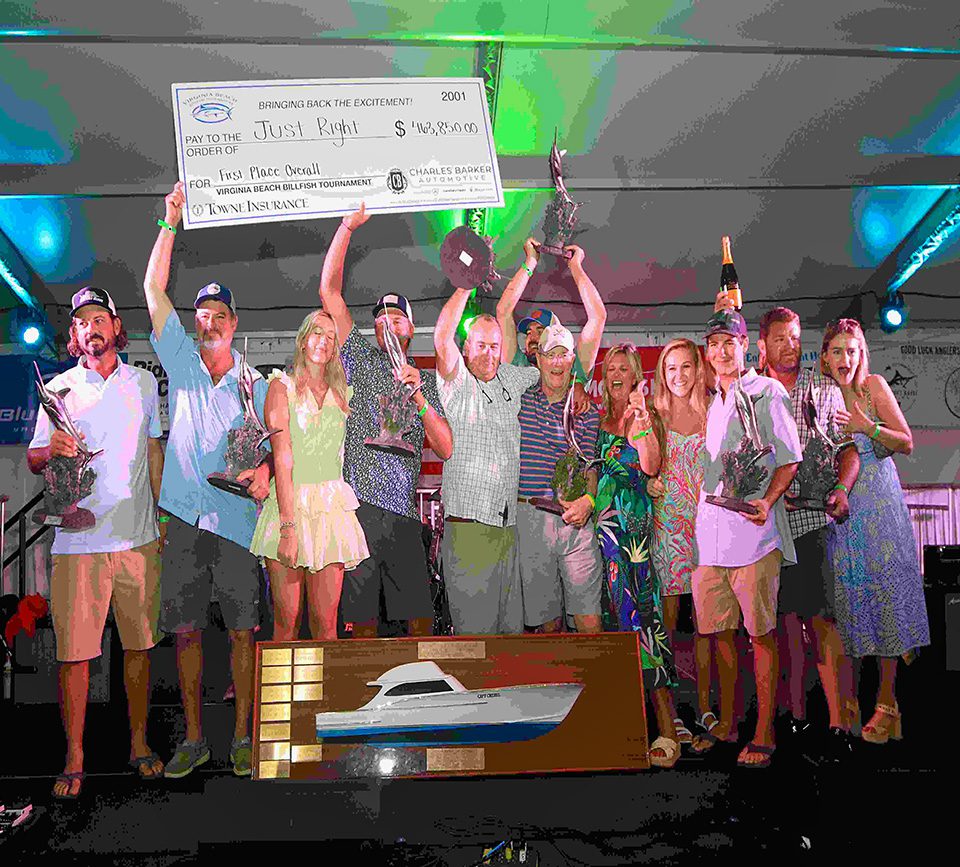 Just Right, a 56 Viking run by Capt. Robbie Brown, rallied on the final day of competition to win the 20th Annual Virginia Beach Billfish Tournament. The team released a blue marlin and sailfish on the first day before adding another nine sailfish releases on Saturday, good for 900 points overall and the tournament championship. Just Right collected awards  for the multiple daily and tournament jackpots, Top Crew and the F. Wayne McLeskey Memorial Trophy as the top boat. The team won $463,850 for its accomplishments. The tournament's total purse $845,750.
The team members of Just Right include owner/angler Rob Brown, Mike Robinson, Collin Hula, John Lamb, Michael Lamb and Kent Fink. Fisher Bedmond is the boat's mate.
Capt. Daniel Caison and his crew aboard All In, a 58 Blackwell, was named the second-place team with 890 points. All In released nine billfish to earn a payout of $145,650 for jackpots and charity mystery fish drawing.
Wall Hanger, a 58 Spencer owned and run by Capt. Brian Allen, was recognized as the third-place team overall, after releasing eight billfish and earning 820 points. Wall Hangerwon $86,750 and several individual awards including for Brayden McMullan for first place for overall angler, top release angler and the Bryan "Pic" Dalheim Memorial Top Junior Angler Trophy (billfish) after scoring four billfish releases. Team mate Stacy Allen was named the Kitty Falk Memorial Top Lady Angler for hooking and releasing three billfish.
Gratitude, a 60 Spencer Yacht with Capt. Mike Resch on the flying bridge, earned fourth-place honors after scoring nine billfish in the two days of fishing. Gratitude also won the Billfish Daily Jackpot on Saturday to earn a payout of $26,250. Sniper, (58 Paul Mann/Capt. Chris Raiford) was named the fifth-place team overall with eight releases and 560 points.
Other winners for the week included Home Run (60 Spencer/Capt. Grant Bentley), Bench Mark (57 Spencer/Capt. Jordan Parker), Rigged Up (54 Omie Tillet/Capt. Charles Haywood) for the Billfish Daily Jackpots. First place paid $26,250, while second place was worth $11,250. In the Charity Mystery Fish categories, Sea Escape (53 RG Boatworks/Capt KP Paul), Fin Planner (58 Buddy Harris/Capt. Chris Gornell) won $18,750 each.
In the Gamefish Divisions, Outlier (62 Spencer/Capt. Ryan Riggs) won the top tuna catch after Robert Rodelsperger boated a 68.40-pound yellowfin. Larry Lusk whipped the largest wahoo at 53.10 pounds aboard Don't Panic, a 56 Viking with Capt. Bryan Peele. Dan Birley, fishing with Capt. Joey Johnson aboard Iron Leader (70 Jarrett Bay), scored the heaviest dolphin of the week, tipping the scales at 30.9 pounds. All three gamefish-take-all prizes were worth $12,500.
Builder's Choice (64 Jarrett Bay/Capt. Brent Gaskill) earned the Wayne Sawyer Victory Lap Hard Charger Award of $5,000 after a last-day effort, releasing seven sailfish.
Frank Riganto III won the Joel Webb "Tribute to Excellence" Top Mate "Webby" Trophy while fishing on Seafix, a 61 Ritchie Howell with Capt. Harry Johnson.  Sutton Paul was named the top junior angler/gamefish for his dolphin landed on Sea Escape.
Two hundred and eighteen billfish were released during the three days of fishing. The ledger included 23 blue marlin, 193 sailfish and 2 white marlin. The game fish tallies were 11 yellowfin tuna, 11 wahoo and three dolphin.
"What a way to celebrate 20 years in Virginia Beach!" said VBBT Tournament Director Paula Davis. "The white marlin obviously didn't get the memo, but the sailfish more than made up for it. We had an exciting finish and good times all week. Thanks to our teams, sponsors, directors and staff for making this event so special and we look forward to seeing everyone back next August 21-24, 2024, as we begin a new decade."