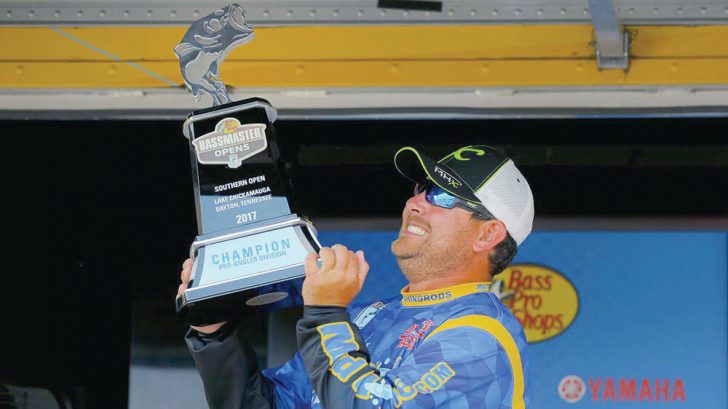 After more than a decade of fishing Bassmaster Southern Open events, local Florida angler John Cox has finally won his first one.
The event, held on the famed Tennessee River impoundment Lake Chickamauga, was a three-day tournament that was very tough on most of the anglers including Cox. The 31-year-old angler is the reigning FLW Tour Champion and he is on a hot streak. After learning the 2018 Bassmaster Classic would be hosted at South Carolina's Lake Hartwell, he set his sights on winning an Open event to punch his ticket for a Bassmaster Classic berth.
Cox is known on the bass circuit as one of the best sight-fishing anglers. He used his keen eyesight and knowledge of spawning bass to win on Chickamauga. Cox was one of the few anglers who exclusively sight fished throughout the second Southern Open of the season. It was an effective technique for several of the tournament's top finishers.
He put himself in contention for the win with a 22-6 limit on Thursday, followed by a 25-7 bag on Friday. His two-day total of 47-13 gave him more than a 3-pound lead heading into Saturday's action, and his 20-6 limit on Saturday was heavy enough to secure the win.
The Mud Hole Custom Tackle Pro, who hails from Debary, Florida, picked up a contingency berth in the 2018 GEICO Bassmaster Classic presented by DICK's Sporting Goods with the victory. Fishing all three Southern Opens this season will solidify that berth. He also won more than $8,000 in cash, as well as a Triton 19 TrX and Mercury 200 Pro XS boat/motor package worth $40,000.
"I've tried so long to win one of these Opens, it seems like forever," Cox said. "I started fishing the Opens when I was 19. It's where I started, really, so this definitely is a special thing for me. Building my own custom MHX rods is key for my success because I can build technique-special rods and actions for different conditions."
Cox won the Lake Hartwell FLW Tour event last season and is excited about his chances in the Bassmaster Classic there. He won the Hartwell event last summer fishing the back of creeks getting his aluminum bass boat in places where most anglers could not go. Although the Classic will be held on Hartwell in the early spring, Cox is pleased to be fishing his first Classic event.
Cox is having a decent start to the FLW Tour season, as well. Fishing in his own backyard on the third event at the Harris Chain of Lakes in Leesburg, Florida., Cox was super excited to fish his home waters. He led the event for the first three days to finish in third place and enjoy a nice payday. Cox finished in eighth in the recent FLW Event on Arkansas' Beaver Lake after going out in fourth place on the final day. It was his second top-10 finish on the tour with just two events left this season.