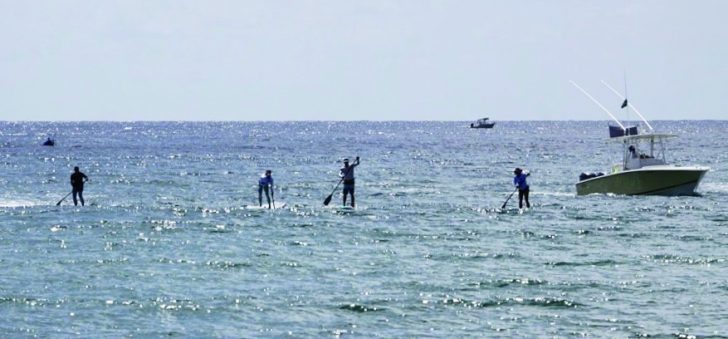 By Tom Fucigna Jr., Contributing Writer
What do you need to paddle across the Gulfstream? This year's formula included a positive motivation, a few hundred friends, and a whole lotta LOVE.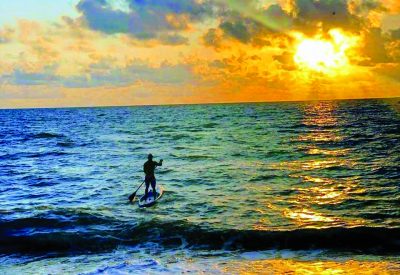 Take a deep breath, and then think about how different your life would be if you couldn't. Cystic fibrosis is a progressive, genetic disease that causes persistent lung infections and limits the ability to breathe. Travis Suit's daughter Piper was diagnosed with "CF" when she was four. When Travis learned that saltwater can help alleviate the symptoms of CF, he immersed Piper in saltwater activities, and became inspired to create an ocean-based event that could raise awareness and funds to help CF patients everywhere.
Thus, was born the Crossing For Cystic Fibrosis™ (formerly known as the Crossing For A Cure™), an 80-mile self-propelled journey from the Bahamas to Florida. Travis made his first Crossing in 2013 with three stalwart friends on standup paddleboards who came to be known as "Piper's Angels." Since then, their ranks have grown to include hundreds of inspired paddlers, dedicated volunteers, and generous sponsors.
Just after midnight on June 15, 2019, 220 paddlers and rowers lined up on a sandy shoreline in North Bimini, Bahamas and headed west toward Lake Worth Beach, Florida, accompanied by an armada of 80 support boats. Watercrafts included standup paddleboards, kayaks, surf skis, dories, and a six-man outrigger canoe. Some were solo or relay competitors, and others were recreational relay team members, but all were united in their cause, working together through the Piper's Angels Foundation to support and improve the lives of families in the cystic fibrosis community by raising awareness, offering life-expanding activities, providing urgent financial support, and funding critical research.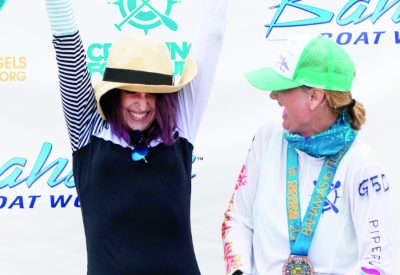 10 hours and 17 minutes after leaving Bimini, the four-person Flying Fish relay team members were the first paddlers to hit the beach in Florida. The leading solo male competitor, Bryan Hill, arrived after 12 hours and 54 minutes, and the first-place woman, Cindy Gibson, landed with a time of 13 hours and 47 minutes.
Flying Fish team member Steven Bernstein recalls "a lot of nervous energy, standing on the beach at midnight, watching the parade of support boats line up for the start.  I didn't know what to expect while paddling in the dark.  All I knew was that we had a great team and a fantastic boat captain (Rick Covell). When the horn went off, I quickly found our boat because the girls were waving glow sticks. Off we went, and we quickly started separating from the other boats in our wave.  Paddling in the dark behind a boat is a little tricky, but my first 20 minutes went by very quickly and then it was time to change to the next paddler. We continued our 20-minute rotation the entire trip.  Once the sun came up, the seas started rolling a bit more, and our speed picked up. Conditions were great for experienced paddlers, with two to three foot rollers lined up fairly well behind us. We were having such a great time. This was supposed to be hard, but we found it to be just plain old fun!  I guess that's the way it is with a four-person team sharing the load. At the finish, we all hopped onto a board and surfed in together to what seemed like a hero's welcome. I'm so glad we had the opportunity to do this. It was for a great cause."
Steven and his fellow team members, Kim Barnes and mother-daughter combo Eli and Maddie Miller, are familiar smiling faces in the east coast standup paddleboard circuit. John Meskauskas, founder and head shaper at Flying Fish Paddle Board Co. (https://www.flyingfishboardco.com/) said, "Simply put, I could not be more proud of our team for always representing Flying Fish to the highest level. It was an incredible feeling as the owner of a small board brand to see so many of our boards proudly make the Crossing for such a great cause. I cannot thank everybody enough for their support."
This year's crossing was dedicated to Ms. Megan Tims, a 23-year-old CF warrior. Megan's brother Sean, who manages the PFA "Salt Supply" program, and her sister-in-law Tatiana, who ran the Crossing's social media outreach, both paddled the Crossing. Megan was on the beach at the Lake Worth Pier with her mom Denise for their arrival, and she wrapped up her experience this way: "I was absolutely overwhelmed with the love and support from the Crossing this year. I have a whole new family now that is irreplaceable to me."
Travis sees this amazing endeavor as a valuable life lesson for everyone involved. "When you fear your struggles, they consume you, but when you confront your challenges, you overcome them. The Crossing For Cystic Fibrosis™ provides a great opportunity to show that – no matter what obstacles we face in life – we can always choose to persevere."
Registration is open for the 2020 Crossing, and anyone can become part of the Crossing. You can paddle, captain a support vessel, volunteer at the landing or sponsor a paddler, a team, or the Foundation in any amount. Check it out, learn how the foundation's "Salt Supply" program is connecting saltwater-based vendors and guides with CF patients, and much more. A whole lotta LOVE awaits you. www.pipersangels.org