A World Class Fishing Location
South Carolina's Santee Cooper lakes of Marion and Moultrie offer world-class fishing for multiple species, and winter is prime time for incredible striped bass action. The two lakes are impoundments of the Congaree River between Columbia and Charleston. They are connected by a 7-mile-long diversion canal and offer more than 160,000 surface acres of prime fishing water.
Kevin Davis owns and guides out of Blacks Camp located on the diversion canal, which gives him direct access to either lake.
"Because of our outstanding forage base of threadfin and gizzard shad, the December striper fishing is off the charts good," Davis said. "Anglers can enjoy sensational surface schooling action as well as excellent live bait fishing opportunities when the surface action slows."
New regulations bring an abundance of striper to the area.
Davis said the fishery has rejuvenated to an elite level because of striper regulations that have enabled the resource to grow. Limits of stripers are often caught, and many days anglers catch and release scores of additional fish. The current regulations allow anglers to keep three stripers per person within a 23-to-25-inch slot limit, plus one of the three can exceed 26-inches.
"The lakes are absolutely loaded with fish in the slot limit size," Davis said.
Linwood Thornhill also guides out of Blacks Camp and has been chasing schooling stripers for decades.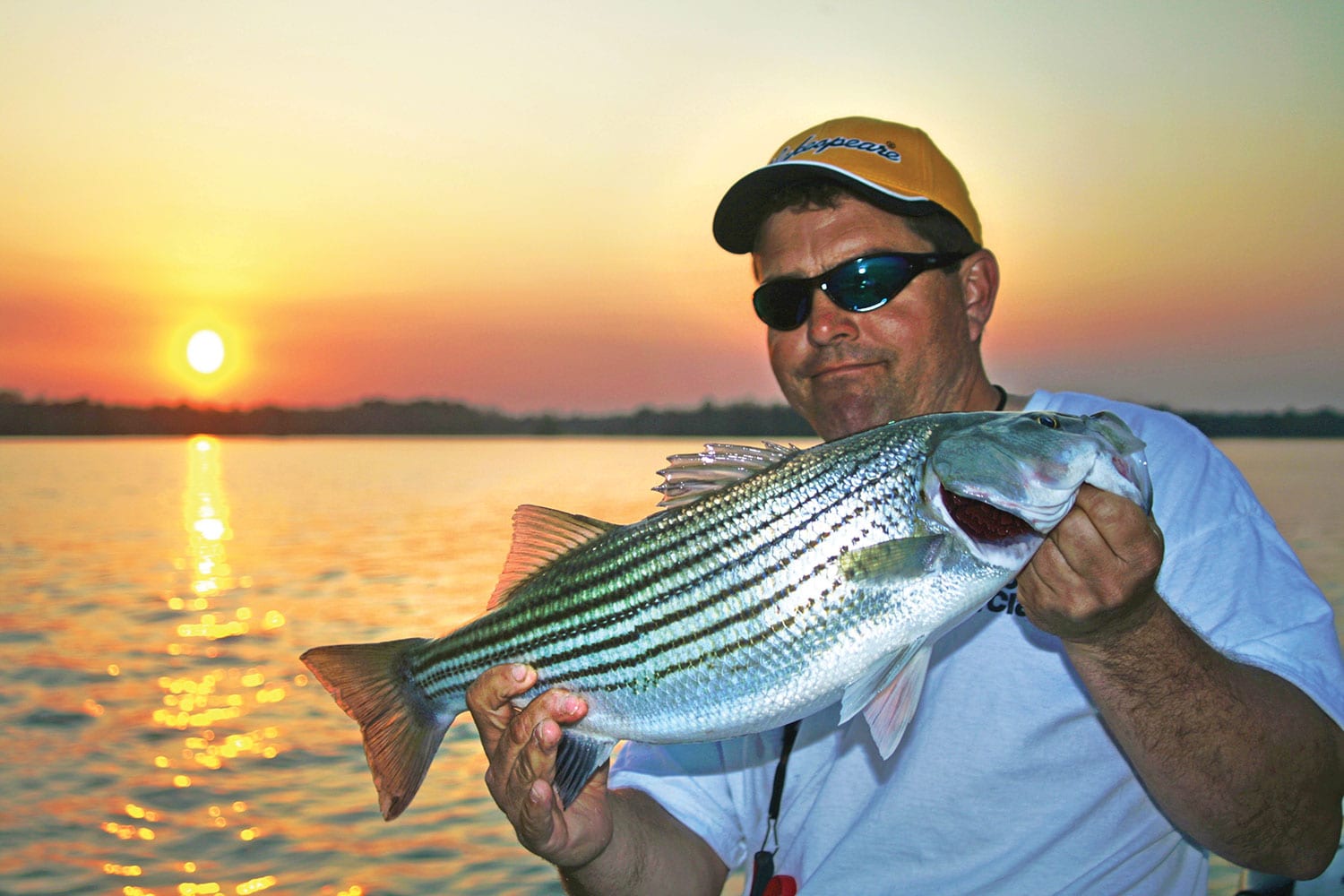 "The large stripers get considerably more active from Thanksgiving through December," he said. "Anytime of the day can produce schooling action, but typically the best is early and late. But on cloudy days we may see topwater action all day."
Thornhill diversifies his lures for schooling stripers because the fish have an ever-changing preference. He uses Rockport Rattler jigs with plastic trailers, as well as 1/2- or 3/4-ounce bucktails. He varies colors until he hits the daily pattern working chartreuse jig and trailer patterns, white and white and various jighead and trailer colors.
Capt. Leroy Suggs, another guide out of Blacks Camp, said December is one of his favorite striper months.
"We typically use live blueback herring when live bait fishing. We'll mark stripers on the graph along humps and ledges and drop baits to the depth fish are marked, or just slightly above," he explained. "Stripers will readily come up for bait, but seldom go deeper."
Suggs said December fishing has another good twist on Lake Moultrie because most years huge schools of menhaden are found near the Pinopolis Dam and can be caught and used as bait.
"The menhaden migrate into Lake Moultrie via the lock and fish lift from the Santee and Cooper rivers that flow into the Atlantic," he said. "I prefer them about the size of a small bream, about three fingers wide. Menhaden are excellent striper bait and also tempt huge catfish to load on as a bonus."
For more information, contact Kevin Davis at Blacks Camp at 843-312-3080 and check them out online at www.blackscamp.com.