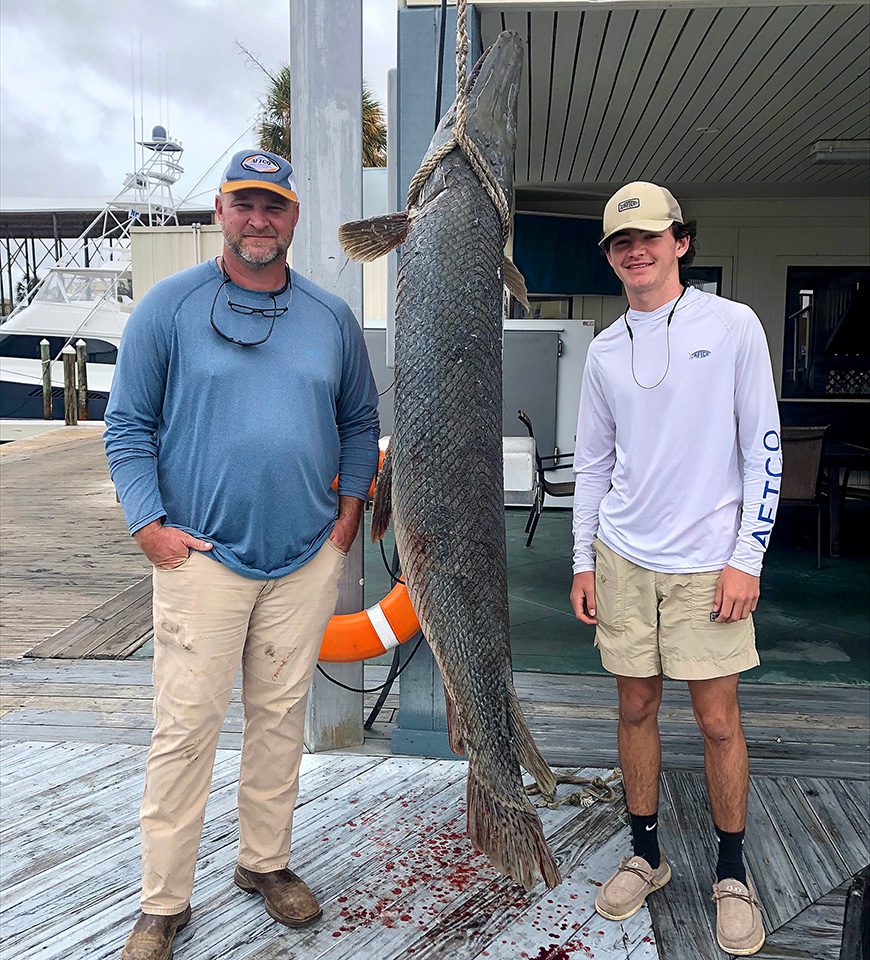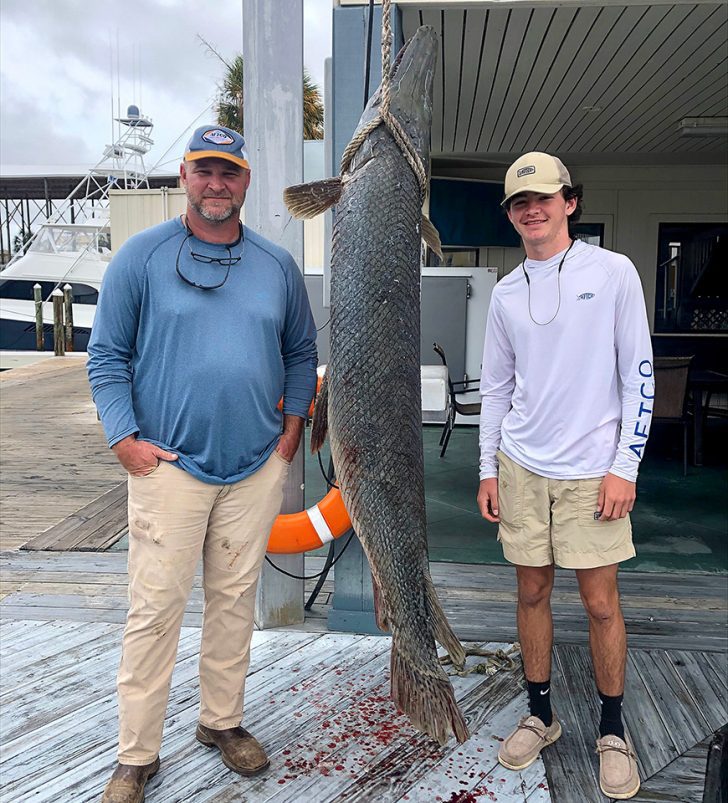 By David Rainer, Alabama Department of Conservation and Natural Resources
While most people were preparing to chow down on turkey and dressing on Thanksgiving, Keith Dees and his son, Huntley, were in a special place—the Mobile-Tensaw Delta. Little did they know the result of their trip would be hauling a record fish into their bass boat.
"Generally, our tradition is to go fishing on Thanksgiving morning," said Dees, of Fruitdale, Alabama. "Sometimes we go (speckled) trout fishing. There's a lot of stuff you can do that time of year. But we went bass fishing. We've had some really, really memorable Thanksgiving trips. About five years ago, we had a 250-300 trout trip, doubling up for six hours straight. We were actually talking about that trip because we'll never top that trip."
On the most recent Delta excursion, the two had already caught several redfish and numerous largemouth bass when they headed for Raft River behind the island at Little Bay John and Big Bay John. The elder Dees was throwing a Z-Man Evergreen Jack Hammer chatterbait along the grass line when his line went slack.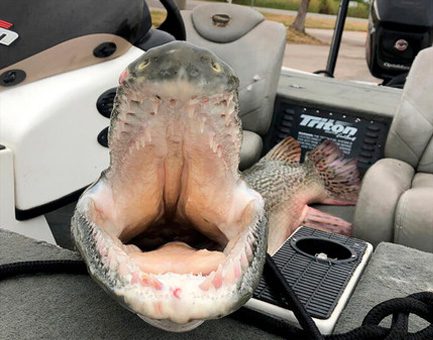 "My first thought was I had hooked another big redfish," he said. "I was cranking as fast as I could to try to get the line tight. The water is salty and cold that time of year, so the clarity was not great. I see a fish go by the front of the boat, a glimpse of a fish. I told my son, 'I've got one of those big redfish.' We caught one that weighed 32 pounds up there a few years ago. Then it went about 30 or 40 yards out and just kind of stopped. It wasn't like a redfish run."
Fishing with a medium-action bass rod with 15-pound-test fluorocarbon line, Dees couldn't put much pressure on the fish, and they just started following the fish around with the trolling motor.
"We were laughing and joking about what I had," he said. "Then I thought it might be a big black drum. I've caught them before on a chatterbait. It rolls on 10-15 minutes. So now the curiosity is getting the best of us. One, I want my $20 bait back and, two, I want to know what I've got hooked."
About 30 minutes into the fight, they finally realized what was causing the commotion. A huge alligator gar came up for a gulp of air.
"When it comes up, I knew it was big, but I didn't even remotely know it was a state record," Dees said. "That never crossed my mind. I love to cook, so I thought I want to catch this joker so we can eat him. I've got a bunch of Cajun friends, and they take it and cut it in steaks and blacken it and do medallions. It's just delicious. I'm thinking I'm about to get a bunch of freezer meat."
Another hour and a half ticked by, and Dees said the huge fish never tried to head for deep water and stayed mostly in 2 to 4 feet of water. The fish would sit on the bottom until Dees' 20-foot Triton got close, and then it would take off again.
"I thought we may have a chance to wear him down, but I still had no idea it was a state record," he said. "After about two hours, it got to where we could pull the boat up by the fish, and it would just swim along."
That's when the father-son team started devising a plan to try to get the fish in the boat. Without a harpoon or gaff, Huntley got the tow rope out with a plan to lasso the fish.
"I figured that was our only chance to get him," the elder Dees said. "I wasn't getting anywhere near that joker's mouth."
However, getting the rope around the gar's head would mean having a slack line and a chance to lose the fish. Instead, Dees told his son to get his heavy-duty flipping stick out of the rod box, find the heaviest hook he had in the tackle box and tie it with a snell knot.
"When you snell a hook, it forces it to kick out," he said. "I thought we could run it under his belly and get him hooked somewhere around his front fins. I'm still thinking the fish is somewhere around 80 to 100. I had no idea he was that big. He runs the rod under the fish and basically gaffs him. I was afraid he was fixing to destroy my $500 custom rod, but I guess with the combination of the water temperature in the 50s and him being held onto for two hours, he didn't fight much."
After three tries, Dees managed to get the rope around the fish's giant head and behind his dorsal fins.
"I guess my adrenalin was going, and I just pulled him over in the boat," he said. "When he hit the boat, we cut up like two schoolgirls, like nobody is going to believe this happened."
Dees then realized he wasn't familiar with the fishing regulations concerning alligator gar and made a call to Conservation Enforcement Officer Jim Daugherty of the Alabama Department of Conservation and Natural Resources' Wildlife and Freshwater Fisheries (WFF) Division to verify he could keep the fish. Daugherty told him the daily bag limit is one fish but didn't know why he wanted to keep the gar, which is considered a rough fish.
"I told Jim I wanted to eat him, and it was a great memory with my son," Dees said. "Whether it turned out to be the state record or not, it would be a story we'd be telling forever."
Dees said fishing on Thanksgiving morning also played a role in being able to put the monster gar in the boat because there wasn't another boat on the Delta.
"Normally there'd be 40 boats out there fishing for speckled trout and white trout," he said. "If there had been any boats in that area, it never would have happened. There would have been too many people trying to get around us to see what we had. But it was Thanksgiving and there wasn't a soul around."
The boat ramp was just as empty. Dees sent photos to some friends who were asking how much it weighed. Still thinking the fish weighed around 100 pounds, he and his son decided to try to weigh the fish. He went to a friend's house with scales used to weigh deer. The fish was hoisted on the scales with a front-loader tractor, and the scales hit 175 pounds. Another set of scales registered 165 pounds. Huntley had checked the Alabama state records and found out the existing record was 151 pounds.
Another call to Daugherty informed Dees that any fish submitted for a state record had to have the fish weighed on certified scales and verified by a fisheries biologist. That presented the next obstacle for Dees and son.
"Where do you keep a 7-foot-long fish?" Dees said. "You can't freeze the fish. My buddy had an old swimming pool, so we put him in the pool at 3 o'clock. He was still alive at 9."
Dees managed to get in touch with WFF fisheries biologist Tommy Purcell to do the inspection, but he still needed to find certified scales to weigh the fish. A boat captain friend suggested Orange Beach Marina. Dees put tarps and $200 worth of ice in the back of his truck and headed south only to find the marina closed.
"So much had to align for this to happen," Dees said. "A guy at J&M Tackle said I needed to find Jimmy Beason (Orange Beach Marina Harbor Master) because he had weighed more state records that anybody, and he knew he was in town."
Dees went back to the marina and found someone at the management office who managed to get Beason's phone number. About 30 minutes later, Beason returns the phone call and is told the Dees' story. After some hesitation, Beason agreed to meet them at the scales in 15 minutes. Beason certified the fish weighed 162 pounds. With the paperwork in hand, Dees met Purcell at the WFF District V office on the Causeway to confirm the species.
"I was raised on the Tombigbee River, but I've spent my whole life on the Delta," Dees said. "Seeing the excitement on Tommy's face and his staff because of a new state record put it in perspective. They just wanted to know the fish were out there and are healthy. The Delta is a very, very special place to me. Catching that fish doesn't happen if I hadn't spent my whole life on the water. I was known as a river rat by all my bass fishing buddies that I traveled to tournaments with, and they said there was nothing more appropriate for me than to have a state record with a gar."
Dees' application for his alligator gar was officially recognized last week by WFF as the state record. Dees and the gar have also received a good bit of publicity, but he is glad for his special place to receive recognition.
"I think anything that draws attention to the Delta is a positive," Dees said. "Where else can you go to catch the variety of fish in the Delta in the fall. I took a customer who was having a fish fry, and we caught a limit of speckled trout in 45 minutes. Then we went bass fishing and caught two limits and four redfish. That was in a mile-and-a-half circle. Where else can you do that? The Delta is an extremely special place. My son has won a (Bassmaster) junior world championship, state championships, angler of year, and it's made him an extremely versatile angler from growing up on the Delta. It's just a neat, neat place."