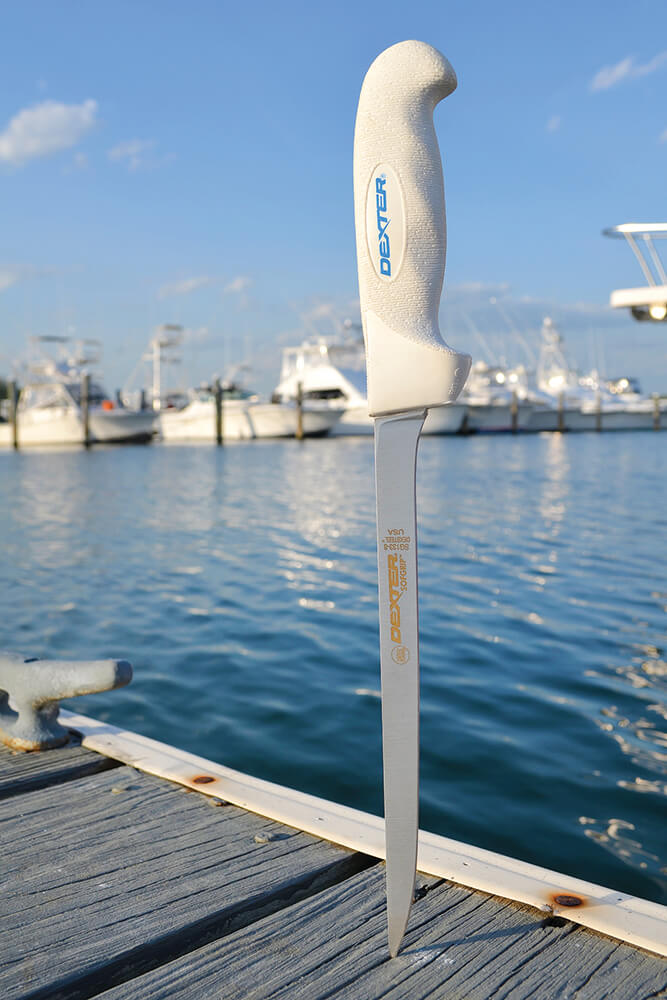 Dexter SOFGRIP flexible fillet knives are the outdoors standard and make filleting tasks easy.
A soft-to-the-touch, textured handle provides both comfort and a slip-resistant grip. An ergonomic handle shape fills in and matches the contours of the hand, making it more comfortable to use and easier to hold. The protective finger guard prevents slippage and unintended cuts. Dexter's "wiggle-worm" trademarked handle design and surface ornamentation tells you it's a genuine Dexter.
Dexter SOFGRIP fillet knives are crafted with DEXSTEEL, a proprietary high-carbon, high-alloy, stainless cutlery steel that enhances sharpness, edge holding, corrosion resistance, and ease of re-sharpening. Each fillet blade features Dexter's legendary just-right flexibility to help get the job done quickly and efficiently.
Dexter SOFGRIP fillet knives are proudly made in the U.S.A. and are available in 6", 7", 8", and 9" lengths. The 8" fillet knife is also available with a wide, stiff blade. They are all available at your local and online retailer. When shopping for a sharp, durable fillet knife, make sure it's original… make sure it's a Dexter.
For more information and to view all Dexter fishing knives, visit dexteroutdoors.com. Already use a Dexter? Visit us on our FB page at facebook.com/DexterOutdoors and tell us about it.