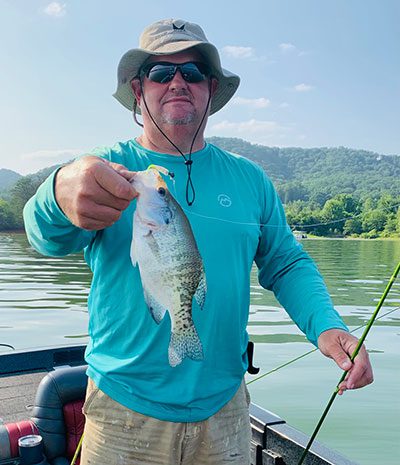 By Perry Hensley
The days are HOT! And the bite can be slow, but those big southern slabs can be caught.
It is time to focus on deep water points. Preferably for myself, that would be rocky points, or the points loaded with deep brush on them. I try to also focus on docks as well, because we all know how crappie love shade. You may find them shallower than you would think this time of year, and chances are, with the shad spawn of spring, there will a ton of shad fry under about every dock.
Depending on what bait fish are in the body of water you fish, you should try to match the hatch, as the old saying goes. For example, if you have an abundance of thread fin shad in your lake, try to keep your bait size around 2-3 inches in length, in natural colors. This is what the crappie will be feeding on this time of year.
I have found that in the East Tennessee area lakes I have fished at this time of year, the crappie in open water love the 20-30 ft depth range. Pulling crank baits or slip float methods will work just as well, the keys being thermocline, baitfish, structure and/or cover.
If one can put up with the pleasure boaters and jet skiers, you can have a fairly successful day in the dog days of summer.
As always just get out there and make those memories on the water with the people you love and enjoy all our creator has given us.
God Bless and Tight Lines, Perry Hensley