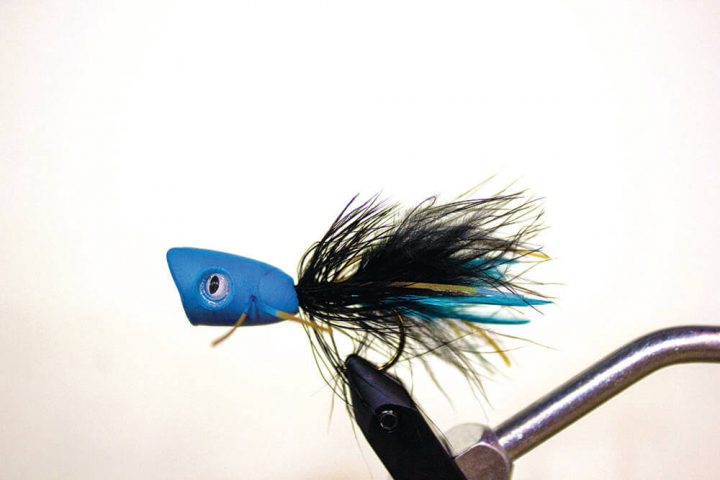 For anglers who enjoy pursuing bass on the fly and for the anglers that have an interest in fly fishing for bass, now is the time to get on the water. Cooler nights and slightly shorter days bring a nice drop in water temps that often triggers bass into aggressive feeding patterns to beef up for winter. The result is some exciting topwater activity.
Armed with poppers, I love to row anglers down local rivers armed with 6 weights and poppers targeting bankside structure for spotted bass. Takes are often aggressive followed with a nice acrobatic battle to the boat. I have been filling my popper box with the new Double Barrel Popper heads from Flymen Fishing Company. They generate loud glugs and can also be used in a number of creative ways to create your own desired style of topwater fishing.
Hook: Surface Seducer #2 Popper Hook
Thread: Black 140 Denier
Body: Medium Blue Double Barrel Popper Body, Black Saddle Hackle
Eyes: 4mm Dragon Eyes
Tail: Black Marabou, Blue Saddle Hackle Tips, Light Blue/Pumpkin Silicone Legs
Garner Reid is the head guide at Cohutta Fishing Company in Cartersville, Georgia. Contact them at (770)-606-1100 and see their website at www.cohuttafishingco.com.