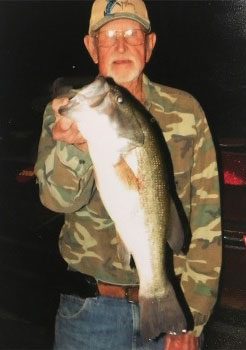 Douglas is a fertile, Tennessee Valley Authority reservoir with 555-miles of shoreline and a total surface area of 30,600-acres. The shoreline is primarily farmland and residential, with rolling hills. Douglas' drainage basin of 4,541-square miles is the largest of the tributary reservoirs. The reservoir can fluctuate 60-feet, from the summer elevation of 1000-feet above sea level, to the winter elevation of 940-feet. It is not uncommon for the lake to rise as much as 15 to 20 feet in a day or two, if heavy rains occur in the nearby Appalachians. However, summer levels can be relatively stable.
Thermal stratification is common during the summer months. Low dissolved oxygen concentrations are common during the summer, making fishing tough until cooler fall weather arrives. Thermal stratification can begin forming as early as April and can be firmly in place by June or July. At that time of year, fishermen should concentrate on fishing the lower end of the lake, and at depths of less than 10-feet (above the thermocline).
Largemouth bass, crappie, bluegill, and catfish are the most popular game fish for Douglas anglers. Sauger, walleye, and white bass also provide excellent fishing opportunities when they make their late-winter spawning runs to the headwaters. Douglas' game fish feed on an abundant supply of gizzard shad, bluegill, and various types of minnows. Anglers unfamiliar with the lake should find excellent fishing in the Flat, Muddy, McGuire, and Nina Creek embayments.
Largemouth bass and crappie spawn in the large shallow embayments and have historically produced very strong year classes. In most years, sauger and walleye successfully spawn upstream in the rivers, during the early spring. Douglas' game fish are usually able to naturally sustain an excellent fishery, but some supplemental stocking has taken place.