By Captain Willy Atencio
Greetings from the beautiful and uncrowded waters of Drake Bay, Cano Island and the Osa Peninsula.  We are pleased to announce that we were recently ranked the #1 tour in Drake Bay on Trip Advisor. As we enter the final three months of the "Green Season" the fishing remains better than usual for this time of year.  There are plenty of wahoo and small to midsized tuna near shore, as well as a few mahi.
Offshore for the next few months will be largely weather dependent as this time of year can be unpredictable.  On good days expect a good tuna bite with yellowfin and big eye destroying your popper, lure, or my favorite, live bait. With our new Garmin Satellite Technology we are having a lot of success finding the huge schools of tuna, typically 25-40 miles from Drake Bay. Anglers can also expect a few sailfish and blue or black marlin to come busting through the spread.  Very lucky anglers occasionally find a large floating log or pallet and can typically load the fish box pretty quickly with mahi. Anglers need to be ready when this occurs because the action is fast and furious.
Inshore, we are blessed with awesome roosterfishing year round. For those fisherman primarily looking for a delicious dinner the grouper and snapper bite is also a year round favorite.
As we do every year, we will close for the month of October. The boats will be hauled out of the water and all maintenance, hull painting and updates will be performed. November 1st the boats will be in perfect shape and we will be ready to start another fantastic high season. Remember if you are planning a trip December – April we suggest you make your fishing reservations as soon as possible so you can experience an incredible day on the water.
Until next time, tight lines . . .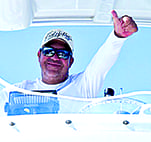 The Captain of Fish Drake Bay, Willy Atencio is a native of the local area. Fish Drake Bay is the premier sport fishing charter service in Drake Bay, the surrounding Osa peninsula and Corcovado National Park. Captain Willy is considered one of the best Captains in Costa Rica with over 20 years experience. Willy has captained sport fishing yachts ranging from 31-47 feet in the USA, Caribbean and Costa Rica. He has also fished in numerous big game fishing tournaments including the Offshore World Championships for 5 consecutive years. Contact Willy at info@fishdrakebay.com