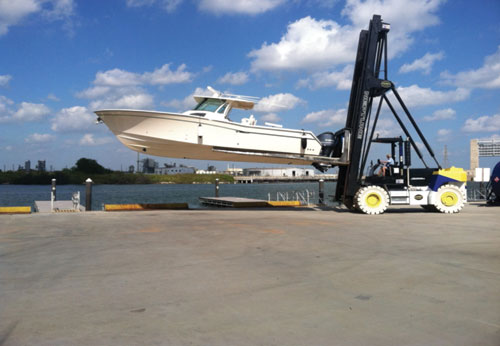 Dry stack boat storage is becoming a popular way to store boats. What is dry stack storage? Imagine a steel shed the size of a football field filled with 3 or 4 stories of racks. Boats are stored in the racks and are moved in and out of the water with a large marine forklift.
Dry stack storage runs from about $11.00 to $15.00 dollars per foot based on the length of your lease. While initially this may seem somewhat expensive, after considering the benefits of this type of storage, it can be a very good value for boat owners due to the inherent benefits of inside storage.
Tenants with dry stacked boats spend more time on the water because they don't trailer their boats to and from the water or, wait in line at a ramp. They also save money on the extra fuel burn involved with towing a boat. Many dry stack boat owners simply don't have a trailer to maintain, store and register.
To go fishing, simply call your marina. They will have your boat in the water, fueled and ready to go when you arrive. When you return, simply clean out the inside (or take advantage of a cleaning service), park your boat and head home. Your marina will wash the outside of your boat, flush the motors, perform any additional services you requested and return your boat to its space in the dry stack building. Most dry stack marinas also have fish cleaners to handle even that chore for you. Mechanics on-site mean that you'll rarely miss a trip due to a mechanical failure or a broken part.
Storing your boat in a dry stack can also extend the life of your boat and help to maintain its value. Your boat is not subjected to damaging UV rays. As a result, your fiberglass, canvas, and enclosures last much longer. If your boat needs any work, it can save you a couple of trips towing it to and from a mechanic.
By storing a boat in a dry stack, you become part of a community of like-minded fishermen. Whether you're coming in from a trip or leaving, working on your boat in the yard or attending a marina function, you'll meet other fishermen to trade tips, techniques, advice and socialize. Many friendships have been forged on a weekend's afternoon at the fishing cleaning station over a cold drink.