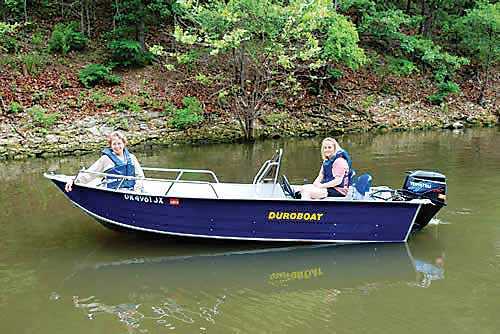 Overview
All Duroboat models share the modified-V hull that is the optimum compromise between a seaworthy ride, and fuel efficiency. The patented Durojoint system of hull construction was invented in Australia in the late 1970s. The secret of the durojoint is that the compressive forces that shock the seams of an aluminum hull are dissipated along the continuous edge of the durojoint. Each seam in a Duroboat is protected from external incidental damage by the heavy-duty aluminum extrusion. Each Duroboat is built so as to exceed United States Coast Guard requirements for person's capacity, horse-power capacity, and flotation in the swamped condition. We guaranty the structural integrity of the Duroboat hull seam for 10 years.
Specifications
Length: 15'
Beam: 72
Bow: 35
Weight: 300
HP: 15-39
Capacity: 5/918
Transom: 20
Bottom/Side: .072/.063
Standard Features
Advanced aluminum boat technology Durojoint construction on all hull seams.
Ten-year warranty on the hull seam structural integrity. High performance V-Hull geometry Exclusive H36 aluminum alloy construction. Steering Consoles
and Bow rails.
Handling
In rough water we will match the performance and comfort of the 15ft Duroboat against that of any other aluminum boat, even those that have hull weights of 600 pounds or more. The Walk-through 15 gives a great 56″ x 84″ level deck between the fore and aft seat benches. Optional stainless steel bowrail & remote steering console. A boat, motor and trailer package typically will weigh in at under 900 lbs, making the 15 a great choice if you are going to tow your boat with a small car or truck. The Duroboat 15 provides especially smooth handling easy ride.