by Patrick Barone
December is a transition month for me. Getting closer to fishable ice, it gets harder every day to convince myself to take the boat out. This was the scenario I was faced with when I decided to start fly fishing in the winter for trout. If you are considering trout fishing in winter, here are a few suggestions after hundreds of winter days on the water.
Fish flowing water. River currents are the waiters and waitresses of the river. They deliver all types of insect life to waiting fish. When a trout is looking to eat, they make their way to a section of river with good water flow. The highly oxygenated water of riffles, fast runs, and small waterfalls will hold populations of fish. This is a result of a concentration of food, and good water conditions in a large area. Pay close attention to the seams where faster-moving water currents meet slower sections; these areas require minimal effort for trout to hold, but offer close proximity to the fastest water currents for both food and safety.
Fish the entire depth column. With your area chosen, it is very important to search multiple depths. I always like to have the maximum number of flies allowed by fishing regulations tied on. I make sure that the bottom fly is dragging along the bottom, with the remaining selection spread to cover as much water as possible. When using a dropper fly, use a top fly that is visible to you in the water when you can. This will allow you to see where your flies are going, and to adjust depth as needed to cover the water column better.
Dress warm. It sounds obvious, but remember it is always easier to take off layers than add the ones you don't have.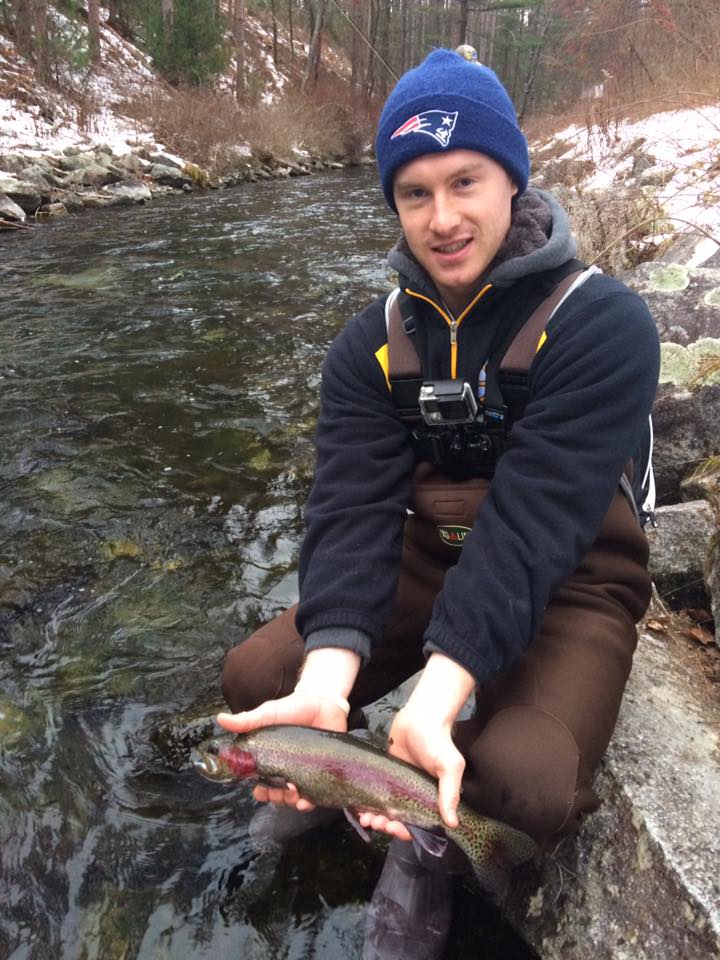 ---
Patrick is a lifelong fisherman, who has been bitten by the fly fishing bug. He is also the co-founder/co-owner of Early Rise Outfitters, a year-round catch and release fly fishing guide service dedicated to providing enjoyable angling adventures throughout Massachusetts, with an emphasis on education and conservation.
Interested in a guided fishing trip for stripers, pike, trout, and bass? Check out www.earlyriseoutfitters.com or contact patrick@earlyriseoutfitters.com