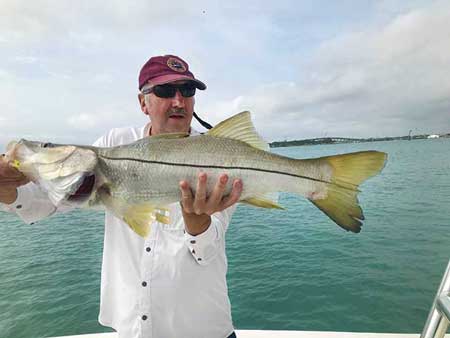 This 40-inch snook was recently caught in the shallows of the Indian River Lagoon.
By Richard Matteson
Whether wading or fishing from a kayak or flats boat, early summer is one of the best times to fish. When the water temperature gets in the high 70s and low 80s, the topwater bite is on. Be sure to keep at least one topwater tied on.
At the last Stuart Rod and Reel Club meeting, DOA Lures founder Mark Nichols showed us the new PT-7 topwater lure, which has a single hook rigged through a plastic body shaped like a small Zara Spook. What's great about this new bait is you can skip it under mangroves and piers. I also use the smaller size Zara Spook in gold and the Skitter-Walk in both sizes.
My standard summer search lures are DOA 1/16- or 1/8-oz. jig-heads with 4-inch paddletails in silver sparkle or pearl white. I also throw 4-inch Yozuri shallow diving plugs with treble hooks in light colors—such as light green.
Always use a 3-foot mono or fluorocarbon leader tied on to the end of your braided line. I use 20- or 25-lb. leaders and 6- to 10-pound braid. White braid works the best for me, as the dark colors are too hard to see. Tie lures on with a loop knot so they move more freely.
I mainly fish with lures for snook, trout, redfish and tarpon. Other fish frequently caught are jacks, ladyfish, flounder, pompano, bluefish and Spanish mackerel.
Finding Fish
As usual, finding the fish is key. Since most of the grass in the lagoon is gone, looking for grass is not an option. But there are still some grass patches growing close to the bottom in Vero and Bear Point/Bear Cove areas.
The usual keys to finding fish in the lagoon apply:
1) Look for birds.
2) Look for bait. Right now there's bait in the backs of coves around mangroves in shallow water. Bait near deeper water means the predator fish can access it. Areas holding ladyfish and jacks usually hold trout, redfish and snook, as well. The jacks and ladyfish are there because there's bait around.
3) Fish docks.
4) Fish bridges.
6) Fish shoreline structure and mangroves, especially on high tide.
7) Fish humps or shallow spots away from shore as well as contour changes. Top predators often feed in shallow water where they can trap bait against seawalls or shallow points.
Know The Tide
1) Fish the tide. The fish are usually facing the current waiting for bait to swim to them.
2) Fish closer to shore on high tide.
3) Fish away from the shore in low tide. Concentrate on breaklines, sandbars and shallower humps.
Richard Matteson is staff writer for the Stuart Rod and Reel Club. To contact the Stuart Rod & Reel club, visit www.stuartrodandreel.com or call 336-414-3440.