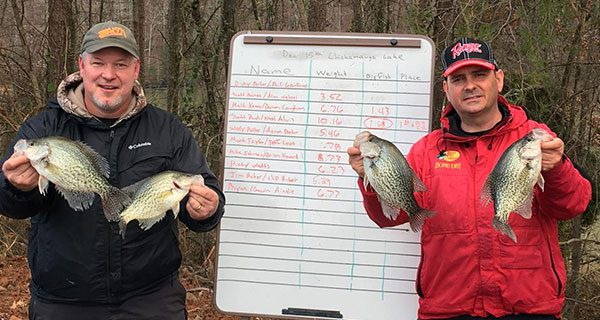 By Perry Hensley
On November 19th 2022, my fishing buddy and Slab Happy Pro Staff Member, JD Dyer, and I decided to fish our first ever crappie tournament here in East Tennessee on Cherokee Lake Right off the bat, we were extremely impressed and humbled to be fishing with some of our area's best crappie anglers. We finished 15th out of 23 teams without live sonar so, needless to say, we were proud to just get 7 crappie in the boat and a couple of culls before our trip back to the ramp for weigh-in.
Let me say that although we were not familiar with fishing any tournament, JD and I were familiar with the way tournaments are run. That being said, from the get-go, we were treated with respect and courtesy without anyone beating their chests or trying to intimidate us being newbies. Everyone made us feel welcome. It was clear that tournament director and angler, Matt Xenos, is running a professional club/trail for this region. Not only that, but he includes a faith-based element to the trail. Now this thoroughly impressed both JD and me, like I mentioned earlier.
Matt Xenos himself has been involved and has done so much for the sport of crappie fishing in our area. His passion runs deep for the sport, to say the least. Matt hosts a YouTube channel known as Wired for Crappie where he gives tips, techniques, and electronics education on each video. He also offers a YouTube live every Wednesday to just talk crappie. Matt Xenos has also just completed a series of videos. This series is known as "How to become a better crappie angler" where Matt talks techniques, equipment, and locating these sometimes-elusive jewels of the lake. I am confident that it has helped many beginning or struggling anglers.
Now! Getting back to the ETCC Tournament Series: The trail runs from September to May on generally 6-7 different lakes in our region, or East Tennessee, with such big-name sponsors as ACC Crappie Stix, Crappie Cove, Crappie Magnet, and Sniper Marine. ETCC also has some pretty well-known angler champions from the larger known crappie tournaments such as the Crappie USA Trail. Those names include Neal Alvis and Scott Bunch, Winners of the 2020 Crappie USA Points Champions.
In Closing, let me say JD Dyer and myself were treated like friends by everyone and we were honored just to fish with this caliber of passionate anglers. For anyone looking to fish this trail or sign up as a member of this brotherhood of anglers, contact Matt Xenos, Scott Bunch, or me and we will be happy to steer you in the right direction to do so.
Tight Lines and God Bless, Perry Hensley