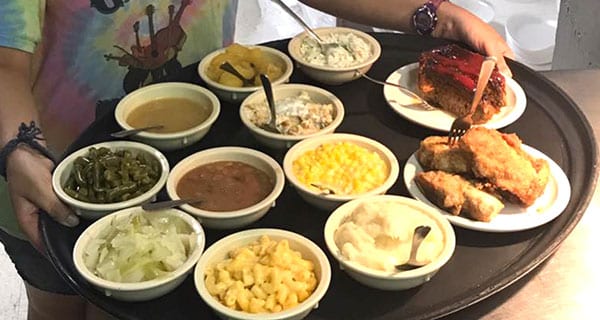 Shirley's Home Cooking, located near beautiful Watauga Lake on Highway 321 near Butler, Tennessee started as a small grill in the corner of a service station. Shirley served mainly locals her homemade family style meals which she learned to prepare first-hand from her mother. All of her menu items are made from scratch and when they say "family style", just like at grandma's, it's all you care to eat.
Today, Shirley's has a lot to offer, including great food and a family atmosphere. Renovations throughout the years, now allows them to seat around 250 guests and offer great food, live music, and a family atmosphere served with a heaping helping of southern hospitality.
Family-style is serious business at Shirley's and it starts in the kitchen where they prepare and deliver a choice of two meats and a variety of vegetables. All the menu items are made from scratch and included in your family style meal is a wide variety of homemade desserts.
Diners can choose between boneless breast fried chicken, country ham, roast beef, meat loaf and chicken livers. Also on Friday's menu is country fried steak and gravy. The vegetables served are seasonal and may vary from time to time.
Shirley's also has a Country Store for browsing while you wait. The Country Store, has a wide variety of quilts, candies, jams, jellies, wooden toys and other gifts. Also, there are items in the Country Store made by local craftsmen.
Shirley's offers catering services for pick up or delivery to your wedding, family reunion, church function or special events. They also offer in-house parties upon request (50 or more). Either way, your menu can be prepared to suit your specific needs.
For more information or to reserve a catering service, please call/txt to 423-957-1320 or call 423-768-2092, or visit them at www.shirleyshomecooking.com.