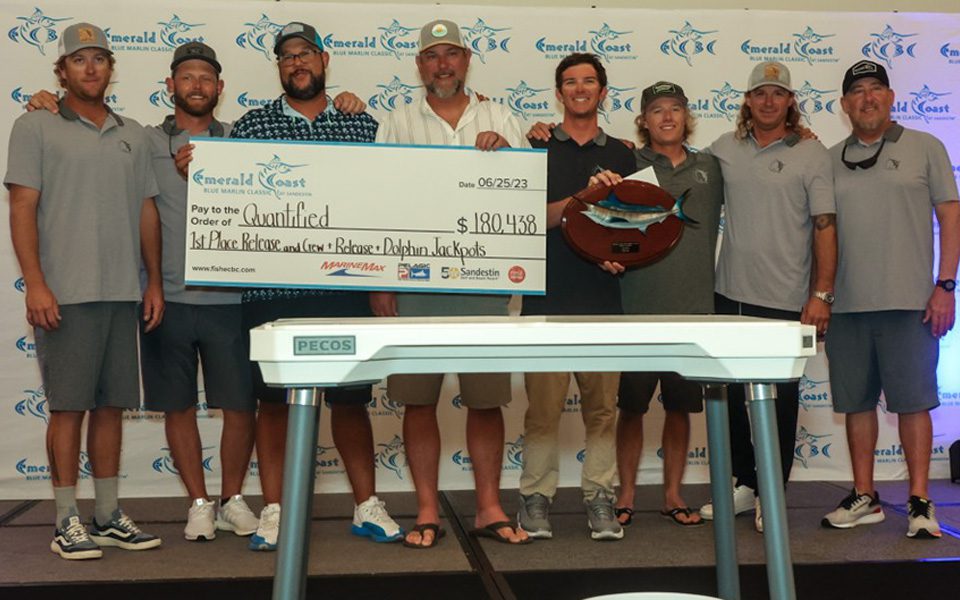 By Capt. Dave Lear
For the second year in a row, Quantified earned top release boat honors and broke its own record by scoring 13 billfish during the 21st annual Emerald Coast Blue Marlin Classic. The Texas team, led by Capt. Justin Drummond, released 11 sailfish and two blue marlin during the event. The team had 12 billfish releases in 2022. Quantified, a Spencer Yachts 64, won first place for top release, crew and all the optional release division entries, plus an optional dolphin for a payout of $180,437. Jake Graves was named the top release angler and Jason Nolan added the 29.8-pound dolphin. As a result, Quantified was named the 2023 Emerald Coast Blue Marlin Classic Tournament Champion.
Fleur De Lis, a 68 Viking with Capt. Scooter Porto on the flying bridge, was the second-place release team with 1,500 points. With optional entries and a tuna jackpot (134.2 yellowfin), the Orange Beach, Alabama team takes home $64,106. Rebecca (63 F&S, Capt. Clint Clark), was the third-place release team with 1,300 points. Optionals and tournament award winnings totaled $60,868 for the team. Wynsong (Capt. Allen Staples) and All-In (Capt. Blake Bridges) also won release jackpot money.
No qualifying marlin were weighed, so the marlin tournament award money rolled to the gamefish divisions. That added extra payouts to several teams in the wahoo, tuna and dolphin categories. Angler Parker Cotton, fishing aboard Bird Dogwith Capt. BJ Teems, boated a 71.6-pound wahoo to capture first place. That win, plus a sweep of the optional wahoo jackpot entries, resulted in a check for $184,285 for the team. Bird Dog is a 65 Ritchie Howell boat.
Capt. Adam McGugin on Home Made put angler Jacob Lamar on the second heaviest wahoo at 58.3 pounds. That catch earned the Tim Winter 64 boat a payout of $46,950. Evil Eyes (Capt. Kelly Graham), The Pointe (Capt. Steve Pixley), Lined Out (Capt. Mitch Mosley) and Just Lookin' (Capt. Hall Bohlinger) all won optional money for their wahoo catches.
Panhandler, a 63 Hatteras run by Capt. Nick Millsap, double-dipped by weighing the third-place tuna (141 pounds) and third-place wahoo (52.4 pounds). The anglers were Tim O'Brien and Mike Morette, respectively. With optional winnings, the Pensacola-based team takes home $89,393. Angler Clark Adams, fishing aboard his family's Gunnslinger, a 72 Viking with Capt. Kevin Price at the wheel, boated a massive 191.8-pound yellowfin to take first place. With an optional entry that fish was worth $107,200. Terry Collins outlasted the second largest tuna at 141.4 pounds, good for an $86,865 check. Collins was fishing on Jubilee, a 68 Hatteras run by Capt. Cliff McGonigal. Knot on Call (Capt. Travis Ream), and Robin Lynn (Capt. Cheeze Alawine) also earned tuna jackpots.
Jason Bense set the new tournament record for dolphin after weighing his 59.8-pound bull. The previous mark of 53.1 was set in 2006. Bense was fishing on Salt Shaker, a 58 Viking with Capt Dennis Bennett. The new record earned a payout of $112,465. The 50 Viking Squid Row was heavily invested in dolphin optionals and it paid off after Allen Buchanan boated a 42.8 dolphin, earning the team $146,343. Harris Hartley wound in the third-place dolphin at 33.3 pounds. That catch, with optionals, paid $69,778 to the Bucket List team. The boat is a 52 Miller Marine skippered by Capt. Gary Jarvis.
Sammy Hargroder, fishing on Badonkadonk, a 76 Whitaker with Capt. James Stanley, was named the Top Lady Angler for the tournament. Charlie Murdica (12) was the Top Junior Angler, competing on Never Settle with Capt. Stan Blackman.
A total of 80 boats competed in the 21st annual edition of the ECBC, angling for a share of $1.8 million in prize money. The fleet released 62 billfish, including 29 blues and 15 white marlin, plus 18 sailfish. In the gamefish tallies, 33 wahoo were weighed, along with 16 tuna and 25 dolphin.
The 22nd edition of the Emerald Coast Blue Marlin Classic is slated for June 19-23, 2024