By Capt. Chris Johnson, SeaSquared Charters:
Marathon, the very heart of the Florida Keys, offers fishing options as vast as the crystal blue waters that surround the islands.
Fill Your Trophy Wall:
With visions of Ernest Hemingway's exploits in their heads, adventurers flock to Marathon from around the globe to fulfill their dreams of catching the sportfish of a lifetime. The offshore deep blue waters are the realm of the mighty swordfish, who live in the 1,500-plus-foot depths. Fishing for swordfish is highly technical and is best done with an electric set-up. While a magnificent creature to display above the fireplace, swordfish are also prized for their food value.
Closer inshore are sailfish, which are unsurpassed in their size range for combined strength and spectacle. These silver speedsters, with their distinctive blue fan-shaped fin, are free-roamers that seem to prefer the coral reef areas. They are best fished for where their favorite foods are plentiful, such as along weed lines or around schools of blue runners, goggle-eyes or pilchards.
Perhaps the most elusive of all the sportfish in the Marathon waters is the Silver King. The tarpon that visits the Middle Florida Keys each spring love to hang out at bridge passes, where their food of choice is easily obtainable. These areas are known for their relative calm conditions, making tarpon fishing a comfortable experience for all anglers, even those prone to seasickness.
Using light spinning tackle and circle hooks, fishing for tarpon is about as sporting as it gets. And, to hook one and chase it through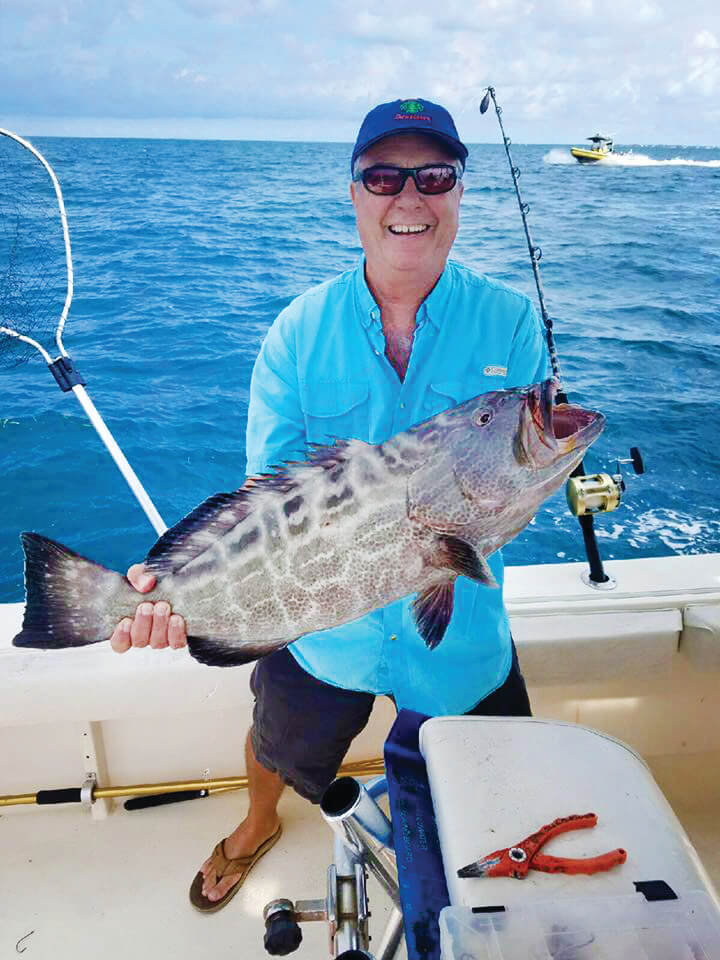 the bridge pilings, hoping to be rewarded with a few jumps and maybe a picture at the side of the boat is an unforgettable experience.
With a plethora of media coverage of sharks, catch-and-release fishing for them has become increasingly popular. The Marathon area sees a vast spectrum of sharks, including lemons, blacktips, bulls, blacknoses, nurse, spinners, hammerheads and tigers. These range in size from little guys to behemoths at 12 to 15 feet in length. Light tackle, shallow water angling for sharks in the Middle Florida Keys presents the opportunity to experience the exhilaration of big game sports fishing closer to shore and easier on your budget.
Rounding out the sport fishing options in Marathon are bonefish, snook, Goliath grouper, permit, and barracuda. Each challenging in its own right and all worthy of a place of honor on your trophy wall.
Fill Your Dinner Plate:
When it comes to catching fish with a top-quality food value, you'd be hard-pressed to find a greater bounty than contained in the waters surrounding Marathon. On the Atlantic coral reefs and wrecks, snapper of all variety are plentiful for the taking year-round. Yellowtails, mangroves, muttons and lanes offer endless rod-bending entertainment and fill the bellies of hungry anglers at the end of the day.
Grouper – blacks, reds, and gags – are ever-present as well, although they tend to retreat to deeper waters during the summer heat. Additionally, the season is closed for them from January 1 to May 1.
There are many more species that provide high-quality table fare – too many to list – but include amberjack, cobia, kingfish, Spanish mackerel, cero mackerel, pompano and on and on.
Marathon's offshore waters are fishing central for pelagic species that provide angling excitement. Venture 26 miles out to the Marathon Humps and you will be in tuna heaven. Blackfin and skipjack tuna are abundant year-round, and the only thing that can prevent you from getting there to catch them on any given day are the winds. But, on a calm day, the ride out and back is comfortable and the catching typically rapid-fire.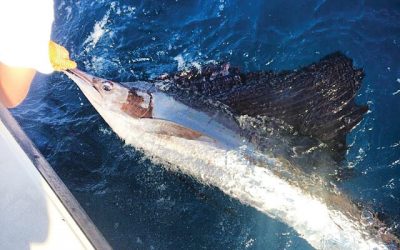 Dolphin (mahi) and wahoo roam the open sea in a continuous hunt for food. Anglers seek them along weed lines and around any sort of floating debris. Feeding birds, particularly frigates, also indicate their presence. The spectacle of the blue and yellow blaze of a dolphin or the blue and white zebra-like stripes of a wahoo on the end of your line is indelible.
Entertain The Family:
There's nothing finer for family bonding than spending quality time together on the water, away from the interruptions of everyday life. Marathon boasts multiple venues that are ideal for a day of family fun fishing. The patch reefs, Hawk Channel, the Seven Mile Bridge and the nearshore bay waters are chock-full of fun-catching fish.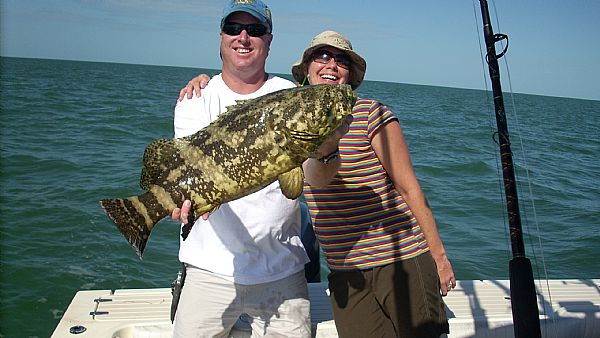 Snapper, hogfish, porgy, yellowjack, maybe even grouper, keep the rods bent with tasty rewards at the end of the day. Just for fun, there are sharks, barracuda, jacks and more. Catch 'em and release 'em and on to the next!
So, whether you're looking to fill your trophy wall or your dinner plate, or just have a great day out with the family, Marathon offers the fishing opportunities to make your dreams come true.
Capt. Chris Johnson specializes in offshore, gulf/bay, reef/wreck, sailfish, shark and tarpon fishing with SeaSquared Charters, docked at Faro Blanco Resort and Yacht Club in Marathon. You can reach him at 305-743-5305, http://SeaSquaredCharters.com and http://Facebook.com/MarathonFishing.