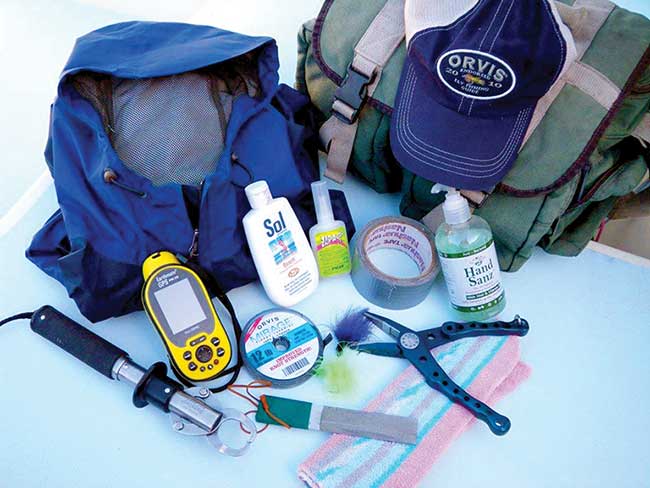 Packing for a fishing trip can be frustrating. Here are a few items I always carry when traveling that come in handy.
1) Pliers: Pliers are the link between you and the fish, making the releasing of fish easier and less stressful, as an aid in pinching down hook barbs, cutting wire or heavy monofilament, and opening a bottled beverage to quench your thirst on a hot day.
2) Towel: There are few things more of a turn off than tarpon or barracuda slime. Once on your hands, this sticky gunk will foul everything within reach, your gear, your clothes and that sandwich you brought for lunch. Bring a good absorbent towel. A word of warning: Don't take one of your wife's monogrammed bath towels!
3) Sun Block: Sunburns can ruin a trip. Arm yourself with a field-tested, water-resistant sunscreen. Today's market is glutted with every sort of sun-protection ointment. Some afford excellent protection, while others provide all the protection of a jar of women's cold cream. Some sunscreens have even been tested so as not to disrupt the properties of your fly line. Once you have applied the sun block, make sure you rinse your hands. Fish can sense the chemicals on your fly or line. Also, excellent protective sun clothing is available today.
4) Rain Gear: It's the smart (and dry) angler whose tote bag carries a good suit of rain gear. Even throwing a large garbage bag into your bag can make the difference between dry gear and soaking wet gear.
5) Super Glue: Nothing is more annoying than a cut or cracked finger while fishing. Whether situated on a Belizean flat or 60 miles offshore, super glue will close the cut or crack, stop bleeding and keep you fishing. Super glue also repairs broken rod tips.
6) Duct Tape: As one of my fishing buddies stated, "Duct tape is like The Force… it has a light side and a dark side and it holds the universe together." Duct tape can be a real friend in taking care of your emergency needs, whether securing a fly reel onto a broken reel seat, taping rod cases together for the flight home or applying a piece around your stripping finger.
7) Anti-Bacterial Gel: Shout hosannas for this stuff. When catching and releasing fish, there are times when your hands suffer nicks and cuts. These micro-cuts become home to infectious bacteria. Avoid nasty infections by carrying a pocket-sized container of anti-bacterial hand-wash.
8) Hook Sharpener: Dull hooks are responsible for many lost fish. When fishing in rough areas such as jetties, rocks, coral, and even sand-bottoms, hooks, dulled over time, require constant sharpening.
9) Hand-Held GPS: One of the worst fishing-nightmares is becoming lost in the ocean. A GPS can prevent this situation. Also, if you find an area where the fishing is red-hot, you can enter it into your GPS. Most GPS units contain moon phase and tidal information, which are keys to successful saltwater fly fishing.
10) Tackle Bag: When purchasing a traveling tackle bag, choose one that will carry all the gear needed. Also, to save you from a possible wrenched back, make sure it's a rolling-duffel. Choose a bag with numerous pockets, interior and exterior, heavy-duty or even water resistant zippers and above all, a bag constructed of durable material.