One thing that all spearos can brag about is their ability to be selective, but it takes more than that to be an ethical spearfisher. With our ability to enter the underwater world and see what is going on, comes great responsibility.
Just because it's legal doesn't make it ethical. Beginners are taught basic rules such as: respect your prey; take only what you need and will be eaten; if the size is borderline, don't shoot; if you don't have a high likelihood of landing it, don't shoot; once you have targeted a certain fish, do everything under your power to land it; and do not damage coral or other underwater life.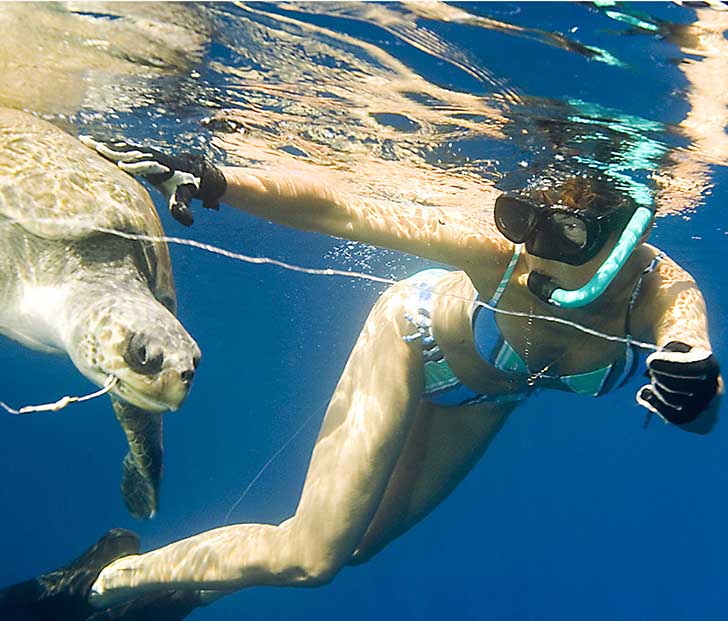 These rules should be obvious, but an ethical spearo goes even further. The ethical spearfisher gives back. For example, if we see rubbish, such as plastic bags that can harm turtles, we take it out of the water. Our unique ability to help cull the invasive and gluttonous lionfish population is another example. While lionfish can't be completely eliminated, we can certainly help reduce their numbers, thereby giving the local species a better chance to thrive.
A couple years ago, my friend spotted a whale shark dragging a net that had grown into its skin, and it was in obvious distress. My friend cut the net away while the whale shark remained motionless. After finishing the job, the whale shark made several passes and seemed to be expressing joy and appreciation. It was a transformational moment for my friend, and one he will never forget.
While spearfishing in Costa Rica, I spotted a struggling turtle stuck on a longline. I could see the agony in its eyes. I cut it away from the line, and with help from the boat, we got the stainless steel hook out of its mouth and sent it on its way. Many of us feel good when we take a moment to give back. Of course, these actions should only be undertaken if they can be accomplished safely.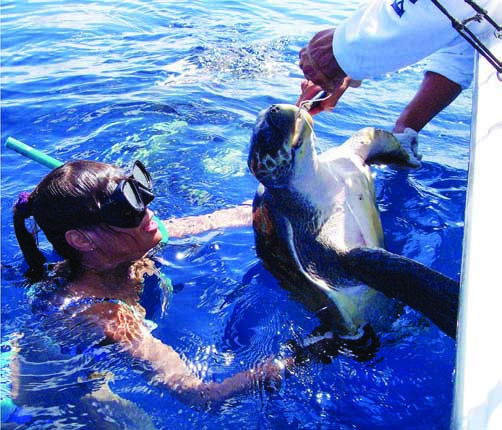 Besides giving back, the ethical spearfisher understands that hunting is not just about killing. It's about the total experience—being in the outdoors, sharing with family and friends, making a spiritual connection, and leaving it in a better state than we found it. The ethical spearo passes these values on to younger hunters as they enter the tribe.
Some of the best moments of my life took place while spearfishing but had nothing to do with hunting—such as the time I was accepted into a pod of wild dolphins and swam with them for over an hour. It was a magical!
The "giving season" is upon us. It's a good time to reflect on the many gifts from the sea and what we have given back. You might also consider giving a young person the gift of your time to introduce them to the wonders of nature.

Sheri is a world-record holder, host of Speargun Hunter, and producer of "The Blue Wild Ocean Adventure Expo" in Ft. Lauderdale, Florida. Follow "Sheri Daye" and "The Blue Wild" on Facebook and Instagram.