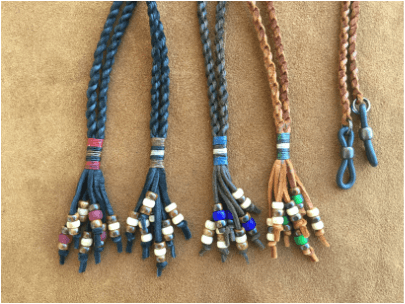 Sunglass Lanyards. Eco-friendly – handmade in unique designs.
Produced using recycled fly line, these sunglass lanyards are not only functional and long lasting, they are environmentally correct. Each lanyard is corded by hand using an ancient spiral braiding technique noted for its strength and beauty. Free-range deer and elk along with hand dyed bone beads create the decorative fringe and neck pad elements of these "Coolest of the Cool" sunglass lanyards. Each lanyard is handmade by leather artisans in the Blue Ridge Mountains of North Carolina. Dealer inquiries welcome.
For more information call (828)-773-6256 or visit evenlighteagles.com.