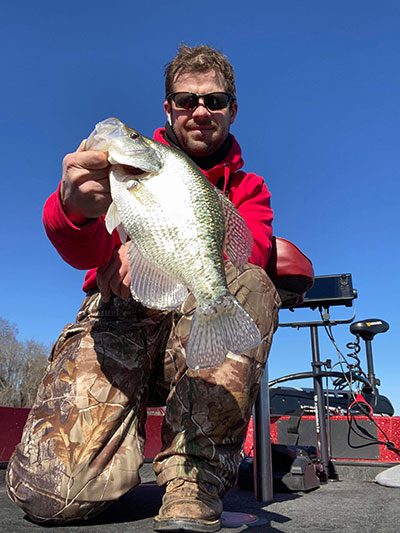 By Perry Hensley
The leaves will soon start to change, and the mountains around Cherokee and Douglas Lake will also soon begin to show us its glorious fall colors. People from miles around will make the trip just to see the beautiful Smoky Mountains of East Tennessee. This will also trigger my senses and get my heart pumping knowing that with all this the lakes will be in their annual TVA drawdown. With that comes shallower lake stages and better opportunities to get a limit of those Fall Slabs. If you are not familiar with "drawdown" let me explain just a little.
In the fall the TVA (Tennessee Valley Authority) slowly draws down certain lake levels here in our region. On Douglas, summer full pool of 990 feet above sea level drops to around 950 or even lower by winter. Basically, they open up the gates for water discharge at the dam to about double until it is around the 950 mark and hold it there through the fall, winter and early spring months.
As far as targeting slabs go, it will allow us anglers to better track down the schools to pluck them off one by one. As for methods and techniques, there is a number of proven ways to catch some giant East Tennessee slabs, such as the oh-so-ever-popular old timer method of a float n fly hair jig tipped with a minnow, or trolling soft plastics, such as grubs or small swimbaits, 8-15 feet deep.
Always a good bet would be to search out those deeper brush piles and points or, even better than this, are those same points and brush piles in the 12-20 ft range along creek and river channels. Bridge columns and stumps are hot places to find them as well but always make sure there is bait fish in an area before wasting your time there.
A real plus this time of year is that the whitetail deer season opens up and most hunters are looking to bag meat for the freezer before they start looking for those limits of crappie, and this means with the low temps of fall not as many people will be on the lake.
Just make it a point to get up off the couch and call that friend or loved one and get out there and enjoy all our creator has given us and put those memories in the bank!
As always, May God bless each one reading this article.
Tight Lines!
Perry Hensley Sr.