On the Road with Fly Rod Chronicles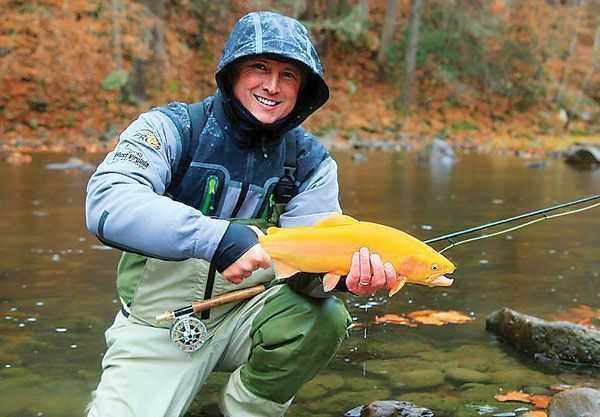 By Jarod McClure
It was a late September day on the Davidson River, N.C. The sun was setting, and its rich orange color was glistening through the leaves of a sugar maple, which had already turned to its mighty fall splendor. As I grabbed this last shot for an episode of Fly Rod Chronicles, I was amazed by how smooth the shoot went. Yeah, we had a living legend guiding us in Kevin Howell, but our host Curtis Fleming had a field day that would rival a good day in June.
So, how do you have success in September? Well, I have been eavesdropping on guides for years now, and below are seven of the best tips I can give you to maybe boost your game this fall.
Tip 1, Ants: If you are missing the big hatches of spring already, don't fret, because there are ant falls this time of year that can rival some of the best dry-fly action in the spring. Be on the lookout for ants! As autumn approaches, ants hatched underground will grow wings and fly off to mate with other colonies. It usually happens all at once, over a period of a few days. After mating the ants will soon die. Lucky for us the dying ants are attracted to water, and that makes for some killer fly fishing. Be on the lookout for ants flying in the air or in such places like car windows. Warm September days with some moisture in the air are good days to gamble.
Tip 2, Skitter a Beetle: Trout live in beautiful places, and the forests really come alive in the fall. Or wait… actually the trees stop making chlorophyll so they are kind of dying in a way. And the falling leaves are all over the water and my line. What once was an awesome back eddy is now a cluster. Throwing a dry seems ridiculous, but by skittering and popping beetles and hoppers you can get some attention and pick up some fish on top. It's a great searching pattern, and terrestrials are still on the menu up until the first hard frost.
Tip 3, Olive Mayfly: Have a bunch of olives on you at all times. If you see any mayflies this will probably be it, and they will probably be either small or tiny. Have some emergers and dries, sizes 18-24.
Tip 4, Longer Leader: If your stream isn't clogged with tree debris, it is probably very low and clear, typical fall fashion. The fish are probably wary, so going from a 9-foot leader to a 12-foot leader could be a game changer.
Tip 5, Target Pre-Spawn Trout: Brown and brook trout will be stacking up at the back ends of deep pools as they get ready to migrate and spawn in November. They probably won't be feeding heavily, but they will be very confrontational. This is a great time to swing a huge streamer in front of them and rip a lip.
Tip 6, Dial in Nymphs: I suggest you do more hands-on research at your local river this fall and turn over a few rocks, seine or safely use a stomach pump to get a look at your local aquatic insects. Each river system can be different, and matching size and color is vital to success. If you don't tie flies, I encourage you to start tying, and focus on one nymph pattern first. You'll find tying is not as hard as you thought it to be, especially if you use the Internet or take a few classes to get you going. Olive mayfly imitations like the Iron Lotus are my favorites for September. Midges are always good, and a big caddis pupa to mimic the orange caddis of October should be in your box.
Tip 7, Get Out There: I know bow season is right around the corner and your college football team is playing, but get out there. With colder water temperatures, you'll find the fish have livened back up a bit, and the crowds aren't what they were in the spring. Combine nice weather, the colors of Autumn and fly fishing, and you can't go wrong… especially if you luck out and witness an ant fall! Good Luck!