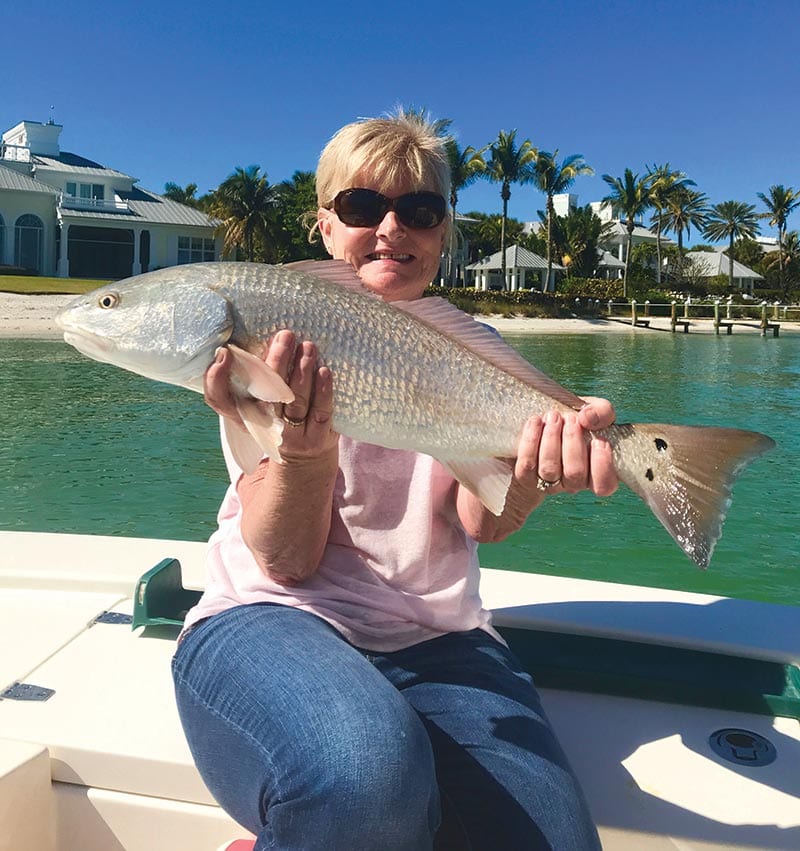 by Capt. Terry Fisher
January fishing in SW Florida proved to be 'tuff-going', to say the least. Winter winds and weather brought out the worst and made scheduling charters very hard, not to mention targeting and catching fish. Many of my charter departures were delayed until midday to give things a chance to warm up. Nevertheless, some of my more 'gungy' clients (young and old) were insistent on braving the cold and windy conditions, forcing me to find locations with sufficient water levels and lower wind velocities, to accomplish the ultimate objective of 'catching fish'. I enjoyed every moment of the challenge, as did they!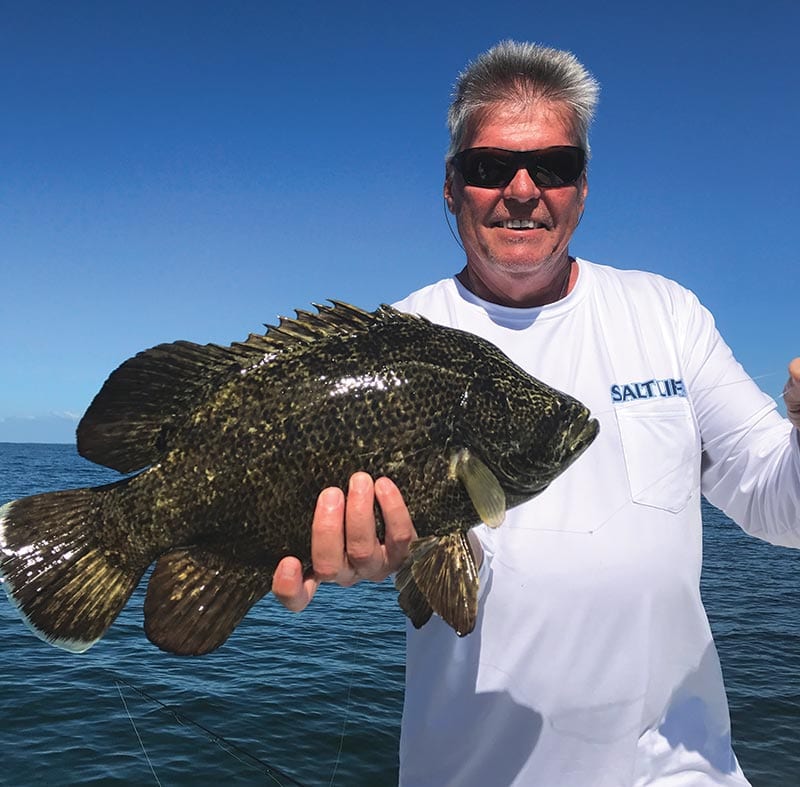 Conversely, February brought out the best in things with near to record warm temperatures that enabled many charters to experience a variety of opportunities both inshore and offshore. Throughout the month, inshore species such as sheepshead, Spanish mackerel, pompano, large seatrouts came on with a vengeance similar to that of springtime. Offshore (37-40 ft. of water), tripletail, mangrove, vermillion/lane snappers and white grunts provided the action. Further offshore waters (50-60 ft.) offered up bigger red grouper, larger snappers and porgies. By the end of February, reports that schooling tarpon were on the scene. White baits showed up in good numbers and sizes for those with the knowledge and willingness to throw the cast net. Pilchards proved to be the more perfect bait for Spanish mackerel, while live shrimp suspended under a cork, was a close second. There were a lot of Spanish mackerel caught around the Sanibel Lighthouse, Redfish and Captiva Passes. Spanish mackerel love artificial presentations such as spoons and Gotcha lures. Unfortunately, that is a very expensive way to fish for them, as they will bite the leader (instead of the lure) more times than not. February was a 'Million Dollar' month in regards to weather conditions and fishing opportunities that most February's will not offer.
The first half of March had a lot to be desired as a result of the 'Nor-Easter's that swept the continent bringing with them, three cold fronts. North and east winds created havoc on water levels, restricting access to most inshore locations. As always, cold temperatures had an adverse effect on the fish bite. Most fish moved to different locations (not out of the area) from those of February. Notwithstanding, March in SW Florida is the beginning of spring and as always, the fish are more aggressive and virtually every species that inhabit our waters are 'on board'. The challenge for the first half of March was to be persistent and spend the time on the water earning the catch, as nothing comes easy. Warmer water temperatures, stronger and higher tides brought out the better in fishing during the back half of March. Snook, a year around species was the inshore target for many anglers. Some anglers brought out the shark and tarpon gear.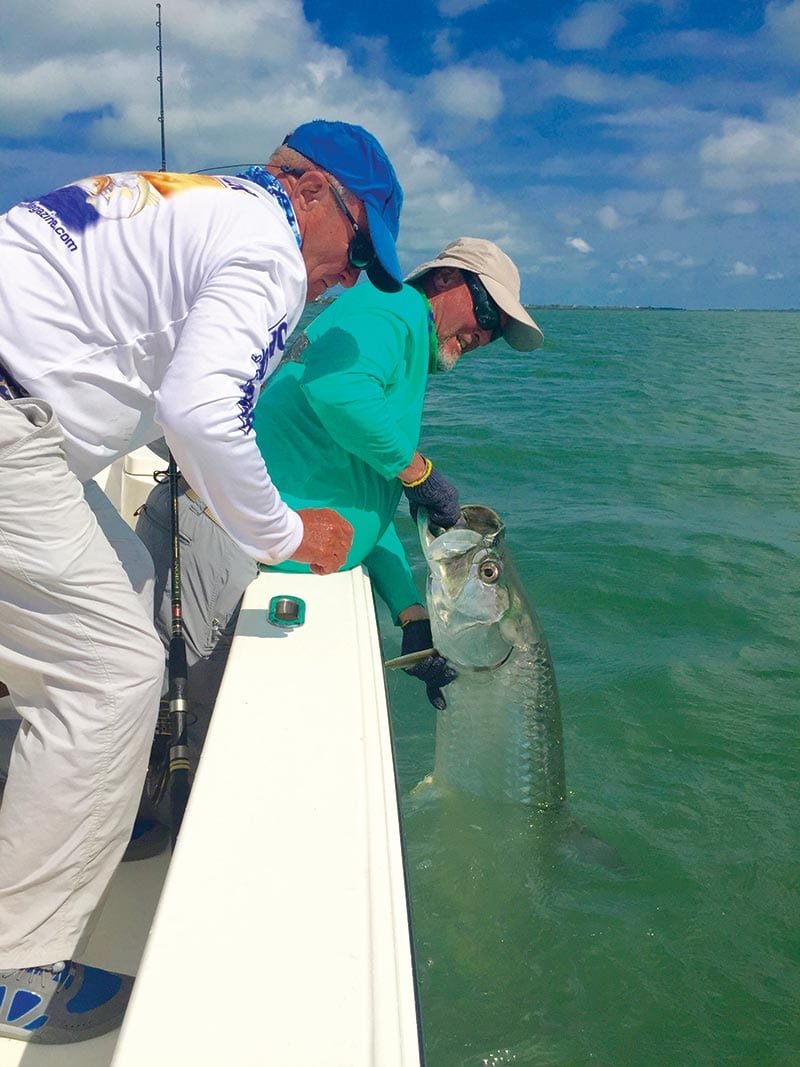 April should be fantastic based on water level forecasts, temperatures and bait availability. Tarpon and shark are here in good numbers. Snook is in season, seatrout are big and redfish on the move. The 'stage' is set for your 'fish of a lifetime'.
Recommendations for equipment and techniques for each species are as follows:
Tarpon/Shark; during April (early in the tarpon season), I like to target both species at the same time by utilizing an 8ft. rod with a minimum 15/30lb. butt rating. 6000-8000 series reel. 65lb. test line, with 80 to 100lb. leader anywhere from 6ft. to 7ft. long (the leader should be the size of the fish one expects to catch). Use size 6/0 to 8/0 hooks. Fish live or dead bait (Pinfish, Mullet, Crab, Catfish Fillets, Ladyfish) suspended under a cork or on the 'bottom' behind an anchored boat or troll them slowly. Look for 'rolling' schools of Tarpon off the beaches anywhere from 1500 yards to 6 miles out. They will be heading (migrating) northward and the shark will follow. Get in front of them a let them come to you. Be quiet! Seek out a Tarpon Club and join for more information, specific locations and techniques (that is what I did when I got started).
Snook; 7'6"rod with maximum of 10/20lb. butt rating or a lighter, 7ft. rod length with minimum 8/17lb. butt rating. Equip with 3000 to 4000 series reel. 15lb. test line with 30lb. leader. Size 1/0 to 2/0 hook. Free-line live pilchards, threadfins, pinfish or shrimps. Cut baits include pinfish, ladyfish and small blue crabs or cut crabs. One may also place live and dead baits on seabed under mangroves or suspend under a cork with a short leader. Artificial baits include soft plastics (scented or unscented), top water, twitch and crank baits along canal walls, under docks, around mangroves and oyster bars. Fish incoming and outgoing tides.
Redfish: 7'-7'3"rod with 8/17lb. butt rating. Equip with 3000-3500 series reels. 30lb. leader and 1/0-2/0 hook size. Jumbo shrimps, cut pinfish and ladyfish are great presentations on incoming tides along oyster bars and mangroves. The baits may also be placed on the seabed or under a cork. Artificial, include weed less soft plastics, top water and gold spoons.
Seatrout: 7ft. rod with 8/17 butt rating, 2500-3000 series reels. 10lb. test line. Attach popping cork to main line. Attach 20lb. leader below the cork and suspend a shrimp above (close to) the seabed (turtle grasses), for best and most consistent results.
This is Captain Terry Fisher of Fish Face Charters at www.fishfacecharters.com. Call 239-357-6829 or email [email protected] for charter reservations. I am also available as 'Captain for Hire' on your vessel (by the hour) for safety, navigational and fishing locations and techniques to insure your every fishing trip is a success.