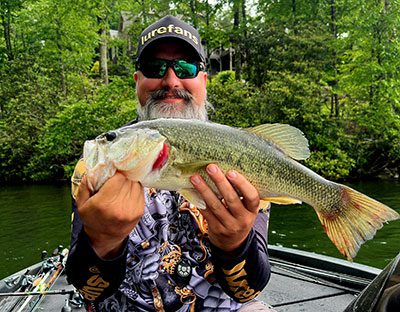 By Scott Norton
Being a seasoned angler gives you so many opportunities just from the knowledge gained through the years. We can find a time or place to give ourselves advantages that no one has. In this day and age there is so much technology to help us with planning and tools to hunt the hunters. People learning from the beginners perspective can learn so much easier and faster than any angler three or four decades ago. It is a great time for a young kid or someone, who did not have someone to show them the ropes, to understand the nuts and bolts to bass fishing.
Right now we are passed the transition from summer to fall. This means it is going to be easier to catch a bunch of bass and I will explain why.
In any seasonal transition, you will notice that all of the sudden your numbers of catches either stop or slow way down. When this happens bass get spread out thin, because some bass stay and some start to move from those spots they were always in. Pay attention to the temperatures at night and the water temperatures in general. At the end of summer from 70 to 60 degrees the fishing can be tough but from the 60s to the mid 40s the bite gets really good.
These bass are chasing forage such as shad, panfish, and trout. They are schooling up, so they corral their prey for an easy meal. Some will be shallow and some deep so be ready to cast a rig for that situation. If you are a beginner make sure you know and understand what your graph is showing you. If you see blow-ups those will be smaller bass. Big bass that are deep under the small bass feed off the dead or stunned shad after those blow-ups that happen on the surface. Shallow bass will corral shad in the pockets or the backs of coves. You will also see trout getting in on the action as well and will give big bass the opportunity to pick them off too.
You will need both top water and submersible baits on deck ready to go. Baits like top water walkers, jerk baits, frogs, crank baits, swim baits, and spinner baits being the main go to baits. Once you locate a school of bass then you can dial your bait in by size, color, and sound. This also is the time of year you want to speed your cadence so be fast and burn those baits in.
You should be having the time of your life this right now, because it is the best time to fish other than the spawn season to just catch numbers of bass. Hopefully that lightbulb will turn on for a beginner this year and knowledge will carry you for the rest of your life.
Scott Norton is a Western North Carolina native. Born in Asheville, N.C., he is a long-time hunter, angler and weekend warrior.