Fishing Forecast
By Joe Gugino, Why Knot Fishing
F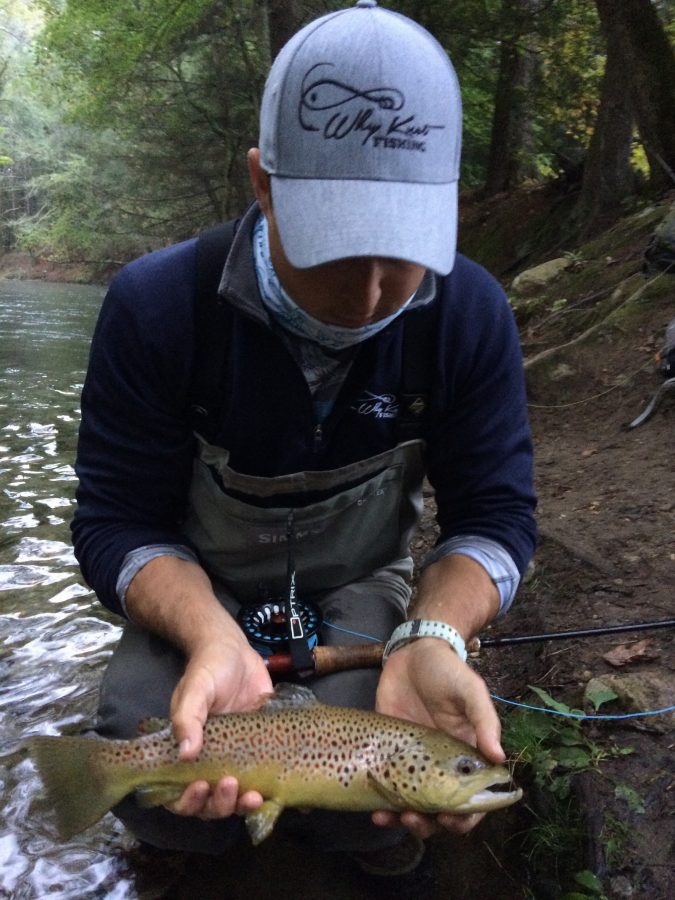 ebruary in New England is a tough fishing month for most people.  Some people choose to get out on the ice and try their hand at ice fishing, while others decide to brave the cold on different open water streams for some winter Trout.  Both are good options as our team members have been catching fish all season both ways, but other anglers decide to use this winter time to prepare for the upcoming season.
Some anglers are using this time to tend to their gear and restock what they might have lost during the last season.  A lot of people are either tying flies or changing hardware out on their plugs.  I personally like to use my time in the winter to meet new anglers and learn a few new things to help me when I am out in the water come summer time.  The best way to do this is to get out and go to as many fishing shows and events as possible.
This month there are a lot of great events around the Boston Area that I suggest checking out.
Fish On! Seminar Series put on by North Coast Angler
This annual series of fishing events is the longest running and best (free) fishing seminar in New England.  There are different presenters on a different topic every week, and a ton of knowledge is shared.  Fishing videos are shown from 6:00-7:00pm and the talks start at 7:00pm with free door prizes each night.
Feb 7th – Matt and Joe from Why Knot Fishing present Light Tackle and Fly Fishing Strategies for fishing Boston's North Shore from shore, kayak, SUP and Boat.
Feb. 14th – Julio Silva presents Wicked Chunking; how to chunk effectively for big Stripers
Feb. 21st – Don Kolesar, a licensed NH fly fishing guide, presents fishing the Great Wood of New Hampshire.
Feb. 28th – Brian O'Connor talks about top water fishing from the rocks of Cape Ann.
Why Knot Fishing's Freshwater Fishing Night
Our Freshwater Fishing Night is part of our Why Knot Wednesday's fishing event series.  Each month is a different topic, and the meet-up is an opportunity to meet local anglers, guides, and fishing companies with the idea to learn and get excited for the upcoming season.  The events are free, and there is always a great raffle to end the night.  Check www.whyknotfishing.com for the exact location, but it will be held North of Boston on Wednesday February 15th from 6:30 – 8:30pm.
New England Boat Show
The New England Boat show is held from February 11 – February 19, and is worth checking out even if you are not currently a boat fisherman.  It is fun to walk around and check out the latest and greatest boats, as well as check out some of the local fishing companies and charter captains.  Some day, one of those boats will be mine!
Bear's Den's 19th Annual Fly Fishing Show
This is a great event for all fly fishing anglers, and is also a great event if you are even thinking about getting into fly fishing.  It is a very low key, but exciting event filled with all the best fly tyers and vendors from around New England and beyond.  I highly encourage you to check it out! It is at the Bear's Den shop in Taunton, MA from 11:00am – 6:00pm.
If you are spending your February out on the ice or on the cold river, I wish you luck, and stay safe!  If you are looking to meet some new anglers and learn some new things, I look forward to seeing you at some of these upcoming events.
---
FORECAST BY: Joe is a life-long fisherman, who fell in love with the sport when he moved to the North Shore and started fishing in saltwater for striped bass. After fishing from a kayak for the first time, he became even more excited about (and obsessed with) fishing. Joe is also the co-founder/co-owner of Why Knot Fishing (whyknotfishing.com), a community-based fishing organization.