by Capt. Bart Marx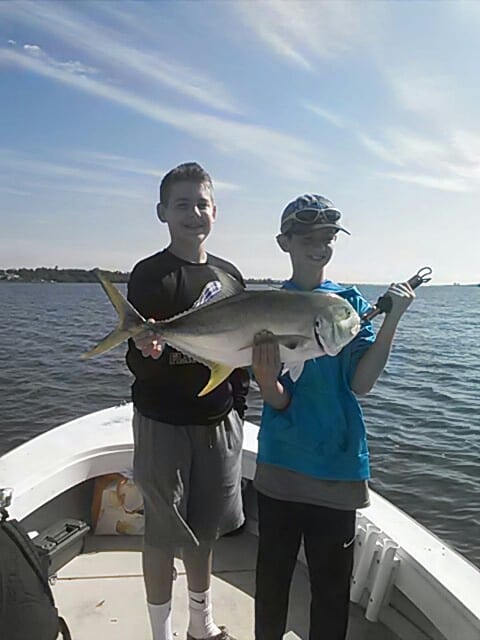 February in Southwest Florida there are plenty of species to target. Looking offshore the sheepshead and flounder will be in the shallow waters of the Gulf out to 40-45 feet of water. They love the cold waters this time of year, moving out to spawn, and when you find them the action is awesome. The sheepshead is very sneaky; they pick the baits off your hook. I have been told that you need to set the hook just before they bite, yea. They will eat shrimp and most any crunchy bait. Using circle hooks, it seems that they come in buttoned about half way to the boat. I think it is because of the plate of crunchers they have. The hook cannot penetrate it. I use 1/0 inline VMC circles and they seem to do the job staying hooked up. Then you got your flounder that love shrimp. These flat fish can be caught out to the 50-foot line too. They like to lay on the upside of the small hard bottom ledges that are covered with sand. When you find them, they give a good fight and are some anglers favorite seafood. They are good table fare as the flesh is very mild, unlike mackerel. Yeah, you may find Spanish mackerel attacking your bait as you drop or retrieve it, they have teeth that will cut 20lb. leader. In these same areas, you will find lanes and mangrove snapper, along with grunts, porgies, and triggers.
So, on the groupers it is a wait and see what the State of Florida is going to do about opening them to harvest. For those that go out deep enough to find red snapper the State is changing some things so they can collect fish catch numbers for the private sector. So, keep your ears and eyes open for the new regulations. They are making it harder and harder to keep up with the changes. With that said I mostly fish State waters any way, even when it is for my fresh fish dinner. Enough about that.
Let's take a look at the inshore fishing this month.  Black drum can be found along the pilings of docks and bridges in SW Florida. They will eat some blue crabs, broken in half and placed near the bottom close to pilings. It may be best if you use a 30 or 40lb. class setup. The guys can be found in the XL size and they can pull too. Black drum is good to eat; I like the smaller ones, 16 to 18 inches for eating. This is a great time for your pompano too. They will jump in your wake as you travel along the edges of the bars. They come through the passes where jigging for them is productive to harvest them. They will hit small jigs, some like to tip it with a small piece of shrimp to sweeten it up.
The trout action should be in action. Try using a fly rod with a top-water popper to target these guys. It is fun and an 8-weight rig will get the job done. And if you like to search for cobia this month, you can travel along the edges of the sand bars and spot these brown tackle testers. If you see one, they like live anything, pin fish to shrimp, just hook your fresh bait and get it in the line of sight and let the live bait do its thing swimming around. Okay a teachable moment DO NOT set the hook till you FEEL the fish on the line, this will save a lot of heart ache.
Or you could give Capt. Bart Marx a call 941-979-6517 or e-mail him at 

[email protected]

 to help you with your angling skills. So always remember singing drags and tight lines make me smile. <*(((((>{