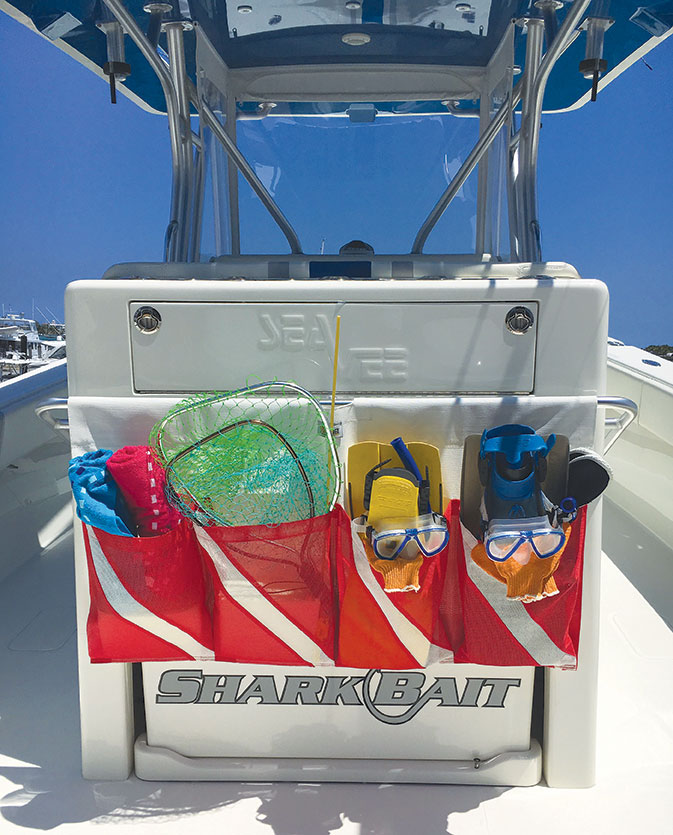 A cluttered boat deck has a way of turning a happy and productive day on the water into a frustrating mess. Whether you're fishing, diving or just enjoying a day on the water, gear scattered on the deck can range from being a nuisance to being downright dangerous.
Sure, there's a lot of stowage on most boats these days, but what about the gear you need to keep close at hand?
That's what John Adinolfe, a marine canvas man and seasoned diver, had in mind when he created and patented Finholder and More, a storage solution for boaters with a need for easy access to their equipment.
It was invented for dive and snorkel gear, but with various models the product is the solution for any gear-happy boater. Ever find yourself scrambling through lockers for that one box of tackle in the middle of a blitz of surface-feeding fish? With the Finholder and More, the gear you need is just a step away.
The Finholder and More has a clean design and is made of heavy-duty marine-grade materials and the highest quality zippers. Models attach to handrails, bolster tracks, or the new Sea Sucker model attaches with suction cups, and they come with up to four wide pockets and a one-year warranty. Custom models can also be ordered to suit anyone's needs, including pockets made of clear plastic to keep equipment visible.
For more information, go to www.finholder.com or see the Finholder and More in action on Facebook at /finholderandmore. To place your order or to speak to Adinolfe directly, give him a call at (561)-845-9491. He'll have the solution to your storage needs.