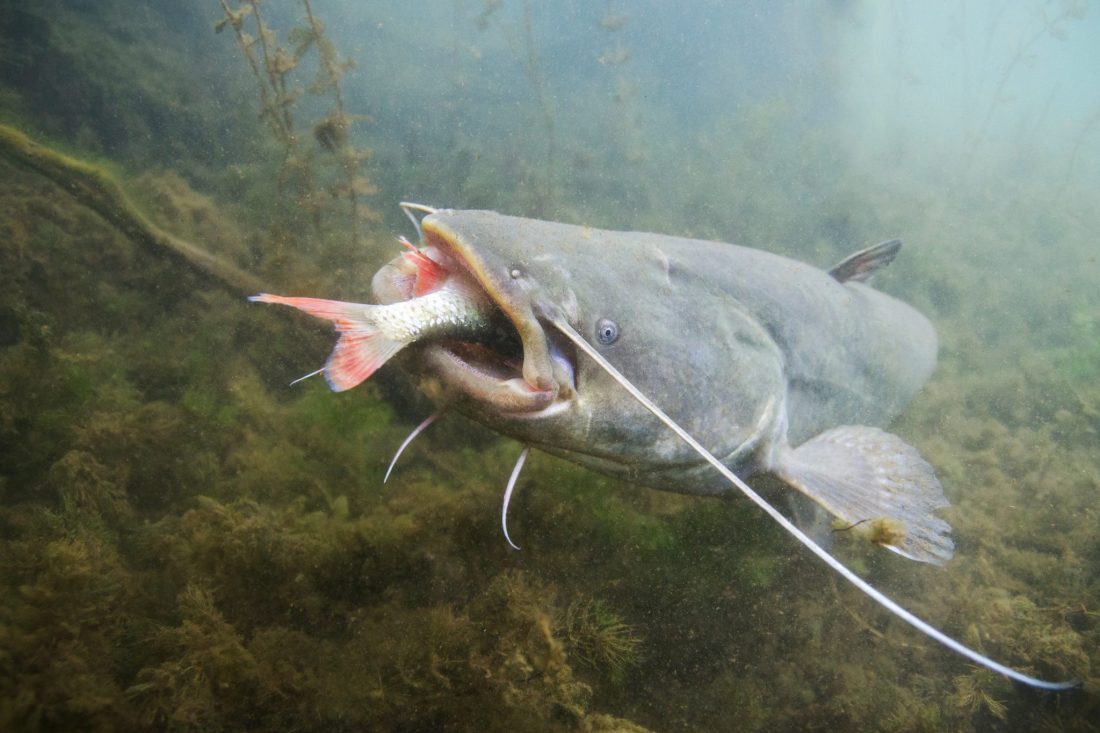 A Cecil County resident has officially been recognized by the Maryland Department of Natural Resources as the first-ever state record holder for the invasive flathead catfish. Joshua Dixon caught the 57-pound, 50-inch long flathead catfish (Pylodictis olivaris) on Dec. 27, 2020 fishing near the Lapidum Boat Ramp on the Susquehanna River.
The 34-year-old angler was fishing from shore with Zoom plastic swimbait, and said it took nearly 30 minutes to pull in the flathead. Dixon was using medium-weight spinning tackle, which added to the intensity and length of the battle.
"It was really weird because I thought I snagged a tree," Dixon said. "It didn't feel like a fish but after a while, it was going crazy."
Dixon's record-breaking catch broke the state's minimum flathead catfish weight of 40 pounds. The flathead catfish's weight was officially certified by Jack Manning of Keen Compressed Gas in Elkton. A Maryland Department of Natural Resources biologist confirmed the catch.
Dixon donated his record-breaking catch to friends who harvested the fish's protein-rich filets.
The department maintains state records for sport fish in four divisions – Atlantic, Chesapeake, Nontidal, and Invasive – and awards plaques to anglers who achieve record catches. Fish caught from privately-owned, fee-fishing waters are ineligible for consideration.
Anglers who think they have a potential record catch should download and fill out the state record application and call 443-569-1381 or 410-260-8325. The department recommends the fish be immersed in ice water to preserve its weight until it can be checked, confirmed, and certified.
A little more about the Flathead Catfish
First introduced into our region in the 1960's. This invasive species is now found in the Upper Chesapeake Bay, Susquehanna River and tributaries, the Potomac River, as well as the Elk and Sassafras Rivers.
It is native to the Ohio and Mississippi River watersheds and has expanded dramatically in Maryland.
They are ferocious predators reaching up to 100 pounds and can live at least 20 years.
According to the Maryland DNR website "Flathead differ greatly in appearance from most other catfish species. Flatheads have a squarish tail, sometimes slightly notched. Their backs and sides are often an olive or light brown color with darker mottles or specks. Their bellies are often white or pale in color. Their heads are compressed, or flattened, and they have a protruding lower jaw."
These ambush predators feed at night and voraciously consumer other fish. They have few natural predators besides member of their own species and anglers.
Flathead's are not able to tolerate high salinity environments. They prefer hanging out where the water is cloudy and currents are slow. Adult flathead catfish are solitary creatures and can usually be found near or under fallen trees, logs and brush piles, while young flathead catfish usually prefer shallower water. Adults stay in deeper waters during the day and move into shallower water at night.