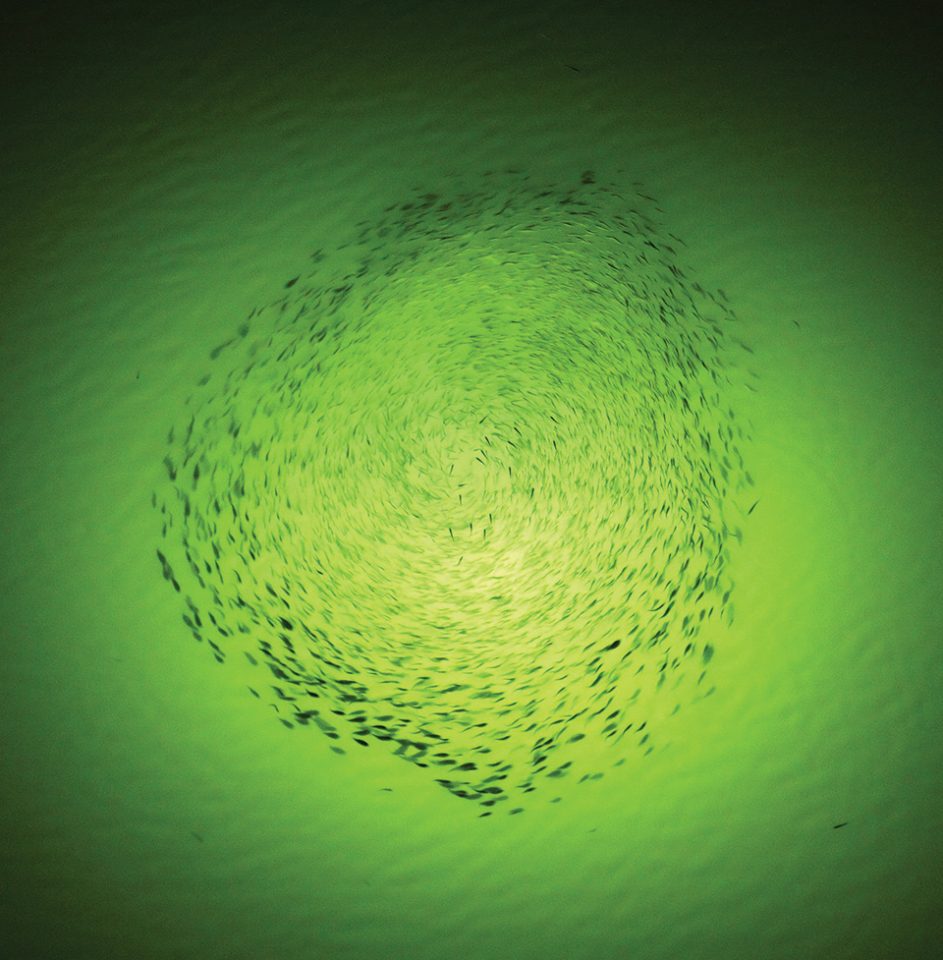 Tim Barefoot
For the remainder of the summer and into early fall, the best fishing can often be at night. Temperatures are more comfortable, there's less boat traffic, less wind and fewer anglers. There's no need for sunscreen, and best of all… fish are very active.
I fish for several species in fresh and saltwater at night around the big lights on bridges and docks. I'll also bring my own lights. Light draws the baitfish, and then it's just a matter of time until the target species show up.
Squid, cigar minnows, sardines and tinker mackerel (boston mackerel) show up in numbers around a bright light on an anchored boat over a ledge or wreck. This is a wonderful opportunity to fill the livewell with a Sabiki. It also brings all the action right to your back deck. It's really cool to watch the life that is attracted. It's like a National Geographic show right behind the boat.
The key is bright lights. Years ago I bumped into the owner of Hydro Glow Lights at ICAST, and he quickly brought me into the modern age of offshore and inshore lights. New LED, low-amperage lights are powerful and require low power usage. Not only do I use a light on the surface, but I also drop at least one down 20 or 30 feet, and one even deeper depending on the target species. See video of this on the website.
In addition to the good bite at night, it's kinda like hunting in some respects when running the existing lights in waterways and sounds. You can go from light to light and watch, and you can also be very quiet and hear surface activity. Being stealthy is important. You don't want to stomp around the boat, or yell over thumping music.
Some of the standout species that hunt the edge of the light are kings, wahoo, most all the snappers and tuna, offshore. Inshore, snook, tarpon, drum and trout are susceptible. In freshwater, striped bass, crappie and panfish are suckers for well-lit water.
I have memories of commercial trips of kings and beeliners in numbers at night. The beeliners really chew it up a few days before and during the full moons of summer, but the bite shuts down right at daylight.
Even though the largest gag grouper I ever caught was at night, groupers can be difficult at night. Snapper, on the other hand, move higher in the water column and really chew. King mackerel under the lights can be off the charts. Once you get the squid and minnows concentrated under the lights, the dinner bell is ringing for kings, wahoo and tuna.
Be sure to fill the livewell and fish the first couple hours after daybreak, while it's still cool. Then head back in with a full box while other folks are just headed out.
For video instructions on how to tye this rig, see: https://barefootcatsandtackle.com/