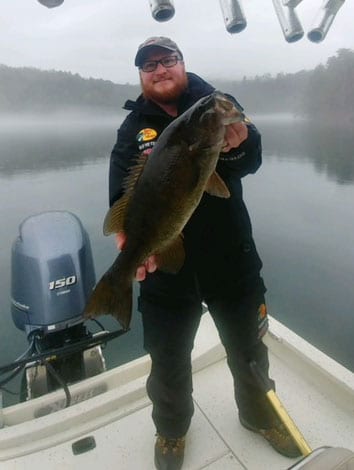 By Aaron Kephart
March is upon us, and hopefully with it, we will finally have some warmer weather. January, and the early part of February, were brutally cold, and it took a bit of a toll on our area lakes. We had the beginnings of a bait kill on Chatuge and Hiwassee, and we had some of the lowest water temperatures I have seen on area lakes in a long time. However, all was not lost, and we still managed to catch a lot of very nice fish in January and February on all of our Murphy area lakes. Luckily, we are getting a big 55 degree rain as I write this, which will help our water temps more than anything else. Regardless of the weather, the days are getting longer, and the fish instinctively know that it is time for them to start eating.
March is traditionally THE month for big prespawn fish to move up and start eating in earnest, in preparation for their respective spawning rituals, and because of that, it is probably the single best month of the year for catching a true "trophy". With that in mind, I would like to spend this month talking about a few fish landing tips to maybe help get that March "monster" in the boat.
First and foremost, I make distinctions between treble hooked artificials, single hook artificials, and live bait, when it comes to fighting fish. Typically speaking, treble hooks on lures such as jerkbaits, crankbaits, and topwaters, have a smaller gap/bend in them relative to single hooks, and don't get as much of a bite. The lures they are placed upon also tend to have a bit of weight to them. Because of those two factors, I typically like to keep a low rod tip when fighting a fish on a treble hooked lure simply because when a fish breaches the surface it has a lot of leverage to throw those hooks because of the weight of the bait attached to it (I will even put the rod down in the water if necessary to keep the fish down). I also like to use softer rods with treble hooks, and I am a big fan of monofilament line as well, simply because the added stretch acts as a shock absorber. In terms of a hook set, I often simply let the rod load up and allow the weight of the fish to set the hook for me, or I do a simple, soft sweep set. I don't like to set hard with these types of baits, with the exception of large, 6 to 10 inch flutter spoons with giant trebles on them. Finally, I like to apply side pressure and keep a big bend in the rod in most situations when I have the fish hooked up.
Single hook artificials, such as shaky heads, hair jigs, texas rigs, and jigs are a bit of a different game. I still like to leave my drag as loose as I can get away with simply to help with a big surge at the boat, or something of that nature, but I also like to use stiffer rods for these applications for both sensitivity and to have more control over the fish. Other than hair jigs, I typically employ these baits in somewhat heavy cover (boat docks, sunken brush piles, laydowns, etc.), and getting the fish headed to the boat quickly can be important. I will also typically do a much harder hookset with these lures, and "horse" them to the boat more than I would fish hooked on a treble (essentially, I am fighting them much more aggressively).
My hooksets and fighting methods for live bait are different. In fact, I really don't set the hook with live bait. I hear a lot of people complain about fish mortality because of live bait fishing, but I can honestly say that employing the following method leads to much lower mortality than even single hook artificials (especially fish hooked deeply with 5/0 wide bend hooks, for example). Remember, March is prespawn, and we want to do all in our power to insure that we can return the big girls to the water and let them pass on their genetics. When it comes to bass or striper fishing with live bait, I employ the smallest modified circle hook I can get away with, typically a number 2 size (and I typically use live baits in the 6 inch range). The key is to let the fish simply load up on the rod (I use specialty live bait rods), and once it has essentially hooked itself, the key is to always keep a BIG bend in that super soft rod to keep the hook from working loose, but also remember to take your time and loosen your drag because you have a little hook.
Unfortunately, I feel like more big fish are lost at the boat than at any other point in the fight. I think the combination of excitement and a bit of panic leads to this. I cannot tell you the number of fish I have seen tomahawked and knocked off boatside with the net. The key to netting a fish is to steer it headfirst (NEVER tailfirst) into the net, and the rod man should keep a good bend at all times (I have seen a lot of fish lost at the boat by pointing the rod at the fish and either ripping the hook out or giving the fish slack and allowing it to throw the hook). Another thing to keep in mind is that truly big fish have a knack for reserving enough energy to go on another run or two right at the boat, so try not to stab at them with the net during those crucial last few moments of the fight. As a final note, I like big nets with long handles (in fact, I use a net with an 8 foot extendable handle for walleye and brown trout simply because the big ones seem particularly adept at coming to the surface 7 or 8 feet from the boat and then coming unhooked). Essentially, use enough net.
I hope all of you out there have a chance to get out and catch a March monster this spring. If you would like to go with me to catch smallmouth, largemouth, giant spotted bass, stripers, walleye, brown trout, crappie, or anything else, please give me a call. I look forward to hearing from you!
Aaron Kephart is the Owner of Mountain Lakes Guide Service. To book a guided trip on one of the Murphy area mountain lakes, contact him by phone at 865-466-1345 or by email at [email protected] Check out his website at http://www.mtnlakesguideservice.com and catch him on [email protected]