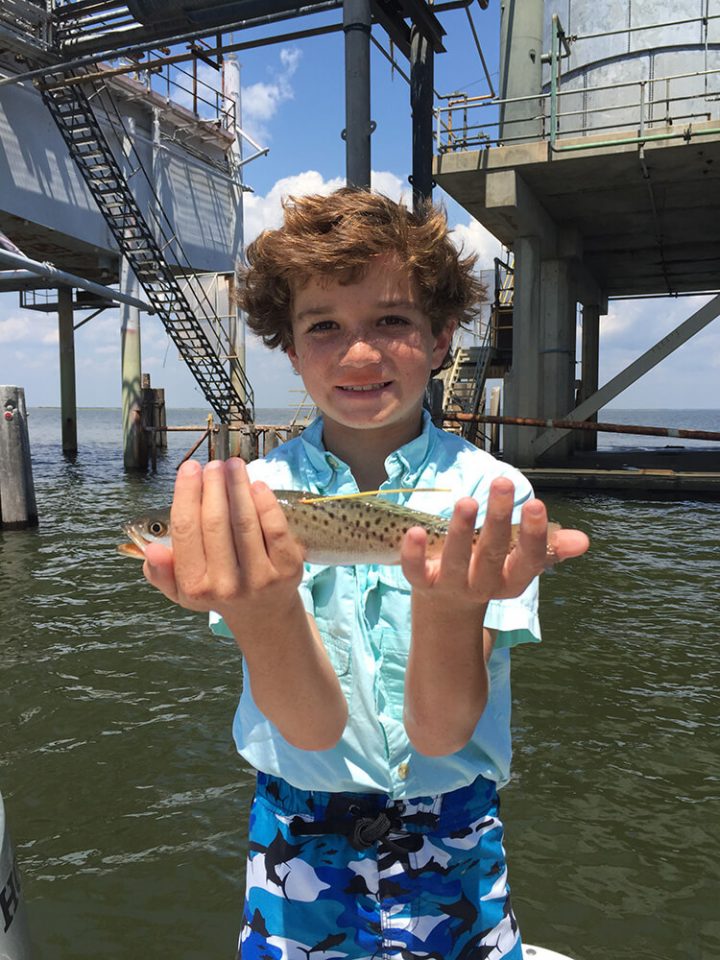 I have known Abe (10) and Oren Doxey (8), well… their entire life. My wife and I were in the hospital waiting rooms when both boys were born. Young Abe, his mom Jenny and his Dad Chris crashed in our tiny home office, after Hurricane Katrina. They are literally the poster family of Shore Thing Charters, their picture is on the cover of our brochures.
It has been an amazing thing, watching these two young men evolve into such accomplished fisherman. When ever they have time off from school, soccer, and their parents work, you can find them on the water. They have already caught big tuna, marlin, wahoo, amberjack, snapper, grouper and just about all the inshore species that swim along the northern Gulf of Mexico.
So, it came as no surprise when their Dad Chris texted me that the boys had caught a tagged triple tail. They fish enough, and tag enough fish that it was bound to happen sooner or later. What blew my mind was that they caught not ONE, but TWO tagged fish (triple tail and speckled trout) in the SAME DAY! The icing on the cake was finding out the tagged triple tail they caught was tagged on my boat earlier in the year!
Abe an Oren's Dad Chris told me the whole story when we spoke on the phone later that night.
"Man, we just headed out from Bayou Caddy, like we do most days. We caught one small triple tail right off the bat, but we were out of tags, so we just released it. We saw the next one a channel marker and we could tell it was a good one (triple tail). Oren got him, and we were all happy to get a keeper for dinner. The fish was 21 inches and we almost didn't see the tag till he was in the box. We ran all the way down to the Rigolets and never saw another triple tail. We decided to fish a little, after the long ride. Then we caught the tagged speckled trout on a well head. At first we thought it was a worm, but when the boys saw it was a tag, they thought they won a boat from the CCA Star Tournament".
-FYI the boys actually won a boat in the CCA MS STAR Youth Division a couple of years back-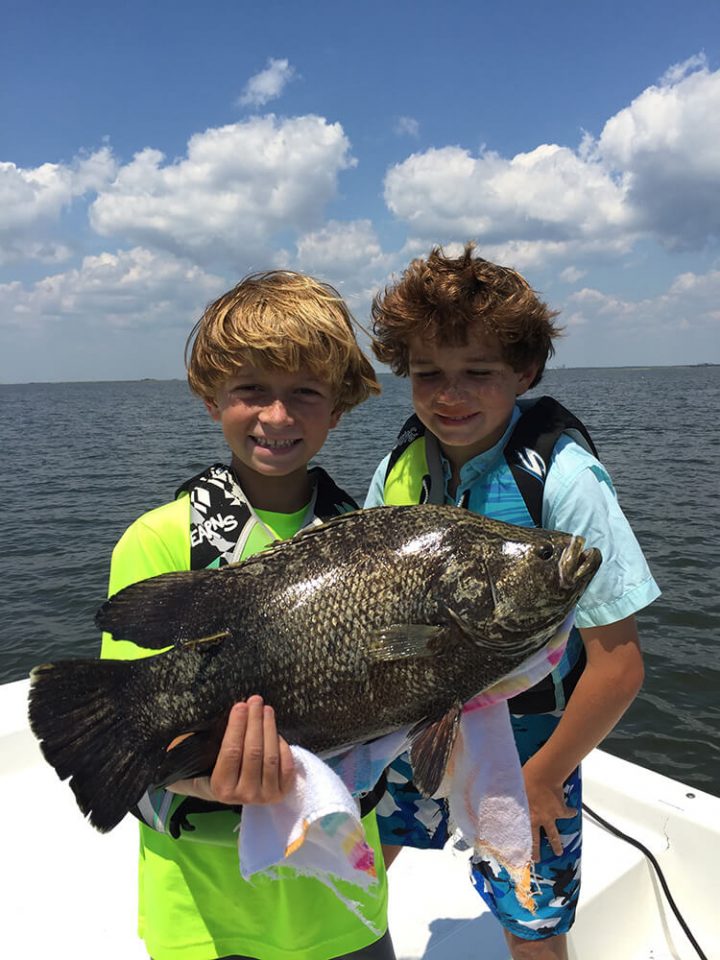 The boys called in the ID numbers to the designated phone numbers on the tags. The recaptured speckled trout even earned Abe a T-shirt that came in the mail 4 days later! Chris took a shot in the dark texting me the triple tail tag number. It just so happened that I was able to track the actual tag number off an old email I had sent in to the Gulf Coast Research Lab(GCRL). Here is what they learned about their fish:
Oren Doxeys Triple Tail
Tagged: 7-3-15
Location: NW Side of Half Moon Island
Caught by Henry Minor(Fishing with Capt Sonny Schindler of Shore Thing Charters)
Days Out: 58
Distance Traveled 2.5 miles
Length at tagging 17.5 inches
Abe Doxeys Speckled Trout
Tagged: 8-23-15
Location: Rigolets
Days Out: 7
Distance Traveled 8.5 miles
Abe an Oren now have even more of a reason to go fishing, not that they really needed one. Catching, tagging and the possibility of catching an already tagged fish just adds to the fun of it all. The scientists involved very much appreciate the data collected as well. Being able to track the movements and patterns of these fish can assist in numerous applications for fisheries studies. Anyone interested in participating with Sport Fish Tagging Research, please contact Dyan Gibson (dyan.gibson@usm.edu) with the Gulf Coast Research Lab (GCRL) in Ocean Springs, MS.
As Always, have fun and be safe.
Captain Sonny Schindler
Shore Thing Fishing Charters
Bay St Louis, MS
228-342-2295
www.shorethingcharters.com