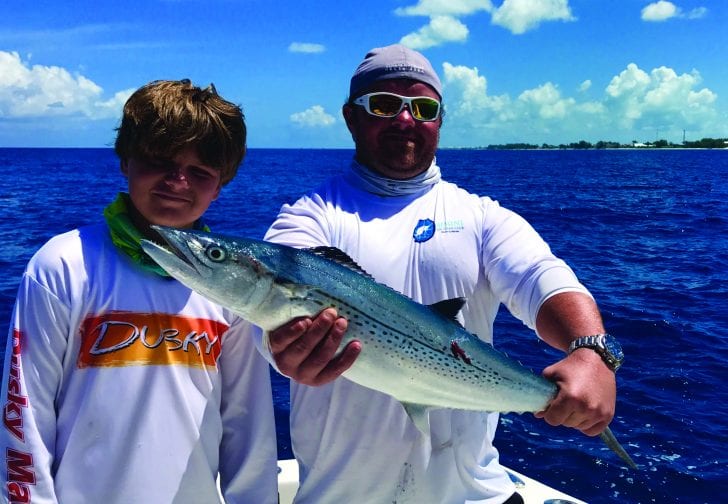 In November and December, whenever we have clear water on the shallow reefs, we rig our 65 pound braid Penn International variable speed reels with number 6 planers in front of 30 feet of 100 pound fluorocarbon leaders baited with 4 ounce trolling feathers and double hooked ballyhoo.
We troll these rigs over reefs in 20 to 60 feet of water at about 6 miles per hour. Fish heavy drags and hang on. Groupers from 3 to 30 pounds slam those baits and take off for the bottom. You have to stop them quick and keep dragging them away from home.
While you are around the shallow reefs be sure to make some waypoints at isolated reef patches. Then on rough days or when the water is stirred up, you can anchor next to these patch reefs and chum up ballyhoo to use for cut and live bait to target assorted snappers and groupers. Be sure to bring some live shrimp to catch hog fish, Spanish mackerel and grey snappers. Be sure to check the latest seasons, size and bag limits on these assorted reef fish.
For some big mutton snappers, rig a big spin outfit or that 65 pound braid rig with a one pound sinker and a 30-50 foot fluorocarbon 60 pound leader and finish with a 7/0 VMC light wire circle hook. Pin a live ballyhoo through the lips and troll along the edges of the patch reefs. You won't believe the size of muttons hiding in 15 feet of water.
Good fishing and save room for me!
Capt. Bouncer
CaptBouncer@bellsouth.net
(305) 439-2475